HF/50/144/440 MHz MULTIMODE PORTABLE TRANSCEIVER
IC-

705

USA Version
"Base Station" performance and features in the palm of your hand.
First 3D data of IC-705!
Making QSOs with an IC-705 is absolutely fun, but there is even more to the rig.
Based on "Be Active" philosophy, we have decided to release the 3D data, to support IC-705 users interested in creating original items to customize the radio.
We hope to deepen the joy of your HAM life with the IC-705.
"Be Active!"

Download IC-705 3D data

*IC-705 3D data is provided in Stl format, which is compatible with numerous 3D modeling software and 3D printers.
HF/50/144/440 MHz Multimode
From HF to 50/144/440 MHz, you can enjoy a variety of bands in the D-STAR DV, SSB, CW, RTTY, AM and FM modes. The IC-705 receives continuously from 30 kHz through the 144 MHz band. You can also enjoy FM broadcast and air band reception.
RF Direct Sampling System
The IC-705 employs an RF direct sampling system, where RF signals are directly converted to digital data. Then processed in the FPGA (Field-Programmable Gate Array), making it possible to simplify the circuit construction as well as reducing internal noise that can mask weak signals.
* The down-conversion IF sampling method is used for 25 MHz and above.
Real-Time Spectrum Scope and Waterfall Display
Performance seen with the IC-7300 and IC-9700 spectrum scope is at the tip of your fingers for field operation. You can quickly see band activity as well as finding a clear frequency, all in the compact radio and not as an expensive add-on. Scroll mode automatically keeps the operating signal within the scope range.
Large Touch Screen Color Display
The large 4.3" color TFT touch LCD, same size as the IC-7300 and IC-9700, offers intuitive operation of functions, settings, and various operational visual aids, such as the band scope, waterfall, and audio scope functions.
One-Touch FT8 Mode Preset
Preset memory offers smooth FT8 mode operation. You can start FT8 mode operation only by selecting [FT8] from PRESET menu. Up to five preset memories can be stored.
Compact and Lightweight Design
BP-272 Li-ion Battery Pack or 13.8 V DC External Power Supply
Maximum Output Power 5 W (BP-272), 10 W (13.8 V DC)
In portable mode, the IC-705 has the maximum output power of 5 W from the BP-272 which can last approximately 3 hours*. This is perfect for true 5 W QRP as well as the 0.5 W QRPp operations. Once you setup with a 13.8 V DC power source, you have up to 10 W.
* TX : RX : standby = 1 : 1 : 8 (The Power Save function ON, in the FM mode)
WLAN/Bluetooth® Technologies
Utilize WLAN/Bluetooth® technologies for linking and remote control, for a true wireless operation. The VS-3 headset (optional) enables more comfortable operation via Bluetooth®
GPS Functions
An internal GPS receiver and antenna enhance your operations by providing location logging*, RX/TX locations via D-PRS , "Near Me" repeater search/scan, QSO recording with metadata*, and internal clock synchronization.
* A microSD memory card is required.
microSD Card Slot
The microSD card slot enables the storage of user profiles, QSO recording, TX voice memory keyer, RTTY logging, GPS data, screen capture, firmware upgrades, and programming.
Micro USB Connector
In addition to the two COM ports, radio control plus audio, the IC-705 can be charged via the micro USB port.
D-STAR Functions
Enjoy the latest DV mode features with the IC-705. Have direct access to the D-STAR network with Terminal/Access point modes. Additionally, the IC-705 has the Photo Share feature introduced with the IC-9700. Share photos, without the need of a computer with other users with an IC-705 and IC-9700.

D-STAR System Introduction
Find the D-STAR system introduction and features from here.
Programmable Speaker Microphone
Enjoy portable operations with the supplied HM-243, programmable speaker microphone. Perfect for operation with the IC-705 safely secured in the optional LC-192 backpack. User assignable buttons put functions like frequency and volume adjustments at the tip of your fingers, without removing your backpack.
Optional Backpack, LC-192, Ideal for Field Operations
Designed to be the "Ultimate", must have accessory for the IC-705, the LC-192 is the perfect utility backpack. Features like a safety strap, with a 1/4"-20 mounting lug to keep the IC-705 from accidentally falling out of the custom radio compartment, to the user adjustable internal panels for custom compartments for antennas, battery packs, or other items necessary for an afternoon SOTA activation.
Side / Rear Panel View
General
Frequency coverage (Unit: MHz)
Receiver

0.030–199.999*
400.000–470.000*

Transmitter

1.800–1.999
3.500–3.999
5.255–5.405*
7.000–7.300
10.100–10.150
14.000–14.350
18.068–18.168
21.000–21.450
24.890–24.990
28.000–29.700
50.000–54.000
144.000–148.000
430.000–450.000

Mode

USB, LSB, CW, RTTY, AM, DV, FM, WFM (Rx only)

No. of memory channels

Memory channels: 500 channels (100 groups)

Scan edges: 25 channels

Call channels: 4 channels (2 channels × 2 bands)

Antenna connector

BNC connector (50Ω)(One connector for all bands)

Power supply requirement

13.8 V DC ±15% (with external power supply)

7.4 V DC (with BP-272)

Operating temp. range

–10°C to +60°C; +14°F to +140°F

Frequency stability

Less than ± 0.5 ppm

(–10°C to +60°C; 14°F to 140°F)

Frequency resolution

1 Hz

Current drain
13.8 V DC
7.4 V DC

TX (Max. power)

Less than 3 A (10 W)

Less than 2.5 A (5 W)
RX (Max. audio)
0.5 A (typical)
0.8 A (typical)
RX (Standby)
0.3 A (typical)
0.5 A (typical)
Dimensions

200×83.5×82 mm; 7.9×3.3×3.2 in (W×H×D, projections not included)

Weight

1.1 kg; 2.4 lb (approximate; including BP-272)
* Some frequency bands are not guaranteed.
Transmitter
Output power

13.8 V DC

7.4 V DC
SSB/CW/RTTY/FM/DV

0.1 to 10 W

0.1 to 5 W
AM
0.025 to 2.5 W
0.025 to 1.25 W
Modulation system
SSB

Digital PSN modulation

AM
Digital low power modulation
FM
Digital reactance modulation
DV
Digital GMSK modulation
Spurious emissions

Less than −50 dB (HF)

Less than −60 dB (50 MHz)

Less than −60 dB (144/430 MHz)

Carrier suppression
More than 50 dB
Unwanted sideband

More than 50 dB
Receiver
Receiver system
0.030 to 24.999 MHz

RF Direct Sampling

25.000 MHz and above

Down Conversion IF Sampling

Intermediate frequencies

25.000 MHz and above:38.85 MHz±0.5 MHz

Sensitivity
(HF: Preamp-1 ON,
50 MHz: Preamp-2 ON,
144/430/440 MHz: Preamp ON)

0.500 to 1.799 MHz

1.800 to 29.999 MHz
50 MHz to 54 MHz
144/430/440 MHz
SSB/CW(10 dB S/N)
-
0.20 μV
0.15 μV
0.11 μV
AM(10dB S/N)

13.0 μV

2.0 μV
1.0 μV
1.0 μV
FM(12 dB SINAD)

0.5 μV (28.000 to 29.700 MHz)

0.25 μV
0.18 μV
DV(1% BER)(PN9)

1.0 μV (28.000 to 29.700 MHz)

0.63 μV
0.35 μV
Selectivity (Filter: SHARP)
SSB(BW=2.4 kHz)

More than 2.4 kHz/-6 dB

Less than 3.4 kHz/-40 dB

CW(BW=500 Hz)

More than 500 Hz/-6 dB

Less than 700 Hz/-40 dB

RTTY(BW=500 Hz)

More than 500 Hz/-6 dB

Less than 800 Hz/-40 dB

AM(BW=6 kHz)

More than 6.0 kHz/-6 dB

Less than 10 kHz/-40 dB

FM(BW=15 kHz)

More than 12.0 kHz/-6 dB

Less than 22 kHz/-40 dB

DV(12.5 kHz spacing)

Less than -50 dB

Spurious and image rejection ratio

(SSB/CW/AM/FM)

HF: More than 70 dB*
(except for ADC aliasing)
50 MHz: More than 70 dB*
144 MHz: More than 65 dB
430 MHz: More than 54 dB
* At Intermediate frequency in 25–30 MHz or 50–54 MHz: More than 50 dB

Audio output power
Internal SP

More than 530 mW (12 Ωload at 10% distortion)

External SP

More than 200 mW (8 Ωload at 10% distortion)
Applicable U.S. Military Specifications
Icom makes rugged products that have been tested to and passed the following MIL-STD requirements and strict environmental standards.
Standard

MIL-810 G
Method
Procedure
High Temperature
501.5
I, II
Low Temperature
502.5
I, II
Vibration
514.6
I
Also meets equivalent MIL-STD-810-C, -D -E and -F.
All stated specifications are subject to change without notice or obligation.
Supplied Accessories
HM-243 Speaker-microphone
BP-272 Battery pack
OPC-2421 DC power cable
Icom IC-705 Basic function
Advanced Operation of the IC-705
Introduction for Icom AH-705 Automatic Antenna Tuner

Close

Close

Ingress Protection (IP) Code
Ingress Protection (IP) ratings define the level of protection provided by enclosures to prevent the ingress of foreign objects (dust) and liquid into the electrical equipment.
International Standard IEC 60529 outlines an international classification system that describes the sealing characteristics of electrical equipment.
The classification system uses the "IP" code, or "Ingress Protection" code, to define the level of seal.
An IP number contains two numbers (i.e. IP67) in most instances which relate to the level of protection provided by an enclosure or housing.
Either number may be shown as "X" (i.e. IPX6 / IP7X) to indicate the "X" part is not tested.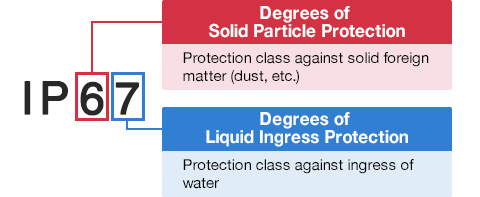 Degrees of Solid Particle Protection – 1st Digit
| | |
| --- | --- |
| IP6x | No ingress of dust; complete protection against contact. (Dust tight) |
| IP5x | Protected from the amount of dust that would interfere with normal operation. (Dust protected) |
Degrees of Liquid Ingress Protection – 2nd Digit
IPx8
Protected against continuous immersion in water.
Depth and duration specified by model.
IPx7
Protected against temporary immersion in water for 1 m (3.3 ft) for 30 minutes
IPx6
Protected against water projected by powerful jets from any direction.
100 L per minute by a powerful jets (12.5 mm) for 3 minutes.
IPx5
Protected against water projected by jets from any direction.
12.5 L per minute by a nozzle (6.3 mm) for 3 minutes.
IPx4
Protected against water splashed against the equipment from any direction