High Visibility, Simple Operation
The full dot-matrix LCD allows for high visibility and clearly shows alphanumeric characters and icons. Programming memory channels and other radio settings can be simply made from the front panel by radio users. These customizing functions can also be restricted, depending on the radio settings.
Optional Bluetooth® Headset Connectivity
With the optional UT-133A Bluetooth® unit, the IC-A120E can be used with a third-party wireless Bluetooth® headset. Also, using the optional VS-3 Bluetooth® headset, the side tone function is available.
Active Noise Cancelling (ANC)
The newly added built-in ANC reduces background noise in the received and transmitting signals. This function is effective in extremely noisy airport environments full of aircraft noise. The automatic noise limiter (ANL)* reduces pulse-type noise such as engine ignition.
* The ANL and ANC functions cannot be used at the same time.
IP54 Dust-Protection and Water Resistance
The IC-A120E has IP54 dust-protection and water resistance. This construction allows for use in open-air vehicles.
Dualwatch and ON-Hook Scan Functions
The dualwatch function checks the priority and operating channels alternatively. The ON-Hook scan function automatically starts scanning when the hand microphone is hooked on the microphone hanger. When you take the microphone OFF hook, the scanning stops at the priority channel or displayed channel (according to the preprogramming).
Side Tone Function
When using a third-party headset with the optional OPC-871A headset adapter, the side tone function allows you to monitor your own transmitted voice via the connected headset. Even when using a hand microphone, your voice can be monitored from the headset.
Optional Speaker-Microphone, HM-217
Listen to received audio through the HM-217's built-in speaker. From the speakermicrophone's front panel, access up/down buttons and two programmable buttons (P1/P2) which can be used as a shortcut to activate frequently used functions.
Other Features
A total of 200 memory channels with 12-character channel names
Both 12- and 24- volt systems compatible
8.33 kHz* and 25 kHz channel spacing
36 W (P.E.P) RF output power
Dualwatch and priority scan functions
Power on password protection
PC programming capability
CI-V Commands for external control
VE-PG3 RoIP gateway for interconnect with other radio devices
Compliant with European E-marking for installation in vehicles
* For EUR version only
General
Frequency range (TX/RX)
118.000–136.992 MHz (EUR)
118.000–136.975 MHz (AUS)
Channel spacing
25 kHz/8.33 kHz (EUR)
25 kHz (AUS)
Type of emission
6K80A3E, 5K00A3E (EUR)
6K80A3E (AUS)
Operating temperature range
–20˚C to +55˚C
Antenna connector
SO-239 (50 Ω)
Number of memory channels
200 channels
Power supply requirements
13.75 V/27.5 V DC
Current drain
(at 13.75 V)
TX
5.0 A (maximum)
RX
Stand-by
0.5 A
Max. audio
4.0 A
Dimensions (W×H×D)
(Projections are not included)
161×45×175 (mm)
(approximately)
Weight (approximately)
1.5 kg (main unit)
Transmitter
>Output power (at 13.75 V)
(Carrier Power)
9.0 W+1.5 dB/–3 dB (–20°C to +55°C)
9.0 W±1.5 dB (+15°C to +35°C)
Frequency stability
±1 ppm (0˚C to +40˚C)
Spurious emissions*
9 kHz to 30 MHz
Less than –46 dBm
30 MHz to 1 GHz
Less than –36 dBm (For Harmonics)
Less than –46 dBm (For Non-Harmonics)
1 GHz to 4 GHz
Less than –30 dBm (For Harmonics)
Less than –40 dBm (For Non-Harmonics)
Modulation
Linear 85%
Max. 95%
Microphone impedance
600Ω
* Except for operating frequency ±1 MHz.
Receiver
Intermediate frequencies
38.85 MHz/450 kHz (1st/2nd)
Sensitivity (at 12dB SINAD)
1.8 μV (with CCITT filter)
Selectivity
8.33 kHz
2.778/7.37 kHz (6 dB/60 dB)
25 kHz
8/25 kHz (6 dB/60 dB)
Spurious response rejection
More than 70 dB
Audio output power
(at 10% distortion,
60% modulation)
Internal SP
(8 Ω load)
1.5 W typical
External SP
(8 Ω load)
More than 10 W
Headphone
(500 Ω load)
More than 100 mW
Measurements made in accordance with EN 300 676-1. All stated specifications are subject to change without notice or obligation.
Applicable U.S. Military Specifications
Icom makes rugged products that have been tested to and passed the following MIL-STD requirements and strict environmental standards.
Standard

MIL-810 G
Method
Procedure
Low Pressure
500.5
I, II
High Temperature
501.5
I, II
Low Temperature
502.5
I, II
Temperature Shock
503.5
I-C
Solar Radiation
505.5
I
Humidity
507.5
II
Vibration
514.6
I
Shock
516.6
I, IV
Also meets equivalent MIL-STD-810-C, -D -E and -F.
Applicable IP Rating
Ingress Protection Standard
Dust & Water
IP54 (Dust-protection and water resistance)
All stated specifications are subject to change without notice or obligation.
Supplied Accessories
Hand microphone, HM-216
DC power cable
Mounting bracket kit
Microphone hanger kit
Fuses
Catalogs / Brochures
Instruction Manual / Guides

Close

Close

Ingress Protection (IP) Code
Ingress Protection (IP) ratings define the level of protection provided by enclosures to prevent the ingress of foreign objects (dust) and liquid into the electrical equipment.
International Standard IEC 60529 outlines an international classification system that describes the sealing characteristics of electrical equipment.
The classification system uses the "IP" code, or "Ingress Protection" code, to define the level of seal.
An IP number contains two numbers (i.e. IP67) in most instances which relate to the level of protection provided by an enclosure or housing.
Either number may be shown as "X" (i.e. IPX6 / IP7X) to indicate the "X" part is not tested.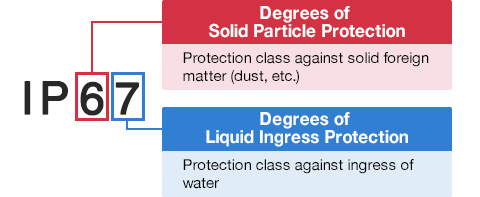 Degrees of Solid Particle Protection – 1st Digit
| | |
| --- | --- |
| IP6x | No ingress of dust; complete protection against contact. (Dust tight) |
| IP5x | Protected from the amount of dust that would interfere with normal operation. (Dust protected) |
Degrees of Liquid Ingress Protection – 2nd Digit
IPx8
Protected against continuous immersion in water.
Depth and duration specified by model.
IPx7
Protected against temporary immersion in water for 1 m (3.3 ft) for 30 minutes
IPx6
Protected against water projected by powerful jets from any direction.
100 L per minute by a powerful jets (12.5 mm) for 3 minutes.
IPx5
Protected against water projected by jets from any direction.
12.5 L per minute by a nozzle (6.3 mm) for 3 minutes.
IPx4
Protected against water splashed against the equipment from any direction