Simple Operation
The IC-718 is equipped with a minimum number of buttons and controls for simple feature selection. The 10-key pad on the front panel allows direct entry of an operating frequency or a memory channel number. The auto tuning step function is activated when turning the dial quickly and helps speed up tuning. The band stacking register is convenient when changing operating bands.
Front Mounted Loud Speaker
The IC-718 has the speaker mounted on the front panel. With the speaker facing the operator, audio will be heard clearly and directly while operating.
Optional* DSP Capability, UT-106
The optional DSP unit gives you noise reduction and auto notch filter functions for extra receiver performance.
*Already installed for USA version.
General Coverage Receiver
The IC-718 has 0.03–29.999999MHz* general coverage receive capability.
*Guaranteed range: 0.5–29.999999 MHz
Other Features
Built-in electronic keyer
Built-in microphone compressor
Combined squelch and RF gain control
Preamplifier and attenuator
101 memory channels
CW full break-in
IF shift interference rejection
1Hz tuning
VOX function for hands-free operation
Optional automatic antenna tuner
Digital S/RF meter
General
Frequency coverage
(Differs according to version)
Tx
1.8, 3.5, 7, 10, 14, 18, 21, 24, 28MHz bands
Rx
30kHz–29.999MHz*1
Modes
USB, LSB, CW, RTTY, AM
Frequency stability
Less than ±200Hz
(From 1 min. to 60 min. after power ON)
Maximum current drain
20A at 13.8V DC
Power supply requirement
13.8V DC ±15%
Antenna connector
SO-239 (50Ω)
Number of memory
channels
101
(99 regular, 2 scan edges)
Dimensions
(W×H×D; Projections are not included)
240×95×239 mm;
9.45×3.74×9.41 in
Weight (approx.)
3.8kg; 8.4lb
*1 Guaranteed range 0.5–29.999MHz.
Transmitter
Output power
SSB, CW, RTTY
2–100W
AM
2–35W
Spurious emissions
Less than –50dB
Carrier suppression
More than 40dB
Unwanted sideband
More than 50dB
Microphone connector
8-pin connector (600Ω)
Receiver
Sensitivity (typical)
Preamp ON SSB, CW, RTTY, AM: at 10dB S/N FM, WFM: at 12dB SINAD
SSB, CW, RTTY
1.8–29.999MHz 0.16μV
AM
0.5–1.799MHz 13μV
1.8–29.999MHz 2.0μV
Sensitivity for RED (Less than)
Preamp ON
SSB, AM, FM: at 12 dB SINAD
(EURO Version)
SSB (2.4 kHz)
1.8–2.999 MHz 10 dBμV emf
3.0–29.999 MHz 0 dBμV emf
AM (6 kHz, 60% modulation)
1.8–2.999 MHz 16 dBμV emf
3.0–29.999 MHz 6 dBμV emf
Selectivity
SSB, CW, RTTY
2.1kHz/–6dB
4.5kHz/–60dB
AM
6.0kHz/–6dB
20kHz/–40dB
Spurious and image
rejection
More than 70dB
(1.8–29.999MHz)
AF power
(at 10% distortion with an 8Ω load)
More than 2.0W
External speaker
connector
2-conductor 3.5 (d) mm (1⁄8″)/8Ω
The LCD display may have cosmetic imperfections that appear as small or dark spots. This is not a malfunction or defect, but a normal characteristic of LCD displays.
All stated specifications are subject to change without notice or obligation.
Supplied Accessories
Hand microphone
DC power cable
Spare fuses
(May differ depending on the version)
Catalogs / Brochures
Instruction Manual / Guides

Close

Close

Ingress Protection (IP) Code
Ingress Protection (IP) ratings define the level of protection provided by enclosures to prevent the ingress of foreign objects (dust) and liquid into the electrical equipment.
International Standard IEC 60529 outlines an international classification system that describes the sealing characteristics of electrical equipment.
The classification system uses the "IP" code, or "Ingress Protection" code, to define the level of seal.
An IP number contains two numbers (i.e. IP67) in most instances which relate to the level of protection provided by an enclosure or housing.
Either number may be shown as "X" (i.e. IPX6 / IP7X) to indicate the "X" part is not tested.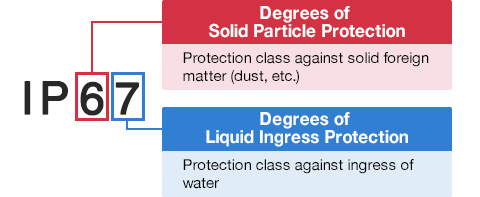 Degrees of Solid Particle Protection – 1st Digit
| | |
| --- | --- |
| IP6x | No ingress of dust; complete protection against contact. (Dust tight) |
| IP5x | Protected from the amount of dust that would interfere with normal operation. (Dust protected) |
Degrees of Liquid Ingress Protection – 2nd Digit
IPx8
Protected against continuous immersion in water.
Depth and duration specified by model.
IPx7
Protected against temporary immersion in water for 1 m (3.3 ft) for 30 minutes
IPx6
Protected against water projected by powerful jets from any direction.
100 L per minute by a powerful jets (12.5 mm) for 3 minutes.
IPx5
Protected against water projected by jets from any direction.
12.5 L per minute by a nozzle (6.3 mm) for 3 minutes.
IPx4
Protected against water splashed against the equipment from any direction