1W / 5W / 25W Output Power
5W output power (CB). Approved for 25W when using licensed private/commercial frequencies within 450-520MHz*
*ACMA Licensed users only
80+ Channels
80 Channel UHF CB* plus up to 35 Private Channels.**
*80 Channel UHF CB, 61-63 not present, reserved for future use.
**Must be enabled using CS-410PRO software.
Active Noise Cancel Microphone
This feature allows clear communication by reducing the surrounding noise, especially the unwanted low frequency noise received by the microphone.
CB / Commercial Use
The Compact and Rugged construction makes this product ideal for use in
Commercial environments.
Other Features
Easy to see White backlit LCD display
Exclusive automatic repeater scan easily finds local repeaters
Rugged MIL SPEC construction provides shock & vibration resistance
Silent Stand-by with CTCSS & Selcall
Front mounted speaker for clear sound
General
IC-410PRO

Frequency coverage

476.4250 - 477.4125 MHz (CB)

450.0000 - 520.0000 MHz (LMR)

Number of channels

128 Ch

Type of emission

CB : 8K50F3E (12.5 kHz)

LMR: 8K50F3E (12.5 kHz) / 16K0F3E (25 kHz)

Antenna impedance
50 Ω nominal
Operating temperature range
- 30℃ to +60℃
Power supply voltage
13.8 V DC
Current drain
(approx.)
Tx
25 W

7.0 A

5 W
4.0 A
Rx
Max. audio

1200 mA

Stand-by

300 mA

Dimensions
(projections not included; W×H×D)

150×40×117.5 mm

Weight (approx.)

0.8kg
Transmitter
IC-410PRO

RF output power

5W / 1W (CB)

25 / 5W / 1W (LMR)

Modulation

Variable reactancne frequency modulation

Maximum permissible deviation

±2.5 kHz (Narrow)

±5.0 kHz (Wide)

Frequency error

±2.50 ppm
Receiver
| | IC-410PRO |
| --- | --- |
| Sensitivity at 12dB SINAD | 0.25 μV typ. |
| Audio output power | 4.0 W typ. at 5 % distortion with 4 Ω load |
Applicable U.S. Military Specifications
Icom makes rugged products that have been tested to and passed the following MIL-STD requirements and strict environmental standards.
Standard
MIL-810 F
Method, Proc.
Low Pressure Storage

500.4 I

Low Pressure Operation

500.4 II

High Temperature Storage

501.4 I

High Temperature Operation

501.4 II

Low Temperature Storage

502.4 I

Low Temperature Operation

502.4 II

Temperature Shock

503.4 I

Solar Radiation

505.4 I

Humidity Induced

507.4

Settling Dust

510.4 III

Vibration

514.5 I

Shock Functional
516.5 I
Shock Transit Drop

516.5 IV

Also meets equivalent MIL STD 810 -C, -D and -E.
All stated specifications are subject to change without notice or obligation.
Supplied Accessories
Microphone HM-211
Microphone hanger and screw set
Microphone hanger cable
DC power cable
Mounting bracket
EXTERNAL SPEAKERS
ADAPTER CABLES

Close

Close

Ingress Protection (IP) Code
Ingress Protection (IP) ratings define the level of protection provided by enclosures to prevent the ingress of foreign objects (dust) and liquid into the electrical equipment.
International Standard IEC 60529 outlines an international classification system that describes the sealing characteristics of electrical equipment.
The classification system uses the "IP" code, or "Ingress Protection" code, to define the level of seal.
An IP number contains two numbers (i.e. IP67) in most instances which relate to the level of protection provided by an enclosure or housing.
Either number may be shown as "X" (i.e. IPX6 / IP7X) to indicate the "X" part is not tested.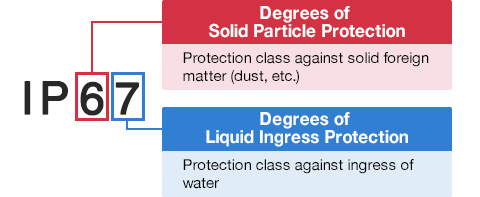 Degrees of Solid Particle Protection – 1st Digit
| | |
| --- | --- |
| IP6x | No ingress of dust; complete protection against contact. (Dust tight) |
| IP5x | Protected from the amount of dust that would interfere with normal operation. (Dust protected) |
Degrees of Liquid Ingress Protection – 2nd Digit
IPx8
Protected against continuous immersion in water.
Depth and duration specified by model.
IPx7
Protected against temporary immersion in water for 1 m (3.3 ft) for 30 minutes
IPx6
Protected against water projected by powerful jets from any direction.
100 L per minute by a powerful jets (12.5 mm) for 3 minutes.
IPx5
Protected against water projected by jets from any direction.
12.5 L per minute by a nozzle (6.3 mm) for 3 minutes.
IPx4
Protected against water splashed against the equipment from any direction