Communication throughout the Coverage of LTE (4G) and 3G Network
Using an existing LTE (4G) and 3G network, the IP503H is able to provide a network with wide area coverage capabilities. The IP503H does not require its own repeaters or IP network which reduces the cost of building and maintaining a wide area radio network.
* Service availability depends on the country. Network coverage provided by custom ICOM SIM card.
Simultaneous TalkListen Function for Full-Duplex Communication
Multiple User Communication
Multiple users in the call groups can initiate calls instantaneously. Removing the need to wait for available channels to communicate.
Priority Interrupt Calling
Industry Leading Compact and Lightweight Body
Compact 59 × 95 × 32 mm; 2.3 × 3.7 × 1.3 in and 240 g; 8.5 oz (approximate) lightweight body* allows non-intrusive mobility and use.
* With BP-272 battery pack and antenna. Projections are not included.
IP67 Dust-Tight and Waterproof
The IP503H has been designed to preserve its waterproof integrity in water of a depth of 1 meter for 30 minutes. It can be used for outdoor work or places prone to get wet.
Optional Charger Cradle With Bluetooth® Function *1
When the optional BC-218, charger cradle and HM-215, speaker-microphone is used*2, calls can be made with the microphone, while charging the IP503H. Even when the IP503H is not dropped into the BC-218, the Bluetooth® function*1 enables you to wirelessly use the speaker-microphone.
*1 Version without Bluetooth also available. Ask your Dealer for details.
*2 Charger cradle may not be available in some countries. Please confirm the regulations in your country before you use.
Powerful and Clear Audio
The powerful 900mW speaker provides high-quality and clear audio, even in noisy environments.
Other Features
Individual, Group, Talkgroup, Multiplex Talkgroup and All calls
Emergency button, Lone Worker and Man Down functions
Vibration alert function notifies of incoming call
Text message reception and preprogrammed message transmission
Up to 500 memory address book (including Group, Individual, Talkgroup and Telephone lists)
Voice message recording
Built-in Bluetooth® and GPS*
* Version without Bluetooth also available. Ask your Dealer for details.
RoIP Gateway VE-PG4
Case Studies
Network
4G bands
LTE B1, B3, B7, B8, B20 (EXP)
LTE B1, B3, B5, B7, B8, B28 (AUS)
3G bands
W-CDMA B1, B8 (EXP)
W-CDMA B1, B5 (AUS)
Dimensions
(W × H × D; Projections not included)
59 × 95 × 32 mm; 2.3 × 3.7 × 1.3 in
(with BP-272)
Weight (approx.)
240 g; 8.5 oz
(with BP-272 and antenna)
Voice Codec
G.726 (32 kbps)
AF output power
(8 Ω at 10% distortion)
Internal SP
More than 900 mW
External SP
More than 200 mW
Operating time*1
(TX : RX : standby = 5 : 5 : 90)
More than 17 hours (with BP-272)
Bluetooth*2
Ver 2.1 +EDR
GPS
Built-in
Operating temperature
–10 °C to +60 °C; +14 °F to +140 °F
IP rating
IP67 (dust-tight and immersion)
IP55/54 (dust and water jet / water resistance)

*1 Operating time may differ depending on operating environments. *2 Version without Bluetooth also available. Ask your Dealer for details.
All stated specifications are subject to change without notice or obligation.
Applicable U.S. Military Specifications
Standard

MIL-810 G
Method
Procedure
Low Pressure
500.5
I, II
High Temperature
501.5
I, II
Low Temperature
502.5
I, II
Temperature Shock
503.5
I-C
Solar Radiation
505.5
I
Rain Blowing/Drip
506.5
I, III
Dust Blowing
510.5
I
Immersion
512.5
I
Vibration
514.6
I
Shock
516.6
I, IV

Also meets equivalent MIL-STD-810 -C, -D, -E and -F.
Supplied Accessories
BP-272 Li-ion battery pack
MB-135 belt clip
Hand strap
Antenna
Instruction Manual / Guides

Close

Close

Ingress Protection (IP) Code
Ingress Protection (IP) ratings define the level of protection provided by enclosures to prevent the ingress of foreign objects (dust) and liquid into the electrical equipment.
International Standard IEC 60529 outlines an international classification system that describes the sealing characteristics of electrical equipment.
The classification system uses the "IP" code, or "Ingress Protection" code, to define the level of seal.
An IP number contains two numbers (i.e. IP67) in most instances which relate to the level of protection provided by an enclosure or housing.
Either number may be shown as "X" (i.e. IPX6 / IP7X) to indicate the "X" part is not tested.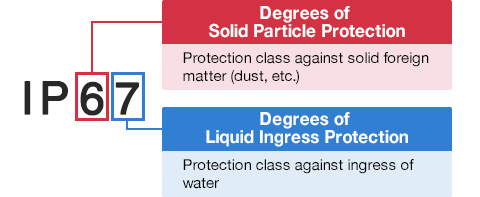 Degrees of Solid Particle Protection – 1st Digit
| | |
| --- | --- |
| IP6x | No ingress of dust; complete protection against contact. (Dust tight) |
| IP5x | Protected from the amount of dust that would interfere with normal operation. (Dust protected) |
Degrees of Liquid Ingress Protection – 2nd Digit
IPx8
Protected against continuous immersion in water.
Depth and duration specified by model.
IPx7
Protected against temporary immersion in water for 1 m (3.3 ft) for 30 minutes
IPx6
Protected against water projected by powerful jets from any direction.
100 L per minute by a powerful jets (12.5 mm) for 3 minutes.
IPx5
Protected against water projected by jets from any direction.
12.5 L per minute by a nozzle (6.3 mm) for 3 minutes.
IPx4
Protected against water splashed against the equipment from any direction