VHF AND UHF DIGITAL TRANSCEIVERS
IC-

F3400D


IC-

F4400D

Series (For EUR/EXP)
IDAS™ Takes You To a New Level of "Smart"
VHF/IDAS DIGTAL/NXDN

IC-F3400DT/DS

VHF/IDAS DIGTAL/dPMR

IC-F3400DPT/DPS

UHF/IDAS DIGTAL/NXDN

IC-F4400DT/DS

UHF/IDAS DIGTAL/dPMR

IC-F4400DPT/DPS
Trunking (NXDN Type-D or dPMR Mode 3)
IDAS trunking can bind multiple channels and effectively share the limited number of channels with a large number of users.
* License key (ISL-UGMTR for NXDN Type-D or ISL-UGMD3 for dPMR Mode 3) required.
Multi-Site Connectivity
Connect two or more repeater sites over the IP network and expand the communication coverage. The multi-site connectivity can be applied to both conventional and trunking modes.
Voting Scan
When used in a multi-site conventional system, the IDAS radio searches an optimal repeater site and automatically selects to the repeater. Useful for users moving over wide area.
Mix Mode Operation (NXDN Conventional and dPMR Mode 1/2)
The IDAS radio can receive both analog and digital mode signals on a channel and can reply either in analog or digital mode according to the received mode. You can partially introduce the IDAS radios, while still using the existing analog radios in a system.
License Key Upgrade
Necessary functions such as trunking capability, channel capacity, AES encryption and other functions can be added with license key options. The IDAS radios can be upgraded and customized to meet your specific needs.
System / Radio Unit Management Efficiency
Over-the-Air-Programming (OTAP)
The OTAP function allows you to distribute a radio configuration file over-the-air to update the IDAS radios. Save considerable time with no need to return the radio for reprogramming.
* OTAP manager software (CS-OTPM1) is required.
System Configuration File (SCF) (dPMR Mode 3)
Icom's dPMR Mode 3 system server can export an SCF which includes common system parameters and the IDAS radio can import the SCF for further programming efficiency.
Fundamental Radio Features
Small, Slim and Smart
The compact body is made possible from new engineering techniques including the use of a custom SoC (System-on-a-Chip) and flat sheet keypad. The slim dimensions are also supplemented with reduced power consumption, allowing for a thinner battery pack.
Color LCD and Improved User Interface
A high-resolution color LCD and new user interface is adopted. The color LCD enhances the visibility both in natural and indoor lighting, with the night mode LCD setting as an alternative for use in night time or low lighting conditions. Functions can be easily set by following easy to understand icons and menu items.
Operating Convenience
The OAA function sends own alias name with a call to receivers and automatically shows the callers name on the receivers display. It eliminates the need to program the call list to each radio, when a new radio is entered or existing radio is passed to another person.
Hands-Free Operation with Bluetooth® Headset *1
The built-in Bluetooth® module*1 provides remote operation and hands-free communication paired with a third-party headset (for example, 3M™ Peltor™ WS™ 5 series)*2.
*1 Version without Bluetooth also available. Ask your Dealer for details. *2 Available functions depend on paired Bluetooth devices. Icom does not guarantee all functions and performance of the Bluetooth headset.
Digital Voice Recording
The IDAS radio can record incoming and outgoing calls, and the user can check recorded communications just in case. When a 32 GB microSD* card is used, a Max. 500 hours of recording is possible. The following information can be embedded in the WAV file; user IDs, GPS position, frequency, AF volume, RSSI, etc.
(Depending on setting).
* A microSD card is required separately.
Vibration Alert
When a call is received, the IDAS radio vibrates powerfully enough for the incoming call to be felt through heavy clothing.
Multiple Languages
Functions and menu items can be programmed in a language other than English. Cyrillic and Simplified Chinese fonts are supported.
Voice Announcement
The new IDAS radios can notify channel number, zone and channel type with voice announcement. This function is convenient for making radio adjustments without having to look at the radio. Voice announcements can be replaced with customized messages.
Messages of up to 100 characters
Status message
Low battery beep
Normal, priority and voting scan
Internal clock
Safety and Security
AES/DES Encryption with Over-the-Air-Rekeying (OTAR)
For digital communication security, the IDAS radio provides basic 4-key DES encryption as standard and upgraded to 64-key DES with the optional UT-134. When used with the optional UT-134 and license key (ISL-AKAES), the AES encryption with the OTAR function are available. The OTAR function allows updating of encryption keys over the radio channel.
* The OTAR manager software (CS-OTAR1) is required.
Emergency Call by Man Down and Motion/Stationary Detection
To remotely monitor worker safety, the IDAS handheld radio has four emergency related functions: motion detection, stationary detection, man down and lone worker functions. If one of these functions are activated, the radio automatically sends an emergency signal.
Radio Kill, Stun and Revive
If a radio is lost or stolen, the radio kill function disables the radio over the air to reduce a security threat. When the radio Stun command is received, all functions will be temporarily locked out until a Revive command is received or the user password is entered.
Remote monitor (NXDN)/ Ambience listening (dPMR) functions
Power ON Password
Surveilance function
Tactical group function for temporarily regroup of user groups
Audio Quality
Active Noise Canceller
The active noise canceller assists in providing clear audio, while suppressing background noise. The function improves both your transmitted voice and incoming call. The radio user does not need to shout into the microphone even under extremely noisy environments.
Audio Equalizer Effect
The audio equalizer allows you to tailor the audio tone to optimize voice quality in various use environments.
14-pin ACC connector with BTL amplifier output
AquaQuake™ draining function clears water away from the speaker grill
Audio compander
Beat cancel
Data Communication
Built-in GPS Receiver
The IDAS radio can be used as a transparent data modem which transmits various data up to 3600 bps over the radio channel. The NXDN 12.5 kHz digital mode doubles the data speed.
The position data can be sent with voice call or status call and can be used with a third-party AVL (Automatic Vehicle Location) system. The GPS log functions logs user position data at regular intervals.
USB Port for PC Connection
The IDAS radio can be connected to a PC through a USB port for programming radios and accessing the installed microSD card in mass storage mode.
Serial communication interface with Bluetooth® * for wireless connection
Radio programming through a microSD card
* Version without Bluetooth also available. Ask your Dealer for details.
Some functions and options will be available in the future.
General
IC-F3400 series
IC-F4400 series
Frequency range (NXDN)
(* Depending on version)
136–174MHz
380–470MHz
450–512MHz
Frequency range (dPMR)
136–174MHz
380–470MHz
Number of channels
1024 channels /128 zones
4000 channels /128 zones (Option*1 )
Type of emission (NXDN)
(* Depending on version)
16K0F3E*2 , 14K0F3E, 11K0F3E, 8K50F3E ,8K30F1E/D, 4K00F1E/D
Type of emission (dPMR)
(* Depending on version)
16K0F3E*2 , 14K0F3E, 8K50F3E, 4K00F1E/D
Power supply requirement
7.5V DC nominal
Current drain (approx.)
Tx (High)
1.5A
1.8A
Rx (Max./Standby)
580 mA (Internal SP)/140 mA
Antenna impedance
50Ω
Operating temperature range

–30 °C to +60 °C; –22 °F to +140 °F
(Radio specifications)

Dimensions (W×H×D)
(Projections not included)
53.6 × 123.5 × 29.3 mm; 2.1 × 4.9 × 1.2 in (with BP-303)
Weight (approx.)
215 g; 7.6 oz (main unit)
340 g; 12.0 oz (with BP-303, MB-133 and FA-S81VS)
335 g; 11.8 oz (with BP-303, MB-133 and FA-S81US)
*1 Optional license key (ISL-CHEX) required.
*2 25 kHz bandwidth is no longer available for FCC Part 90 licensees for USA versions.
DVN: Digital Very Narrow (6.25 kHz), DN: Digital Narrow (12.5 kHz). DN is for NXDN version only.
Transmitter
IC-F3400 series
IC-F4400 series
Output power (Hi, L2, L1)
(Depending on version)
5 W, 2 W, 1 W
Frequency stability
±1.0ppm
Spurious emissions
USA
80 dB typ.
EUR
0.25 μW (≤ 1 GHz), 1.0 μW (> 1 GHz)
FM Hum and noise (W/N)
55/55 dB typ.
60/59 dB typ.
Audio harmonic distortion
(AF 1kHz 40% deviation)
0.5% typ.
0.4% typ.
FSK error
1% typ. (DVN/DN)
Receiver
IC-F3400 series
IC-F4400 series
Sensitivity
12dB SINAD
0.22 μV typ.
0.23 μV typ.
20 dB SINAD (W/N)
–5.5/–2.5 dBμV emf typ.
–5.0/–2.0 dBμV emf typ.
1% BER (DVN/DN)
–5.5/–4.0 dBμV emf typ.
–4.0/–4.0 dBμV emf typ.
Adjacent channel
(W/N)
80/76 dB typ.
75/72 dB typ.
(DVN/DN)
71/70 dB typ.
66/66 dB typ.
Spurious response rejection
81 dB typ.
76 dB typ.
Intermodulation
rejection
Analog (USA)
75 dB typ.
74 dB typ.
Analog (EUR)
67 dB typ.
68 dB typ.
DVN/DN
72 dBμV emf typ./
–41 dBm typ.
73 dBμV emf typ./
–41 dBm typ.
Audio output power
Internal SP
(With 8 Ω load)
1300 mW typ. (at 5% distortion)
External SP
(With 8 Ω load)
1000 mW typ. (at 5% distortion)/
1300 mW typ.* (with HM-222H at 5 % dist.)
Measurements made in accordance with TIA-603, EN300 086, EN301 166, EN300 113.
All stated specifications are subject to change without notice or obligation.
* For the transceiver with a "U" mark on the serial number label.
Function Comparison
NXDN Version
dPMR Version
Operating type
NXDN Single-site Conventional
Yes
N/A
NXDN Multi-site Conventional
Yes
N/A
NXDN Type-D trunking (Single/multi)
Option (ISL-UGMTR)
N/A
12.5 kHz digital mode
Yes
N/A
dPMR Mode 1/2 conventional
N/A
Yes
dPMR Mode 3 trunking
N/A
Option (ISL-UGMD3)
Analog mode
Yes
Yes
Analog/Digital mix mode
Yes
Yes
Digital functions
OTAP (Over-the-Air Programming)
Option
(CS-OTPM1)
Option
(CS-OTPM1)
OAA (Over-the-Air Alias)
Yes
Yes
Transparent data mode
Yes
Yes
Status message
Yes
Yes
Short data message
Yes
Yes
Radio Stun/Revive/Kill
Yes
Yes
Remote monitor/Ambience listening
Yes
Yes
Analog functions
2-Tone/5-Tone encoder/decoder
Yes
Yes
CTCSS/DTCS encoder/decoder
Yes
Yes
DTMF autodial/decoder
Yes
Yes
BIIS 1200 (MSK)
N/A
Yes
MDC functions
Yes
N/A
LTR™ trunking
Yes
N/A
Security
DES encryption (4 keys)
Yes
Yes
DES encryption (Up to 64 keys)
Option (UT-134)
Option (UT-134)
AES encryption
Option
(UT-134 & ISL-AKAES)
Option
(UT-134 & ISL-AKAES)
OTAR (Over-the-Air Rekeying)
Option
(CS-OTAR1)
Option
(CS-OTAR1)
Digital voice scrambler
Yes
Yes
Analog voice scrambler (Inversion)
Yes
Yes
Scan functions
Priority scan
Yes
Yes
Voting scan
Yes
Yes
Emergency functions
Lone worker function
Yes
Yes
Man down function
Yes
Yes
Motion/Stationary detection
Yes
Yes
Voice/Audio functions
Voice announcement
Yes
Yes
VOX function
Yes
Yes
Voice recording/playback
Yes
Yes
Active noise canceller
Yes
Yes
TX/RX Audio equalizer
Yes
Yes
Hardwares
GPS receiver
Yes
Yes
Vibration alert
Yes
Yes
Bluetooth®
Yes*
Yes*
microSD memory card slot
Yes
Yes
USB connector
Yes
Yes
* Version without Bluetooth also available. Ask your Dealer for details.
Applicable U.S. Military Specifications & IP Rating
Icom makes rugged products that have been tested to and passed the following MIL-STD requirements and strict environmental standards.
Standard

MIL-810 G
Method
Procedure
Low Pressure
500.5
I, II
High Temperature
501.5
I, II
Low Temperature
502.5
I, II
Temperature Shock
503.5
I-C
Solar Radiation
505.5
I
Rain Blowing/Drip
506.5
I, III
Humidity
507.5
II
Salt Fog
509.5
–
Dust Blowing
510.5
I
Immersion
512.5
I
Vibration
514.6
I
Shock
516.6
I, IV
Also meets equivalent MIL-STD-810 -C, -D, -E and -F.
| | |
| --- | --- |
| Ingress Protection Standard | IP68 (Dust-tight and waterproof protection) |
Supplied Accessories
BP-303 battery pack
MB-133 belt clip
(May differ or not supplied according to version)
Instruction Manual / Guides

Close

Close

Ingress Protection (IP) Code
Ingress Protection (IP) ratings define the level of protection provided by enclosures to prevent the ingress of foreign objects (dust) and liquid into the electrical equipment.
International Standard IEC 60529 outlines an international classification system that describes the sealing characteristics of electrical equipment.
The classification system uses the "IP" code, or "Ingress Protection" code, to define the level of seal.
An IP number contains two numbers (i.e. IP67) in most instances which relate to the level of protection provided by an enclosure or housing.
Either number may be shown as "X" (i.e. IPX6 / IP7X) to indicate the "X" part is not tested.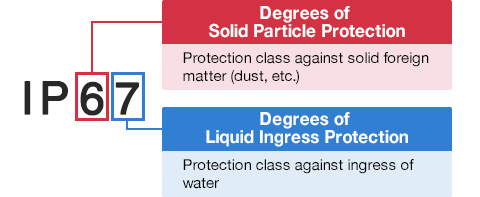 Degrees of Solid Particle Protection – 1st Digit
| | |
| --- | --- |
| IP6x | No ingress of dust; complete protection against contact. (Dust tight) |
| IP5x | Protected from the amount of dust that would interfere with normal operation. (Dust protected) |
Degrees of Liquid Ingress Protection – 2nd Digit
IPx8
Protected against continuous immersion in water.
Depth and duration specified by model.
IPx7
Protected against temporary immersion in water for 1 m (3.3 ft) for 30 minutes
IPx6
Protected against water projected by powerful jets from any direction.
100 L per minute by a powerful jets (12.5 mm) for 3 minutes.
IPx5
Protected against water projected by jets from any direction.
12.5 L per minute by a nozzle (6.3 mm) for 3 minutes.
IPx4
Protected against water splashed against the equipment from any direction