HYBRID IP TRANSCEIVERS
IP730D
IP740D
Hybrid Handheld IP Radio for
Local & Nationwide Communications
Innovative LTE Radios with Licensed Professional Radio Mode for Increased Capacity and Coverage
The IP730D and IP740D are dual mode "hybrid" radios that provide nationwide coverage over LTE networks and conventional VHF/UHF professional radio mode (IDAS™ digital/analog mode).
Dual Mode
The IP730D series can receive both communications from an LTE radio group and IDAS™ (or analog) group at a time (audio mixed). You can press either the main PTT for LTE or the sub PTT button for IDAS™ or analog channel to answer in accordance with pre-programming. If necessary, you can press the main and sub PTT buttons to address two groups at the same time.
Bridge Function
The Bridge function* relays received IDAS™ digital audio to the LTE radio group, while transferring the LTE radio conversations to the IDAS™ group. This function is useful when communicating outside of the LTE service coverage area with an IDAS™ radio, or temporary cross band connection between two IDAS™ radio groups using different frequencies or channels.
(Not available in Analog mode).
* When using the Bridge function, operating time will be shorter and output power of the IP730D/IP740D is reduced to 1 W.
The Bridge function may be prohibited in some countries. Please check the legal requirements in your country before using this function.
LTE Mode
LTE mode provides secure private push-to-talk communication over an LTE (4G) and 3G network*. The cellular network provides coverage into building basements or high-rise floors where conventional radio systems may not reach.
* Network coverage provided by a custom SIM card. Service availability depends on the country.
IDAS™ Mode
IDAS™ digital mode is a conventional VHF/UHF radio mode using licensed professional radio channels. It also provides Individual, Group and All calls with PTT operation. When operating in remote, mountainous areas, 4G/3G networks may not be available. Conventional VHF/UHF communications provide a stable, local alternative.
Sub PTT Button for Dual Mode Operation
Simultaneous TalkListen Function in LTE Mode
1500 mW Powerful Audio
Built-in Bluetooth® Technology
GPS Data Transmission Capability
The IP730D series has a built-in GPS receiver that can automatically transmit position data at programmed intervals*. (LTE mode only)
* GPS mapping software is required separately.
(Not supplied from Icom Inc.)
IP67 Waterproof and Dust-Tight Specification
Emergency Call Features Specification
By holding down the orange emergency button, you can transmit an emergency call. In addition, the radio has three emergency related functions: Man Down, Lone Worker and Motion/Stationary Detection functions. If one of these functions is activated, the radio automatically transmits emergency signals to alert your controller or dispatcher of any potential trouble.
(Common to LTE and IDAS™ mode)
Digital Voice Recording/Playback
The IP730D series can record incoming calls of up to 4 minutes, or a maximum of 10 messages, and the user can check recorded communications.
Other Features
General Features
• 136 – 174, 350 – 470, 400 – 520 MHz versions
• 128 Channels/8 Zones
• Rotary encoder with channel announcement function*1
• DTMF code transmission with optional DTMF microphone, HM-245T
• Vibration alert function
• Surveillance function
• AquaQuake™ function prevents audio degradation from a water-logged speaker
IDAS™ Operating Mode
• NXDN™ conventional
• NXDN™ multi-site conventional over IP network
• IDAS™ digital simulcast
IDAS™ Digital Functions
• Over-the-Air Programming (OTAP) function updates the radio configuration over the LTE
• Over-the-Air Alias (OAA)*1 displays the caller's name without programming
• Up to 500 ID numbers for IDAS™ mode can be saved in the Call List to show the alias name
• Individual, Group and All calls
• Digital voice scrambler (15-bit encryption)
• Talk back
Analog Functions
• CTCSS and DTCS
• 12.5 kHz channel spacing
*1 These functions will be available with future firmware upgrades.
GENERAL
Audio output power
Internal SP (8 Ω load)
1500 mW typical (10% distortion), 1300 mW typical (5% distortion)
External SP (8 Ω load)
1000 mW typical (10% distortion), 650 mW typical (5% distortion)
HM-222H (8 Ω load)
1500 mW typical (10% distortion), 1300 mW typical (5% distortion)
Operating temperature range
–30 °C to +60 °C, –22 °F to +140 °F
Power supply voltage
7.5 V DC nominal
Current drain
(approximate)
Receive
Max. audio (INT SP) 520 mA,
Stand-by 300 mA
Transmit
Hi (5 W) 1.8 A
Dimensions
(H × W × D; Projections not included)
140.5 × 61.7 × 42.8 mm, 5.5 × 2.4 × 1.7 in (with BP-303)
Weight (approximate)
320 g, 11.3 oz (with BP-303)
Bluetooth® technology
Version: 4.2, Output: Class 2, Protocol: HFP, HSP
LTE (4G)/W-CDMA (3G)
Network
EUR, EXP

LTE (4G): B1, B3, B7, B8, B20
W-CDMA: B1, B8

USA
LTE (4G): B2, B4, B12
W-CDMA: B2, B5
AUS, EXP
LTE (4G): B1, B3, B5, B7, B8, B28
W-CDMA: B1, B5
Rated output power
0.25 W
Receiver sensitivity (QPSK)
–102 dBm typ.
Compatibility
IP501H, IP503H, IP501M, IP500APP, VE-PG4
IDAS™ digital/Analogue
IP730D
IP740D
GENERAL
Frequency range*
(* Depending on the version)
136 – 174 MHz
350 – 470 MHz,
400 – 520 MHz
Number of conventional channels
128 channels /8 zone
Type of emission*
(* Depending on the version)
USA
11K0F3E (15.0 kHz), 4K00F1E, 4K00F1D (6.25 kHz)
EUR, EXP, AUS
8K50F3E (12.5 kHz), 4K00F1E, 4K00F1D (6.25 kHz)
TRANSMITTER
Output power
(Hi, L2, L1) 5 W, 2 W, 1 W
Frequency stability
±1.0 ppm
Spurious emissions
90 dB typ. (TIA-603)
0.25 μW (≤ 1 GHz), 1.00 μW (> 1 GHz) (EN301 166, EN300 086)
FM hum and noise (Without CCITT filter)
60 dB typ. (TIA-603)
FSK error
5% max. 1% typ. (EN301 166)
RECEIVER
Sensitivity
Digital
(1% BER)
–6.5 dBμV emf typ. (0.24 μV typ.)
(EN301 166)
–7 dBμV emf typ. (0.22 μV typ.)
(EN301 166)
Analogue
(12 dB SINAD)
0.22 μV typ. (TIA-603)
0.17 μV typ. (TIA-603)
Analogue
(20 dB SINAD)
–2 dBμV emf typ. (0.4 μV typ.)
(EN300 086)
–2 dBμV emf typ. (0.4 μV typ.)
(EN300 086)
Adjacent channel
selectivity
Digital
62 dB typ. (EN301 166)
63 dB typ. (EN301 166)
Analogue
67 dB typ.
67 dB typ.
Intermodulation
rejection
Digital
76.5 dBμV emf typ. (EN301 166)
73 dBμV emf typ. (EN301 166)
Analogue
74 dB typ. (TIA-603)
67 dB typ. (EN300 086)
72 dB typ. (TIA-603)
66 dB typ. (EN300 086)
Hum and noise
(Without CCITT filter)
60 dB typ. (TIA-603)
60 dB typ. (TIA-603)
Measurements made in accordance with 3GPP TS-36, TIA-603, EN300 086 and EN301 166.
All stated specifications are subject to change without notice or obligation.
Applicable U.S. Military Specifications
Standard

MIL-810 G
Method
Procedure
Low Pressure
500.5
I, II
High Temperature
501.5
I, II
Low Temperature
502.5
I, II
Temperature Shock
503.5
I-C
Solar Radiation
505.5
I
Rain Blowing/Drip
506.5
I, III
Humidity
507.5
II
Salt Fog
509.5
–
Dust Blowing
510.5
I
Immersion
512.5
I
Vibration
514.6
I
Shock
516.6
I, IV
Also meets equivalent MIL-STD-810-C, -D -E and -F.
IP Rating
Ingress Protection Standard
Dust & Water
IP67 (Dust-tight and waterproof)
Battery Life
Battery Pack
Type
Capacity
Operating time*
LTE
VHF
UHF
BP-303
Li-ion, 7.2V
3350 mAh (typ.)
3200 mAh (min.)
Up to 24 hours
Up to 13 hours (at 5 W)
Up to 15 hours (at 1 W)
* Calculated under the following conditions:
- Bluetooth and Backlight are OFF
- TX : RX : standby = 5 : 5 : 90
The operating time may be shorter, depending on:
- The operating conditions, such as Bluetooth, GPS, Dual mode, and so on.
- The distance with the cellular station or the signal strength.
Supplied Accessories
Battery pack, BP-303
Belt clip, MB-133
(May differ, or not supplied, depending on version)
Catalogs / Brochures
Instruction Manual / Guides
Promotion video of IP730D/IP740D
Icom Solutions for Utilities (LTE, Hybrid and Satellite Transceivers)

Close

Close

Ingress Protection (IP) Code
Ingress Protection (IP) ratings define the level of protection provided by enclosures to prevent the ingress of foreign objects (dust) and liquid into the electrical equipment.
International Standard IEC 60529 outlines an international classification system that describes the sealing characteristics of electrical equipment.
The classification system uses the "IP" code, or "Ingress Protection" code, to define the level of seal.
An IP number contains two numbers (i.e. IP67) in most instances which relate to the level of protection provided by an enclosure or housing.
Either number may be shown as "X" (i.e. IPX6 / IP7X) to indicate the "X" part is not tested.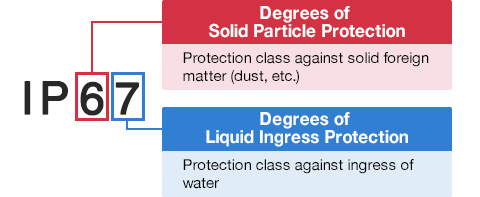 Degrees of Solid Particle Protection – 1st Digit
| | |
| --- | --- |
| IP6x | No ingress of dust; complete protection against contact. (Dust tight) |
| IP5x | Protected from the amount of dust that would interfere with normal operation. (Dust protected) |
Degrees of Liquid Ingress Protection – 2nd Digit
IPx8
Protected against continuous immersion in water.
Depth and duration specified by model.
IPx7
Protected against temporary immersion in water for 1 m (3.3 ft) for 30 minutes
IPx6
Protected against water projected by powerful jets from any direction.
100 L per minute by a powerful jets (12.5 mm) for 3 minutes.
IPx5
Protected against water projected by jets from any direction.
12.5 L per minute by a nozzle (6.3 mm) for 3 minutes.
IPx4
Protected against water splashed against the equipment from any direction