SATELLITE PTT
IC-

SAT100M
One-to-Many Satellite Communication for In-Building and In-Vehicle Use
What is SATELLITE PTT?
The Icom IC-SAT100M is the dedicated satellite push-to-talk (PTT) radio, and is the only PTT radio offering real-time communications at the push of a button between a group of individuals, each of whom can be anywhere on the planet*. The IC-SAT100M uses the Iridium® satellite communication network, which covers the entire globe, including both poles.
* Subscription contracts are required for using the IC-SAT100M. Depending on the country or region, carrying and/or use of the IC-SAT100/M may be prohibited.
One-to-Many Communication
IC-SAT100M users can immediately start talking to all the radios in the same talkgroup, with just a push of the transmit (PTT) button.
Total Global Coverage, Including the Poles
The Iridium® satellite network covers the entire globe, including both poles, and can provide global communications anywhere on the planet*.
* Subscription contracts are required for using the IC-SAT100M. Depending on the country or region, carrying and/or use of the IC-SAT100/M may be prohibited.
Real-Time Communication
Using 66 Low Earth Orbit (LEO) Iridium® satellites, the IC-SAT100M provides low-latency communication, and broader, more reliable network coverage, compared to Geosynchronous Equatorial Orbit (GEO) satellites.
Interoperability with Conventional Radios
With a VE-PG4 RoIP gateway, the IC-SAT100M can interconnect with an IP phone, WLAN, LTE, IDAS digital*, analog transceivers and other communication systems.
* Type-D multi-site trunking and conventional systems.
Install the antenna unit (with RF unit) to the rooftop, and use the radio from indoors, or even from the basement
Easy wiring works between the antenna unit (with RF unit) and main unit using a LAN cable (Cat 5e)*1
Compatible with both 13.2 and 26.4 V DC vehicle power source
Antenna unit with RF unit: IP67, Main unit: IP54, Microphone: IP55
1500 mW powerful audio output
Other Features
Voice Recording function
Built-in Bluetooth® capability*2
Multiple language display ( English, Chinese, French, Japanese, and Spanish)
Integrated GPS receiver shows received signal position
Short Data Message
AES 256-bit encryption for security
Tested to the MIL-STD-810 environmental tests
*1 User supplied LAN cable is required to replace the supplied 20m LAN cable.
*2 Version without Bluetooth® also available. Ask your Dealer for details.
Installation Examples
In-Building Use
You can flexibly install the radio and the antenna (with RF unit) with only a LAN cable (Maximum 100 m, 328 ft). Using PoE (Power over Ethernet) capability, the main unit supplies power to the antenna unit through the LAN cable. Connect your PoE injector or switch to extend the distance between the main unit and the antenna unit. (802.3at compatible)
* User supplied LAN cable is required to replace the supplied 20 m LAN cable.
Installation for Mobile Use
For a vehicle use, optional AH-40 must be used for optimal performance and environmental resilience. It must be placed on the top of the roof (highest point) with least sky blocking objects around. When you use a third-party antenna cover, you can cover the AH-40 making it look more discreet.
Advanced System Example with VE-PG4
The VE-PG4 is a versatile RoIP (Radio over IP network) gateway unit, which seamlessly interconnects satellite PTT radios, PMR radios, LTE radios, WLAN radios, IP phone systems, and external devices. In addition to the IP Network (LAN/WAN), the built-in LTE module* provides virtually nationwide communication coverage.
*Service availability depends on the country. Network coverage provided by a custom SIM card.
Q & A
What about communication fees
Communication fees are typically charged at a flat rate through a monthly plan, and there are no additional call charges.* Communication fees differ, depending on the coverage area and the number of the IC-SAT100M.
* Depending on the country or area, a flat charge plan may not apply, or the service may not be available.
What is a "Talkgroup"?
Using SATELLITE PTT, you can communicate with other IC-SAT100M radios assigned to the same Talkgroup. The coverage area of the Talkgroup is selectable from five sizes (see the table above).
How do I assign a coverage area?
The coverage area can be split into different coverage regions, using circles, squares, and rectangles. For example, you can assign coverage areas to Tokyo, New York and London.
Can I change my Talkgroup and/or the region within a coverage area?
Yes, you can flexibly change these settings* on the Iridium® website.
* To change the contents of a contract may require an application in advance.
Can the IC-SAT100M make phone calls?
No, the IC-SAT100M is PTT (Push-To-Talk) use only. Using the optional VE-PG4* RoIP gateway, the IC-SAT100M will be able to communicate with other networks.
General
Frequency range
1616 MHz to 1626.5 MHz
Dimensions (W×H×D, projections not included)
Antenna unit: 76.8 × 200 × 76.8 mm, 3 ×7.9 × 3 in
Main unit: 125 × 29 × 156.5 mm, 4.9 ×1.1 × 6.2 in
Microphone: 59.5 × 134.6 × 30.1 mm, 2.3 × 5.3 × 1.2 in
Weight (approximate)
Antenna unit: 500 g, 1.1 lb
Main unit + Microphone: 1200 g, 2.6 lb
Operational temperature range
–30°C to +60°C, –22 °F to 140 °F
Audio output power
Internal speaker
1500 mW typical (8 Ω load)
External speaker
4 W typical (4 Ω load)
Power supply voltage
13.2 V / 26.4 V DC (10.5–32 V DC)
Talkgroup
15 groups (Maximum)
Antenna connector
SMA (for external antenna)
All stated specifications are subject to change without notice or obligation.
Antenna Comparison
Radio

Antenna

Connection cable

Distance from radio to antenna

IC-SAT100

AH-40

–

Maximum 1.5 m, 4.9 ft

OPC-2422 optional coaxial cable (5D-HFA)

Maximum 6.5 m, 21.3 ft

AH-38

OPC-2113 optional coaxial cable (5D-HFA)

Maximum 10 m, 32.8 ft

AH-41

OPC-2462 optional coaxial cable (59 m, 193.5 ft) or user supplied coaxial cable

Maximum 169 m, 554.5 ft

IC-SAT100M

Antenna with RF unit

LAN cable (CAT5e, theoretical values)

Maximum 100 m, 328.1 ft
Applicable U.S. Military Specifications
Icom makes rugged products that have been tested to and passed the following MIL-STD requirements and strict environmental standards.
Standard

MIL-810 G
Method
Procedure
Low Pressure
500.5
I, II
High Temperature
501.5
I, II
Low Temperature
502.5
I, II
Temperature Shock
503.5
I-C
Solar Radiation
505.5
I
Rain Blowing/Drip
506.5
I, III
Humidity
507.5
II
Salt Fog
509.5
–
Dust Blowing
510.5
I
Immersion
512.5
I*
Vibration
514.6
I
Shock
516.6
I, IV
Also meets equivalent MIL-STD-810 -C, -D, -E and -F.
* Antenna unit only.
IP Rating
Ingress Protection Standard
Dust & Water
IP67 (antenna with RF unit), IP55 (mic), IP54 (main unit)
Package Includes
Main unit
Antenna unit with RF unit
Multi-functional speaker-microphone
OPC-2435 DC power cable
OPC-2102 LAN cable (20 m, 65.6 ft)
Mobile bracket for the main unit
Antenna angle and mounting kits
Instruction Manual / Guides
IC-SAT100M Operation Guide
Icom Solutions for Utilities (LTE, Hybrid and Satellite Transceivers)

Close

Close

Ingress Protection (IP) Code
Ingress Protection (IP) ratings define the level of protection provided by enclosures to prevent the ingress of foreign objects (dust) and liquid into the electrical equipment.
International Standard IEC 60529 outlines an international classification system that describes the sealing characteristics of electrical equipment.
The classification system uses the "IP" code, or "Ingress Protection" code, to define the level of seal.
An IP number contains two numbers (i.e. IP67) in most instances which relate to the level of protection provided by an enclosure or housing.
Either number may be shown as "X" (i.e. IPX6 / IP7X) to indicate the "X" part is not tested.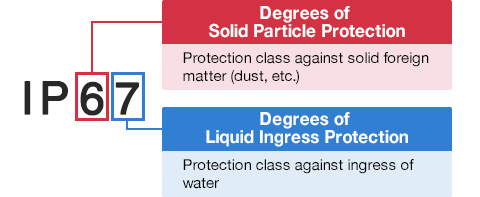 Degrees of Solid Particle Protection – 1st Digit
| | |
| --- | --- |
| IP6x | No ingress of dust; complete protection against contact. (Dust tight) |
| IP5x | Protected from the amount of dust that would interfere with normal operation. (Dust protected) |
Degrees of Liquid Ingress Protection – 2nd Digit
IPx8
Protected against continuous immersion in water.
Depth and duration specified by model.
IPx7
Protected against temporary immersion in water for 1 m (3.3 ft) for 30 minutes
IPx6
Protected against water projected by powerful jets from any direction.
100 L per minute by a powerful jets (12.5 mm) for 3 minutes.
IPx5
Protected against water projected by jets from any direction.
12.5 L per minute by a nozzle (6.3 mm) for 3 minutes.
IPx4
Protected against water splashed against the equipment from any direction