COMMUNICATIONS RECEIVER
IC-

R6
The 100 Ch/Sec Wideband Signal "Search Machine"
100kHz–1309.995MHz* Wideband Coverage
While the IC-R6 receives an ultra wideband frequency range, the radio provides superior sensitivity and receiver characteristics that is insusceptible to interference. Amateur stations, AM, FM, short wave broadcasts, TV audio* and a variety of utility communications can be caught and listened to.
* Frequency range depends on version. Analog TV audio only. Cannot decode digital TV audio.
100 Channels per Second High Speed Scan
The IC-R6 has 100 channels per second high speed scan capability*. This superior scanning power allows the utmost efficiency when searching over 1300MHz of spectrum!
* VFO mode scanning.
15 hours of Continuous Receive Capability*
The IC-R6 is energy-efficient, designed to provide many hours of listening enjoyment on a single charge. With the supplied rechargeable Ni-MH cells (1400mAh ×2), the IC-R6 provides up to 15 hours of continuous receive capability*.
* At 50mW output using external speaker.
1300 Memory Channels with 22 Memory Banks
With 1300 alphanumeric memory channels, 50 scan edges and 200 auto write memories, the IC-R6 gives you flexible scanning. Use the bank link scan feature to choose from and connect any of the 22 memory banks.
VSC (Voice Squelch Control)
The VSC opens the squelch only when a modulated signal is detected and ignores unmodulated beat noise. It is a handy feature for those listeners who are scanning for talk, news and music, but not data bursts or beacons.
Multiple Power Choices
The IC-R6 can be powered by rechargeable Ni-MH cells, or with alkaline batteries. Run the IC-R6 using the AC adapter, or opt for a cigarette lighter cable, CP-18A/E. When used the optional drop-in charger stand BC-194 with the AC adapter or cigarette lighter cable, you can easily start charging the Ni-MH cells, while eliminating the need to connect the power source to the DC power jack of the receiver.
Other Features
Built-in audio low pass filter
±1.0ppm high frequency stability (at 25°C)
Earphone cord antenna for AM aviation as well as FM broadcast
Ferrite bar antenna for AM broadcast
150mW loud audio with internal speaker
DTCS and CTCSS tone squelch and reverse tone squelch
Priority watch function with priority beep function
Optional CT-17, CI-V level converter for remote control
PC programmable with optional CS-R6
Receiver-to-receiver cloning (optional OPC-474 required)
Auto power OFF (0.5–2 hours and end of busy signal)
Compact, drip-resistant construction
Duplex operation monitoring
Automatic LCD backlight
Dial speed acceleration
Built-in RF attenuator
Auto memory write scan stores the detected frequency, mode and tone into a specified memory
Reversible up/down buttons and dial knob for volume, frequency, memory channel, scan direction and set mode settings
Optional new tube earphone, SP-27
Weather channel receive with weather alert*
* U.S.A. version only
General
Frequency coverage
(Differs according to version)
0.100–1309.995MHz*
Mode
AM, FM, WFM
Frequency stability
±1.0ppm
(at 25°C)
Current drain
Rated audio output: 130mA typ.
(Ext. SP, backlight off)
Battery pack or cells
2×R6 (AA) size Ni-MH or alkaline cells
External power supply requirement
4.5V DC rated
(4.5 - 6.3V with BC- 196SA/SD, CP-18A/E)
Antenna impedance
50Ω (SMA)
Number of memory channels
1550
(1300 regular, 200 auto memory write
and 50 scan edges)
Dimensions
(W×H×D; Projections are not included)
58×86×29.8 mm;
2.28×3.39×1.17 in
Weight (approx.)
200g; 7.1oz
Sensitivity
(typical, except spurious points)
FM (at 12dB SINAD):

1.625MHz– 4.995MHz 0.32μV typ.
5.000MHz– 29.995MHz 0.25μV typ.
30.000MHz– 117.995MHz 0.18μV typ.
118.000MHz– 246.995MHz 0.18μV typ.
247.000MHz– 469.995MHz 0.18μV typ.
470.000MHz– 832.995MHz 0.32μV typ.
833.000MHz–1029.995MHz 0.28μV typ.
1030.000MHz–1309.995MHz 0.35μV typ.
WFM (at 12dB SINAD)
76.000MHz– 108.000MHz 1.1μV typ.
175.000MHz– 221.995MHz 1.1μV typ.
470.000MHz– 770.000MHz 1.8μV typ.
AM (at 10dB S/N):
0.495MHz– 4.995MHz 1.3μV typ.
5.000MHz– 29.995MHz 0.89μV typ.
118.000MHz– 136.000MHz 0.63μV typ.
222.000MHz– 246.995MHz 0.63μV typ.
247.000MHz– 329.995MHz 0.79μV typ.
Selectivity
AM, FM:
More than 12kHz/–9dB,
Less than 30kHz/–60dB
WFM
More than 150kHz/–6dB
AF power (at 10% distortion)
Internal speaker (16Ω load) More than 150mW
External speaker (8Ω load) 80mW typ.
External speaker connector
3-conductor 3.5 (d) mm (1⁄8″)/8Ω
* Cellular bands are blocked in the USA version.
Applicable U.S. Military Specifications
Icom makes rugged products that have been tested to and passed the following MIL-STD requirements and strict environmental standards.
Standard

MIL-810 G
Method
Procedure
Low Pressure
500.4
I,II
High Temperature
501.4
I,II
Low Temperature
502.4
I,II
Temperature Shock
503.4
I
Solar Radiation
505.4
I
Humidity
507.4
-
Vibration
514.5
I
Shock
516.5
I,IV
Also meets equivalent MIL-STD-810-C, -D -E and -F.
Ingress Protection Standard
| | |
| --- | --- |
| Water | IPX2 (Drip resistant) |
All stated specifications are subject to change without notice or obligation.
Supplied Accessories
Ni-MH cells*
AC adapter, BC-196SA/BC-153SE*
Antenna
Belt clip
Handstrap
* Not supplied depending on version
Instruction Manual / Guides

Close

Close

Ingress Protection (IP) Code
Ingress Protection (IP) ratings define the level of protection provided by enclosures to prevent the ingress of foreign objects (dust) and liquid into the electrical equipment.
International Standard IEC 60529 outlines an international classification system that describes the sealing characteristics of electrical equipment.
The classification system uses the "IP" code, or "Ingress Protection" code, to define the level of seal.
An IP number contains two numbers (i.e. IP67) in most instances which relate to the level of protection provided by an enclosure or housing.
Either number may be shown as "X" (i.e. IPX6 / IP7X) to indicate the "X" part is not tested.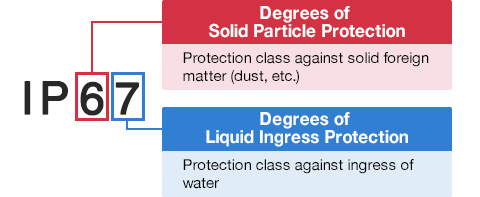 Degrees of Solid Particle Protection – 1st Digit
| | |
| --- | --- |
| IP6x | No ingress of dust; complete protection against contact. (Dust tight) |
| IP5x | Protected from the amount of dust that would interfere with normal operation. (Dust protected) |
Degrees of Liquid Ingress Protection – 2nd Digit
IPx8
Protected against continuous immersion in water.
Depth and duration specified by model.
IPx7
Protected against temporary immersion in water for 1 m (3.3 ft) for 30 minutes
IPx6
Protected against water projected by powerful jets from any direction.
100 L per minute by a powerful jets (12.5 mm) for 3 minutes.
IPx5
Protected against water projected by jets from any direction.
12.5 L per minute by a nozzle (6.3 mm) for 3 minutes.
IPx4
Protected against water splashed against the equipment from any direction