VHF MARINE TRANSCEIVER
IC-

M25EURO
Buoyant, Stylish and Easy to Use
Slim, Lightweight, High Performance
The IC-M25EURO has the slimmest (depth:30.5 mm) and lightest (218 g) body as a floating marine transceiver*. It also delivers uncompromised performance that will exceed expectations.
*As of July, 2015, researched by Icom.
Large LCD, Simple User Interface
The IC-M25EURO's LCD is 30% larger than its predecessor, the IC-M23 and shows clearly large channel number and status icons. The buttons on the front panel are well laid out and provide simple and straightforward operation.
USB Charging (Micro-B USB type)
A standard USB connector (Micro-B type) is used for charging the IC-M25EURO. Cigarette lighter cables or mobile batteries for charging smartphones or other devices can be used with the IC-M25EURO*.
* The IC-M25EURO accepts 5 V/1 A (Max.) input. Use of third-party products is not guaranteed.
Float'n Flash
The IC-M25EURO floats and lets you know where it is with the flashing red LED light and LCD/key backlight.
11 Hours of Battery Life
The built-in 1500 mAh lithium-ion battery allows 11 hours (approx.) of long operation*.
* Typical operation with Tx (Hi): Rx: standby=5:5:90
Optional Speaker-Microphone, HM-213
The optional waterproof speaker-microphone, HM-213, provides commercial grade convenience while mounting the radio around the waist. The radio floats even when the HM-213 is attached.
550 mW Audio Output
The IC-M25EURO provides a powerful 550mW (typical) audio output and received voice can be heard loud and clear.
Other Features
・ IPX7 waterproof construction
(1 m depth of water for 30 minutes)
・ 4-step battery life indicator
・ Dual/Tri-watch functions*
・ Instant access to Ch 16 or programmable call channel
・ Favorite channel function
・ Monitor function opens noise squelch
・ Auto scan function*
・ LCD auto backlighting
・ AquaQuake™ draining function
・ Supports 4-digit channels
* Not available in the HOL version.
General
IC-M25EURO
IC-M25EURO
AUS version
Frequency range
Tx
156.000–161.450 MHz
156.025–157.425 MHz
Rx
156.000–163.425 MHz
156.300–162.000 MHz
Usable channel groups
INT, USA*, ATIS* channels
* Depending on version
INT, USA, WX channels
Type of emission
16K0G3E (FM)
Power supply voltage
3.7 V DC nominal
Current drain
Tx
2.3 A
Rx (Internal SP/External SP)
300 mA/200 mA (Max. audio)
Operating temperature range
–15°C to +55°C
–10°C to +55°C
Antenna impedance
50 Ω
Dimensions (W×H×D)
(Projections not included)
56.6×134.2×30.5 mm
Weight (approximately)
220 g
(With FA-SC59V and MB-133)
Transmitter
IC-M25EURO
IC-M25EURO
AUS version
Output power
5 W (approx.)/1 W/0.5 W*
* For only FRG version
5 W (approx.)/1 W
Max. frequency deviation
±5.0 kHz
Frequency stability
±1.5 kHz
±10 ppm
Spurious emissions
0.25 μW
0.25 μW typ.
Adjacent channel power
70 dB
Residual modulation
40 dB
Receiver
IC-M25EURO
IC-M25EURO
AUS version
Sensitivity
–6 dBμ emf typ. (at 20 dB SINAD)
Squelch sensitivity
–6 dBμ emf typ. (at threshold)
Adjacent channel selectivity
70 dB
65 dB
Spurious response
70 dB
65 dB
Intermodulation
68 dB
65 dB
Audio output power
(at 10% distortion)
Internal SP
550 mW typ. (12 Ω load, at 1 kHz)
External SP
200 mW (4 Ω load)
Measurements made in accordance with EN301-178 (IC-M25EURO) and AS/NZS 4415.2-2003 (IC-M25EURO AUS Version).
All stated specifications are subject to change without notice or obligation.
Applicable IP Rating
Ingress Protection Standard
Water
IPX7 (Waterproof protection)
Supplied Accessories
・ USB charger, BC-217SE/SV*
・ Belt clip, MB-133
・ Antenna, FA-SC59V
・ Hand strap
・ Battery is built-in
* USB charger is not supplied or may differ depending on version.
Catalogs / Brochures
Instruction Manual / Guides

Close

Close

Ingress Protection (IP) Code
Ingress Protection (IP) ratings define the level of protection provided by enclosures to prevent the ingress of foreign objects (dust) and liquid into the electrical equipment.
International Standard IEC 60529 outlines an international classification system that describes the sealing characteristics of electrical equipment.
The classification system uses the "IP" code, or "Ingress Protection" code, to define the level of seal.
An IP number contains two numbers (i.e. IP67) in most instances which relate to the level of protection provided by an enclosure or housing.
Either number may be shown as "X" (i.e. IPX6 / IP7X) to indicate the "X" part is not tested.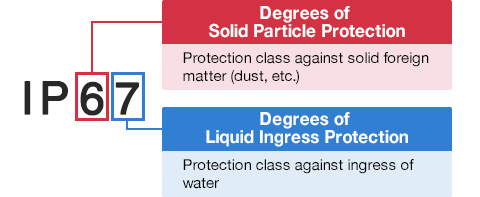 Degrees of Solid Particle Protection – 1st Digit
| | |
| --- | --- |
| IP6x | No ingress of dust; complete protection against contact. (Dust tight) |
| IP5x | Protected from the amount of dust that would interfere with normal operation. (Dust protected) |
Degrees of Liquid Ingress Protection – 2nd Digit
IPx8
Protected against continuous immersion in water.
Depth and duration specified by model.
IPx7
Protected against temporary immersion in water for 1 m (3.3 ft) for 30 minutes
IPx6
Protected against water projected by powerful jets from any direction.
100 L per minute by a powerful jets (12.5 mm) for 3 minutes.
IPx5
Protected against water projected by jets from any direction.
12.5 L per minute by a nozzle (6.3 mm) for 3 minutes.
IPx4
Protected against water splashed against the equipment from any direction