Meets Strict Environmental Requirements for GMDSS
The IC-GM1600 meets temperature, thermal shock, vibration and drop resistant (from 1 m height) requirements. After passing those environmental tests, the IC-GM1600 retains 1m depth waterproof construction as specified by IMO resolution MSC.149(77) and other related regulations.
Superior Low Temperature Characteristic Lithium Battery Pack
For survival craft use, the optional BP-234 (non-rechargeable) 3300mAh lithium battery pack provides more than 8 hours* of operating time even at –20°C.
* Tx:Rx:Stand-by=6:6:48.
Large Keypad with Positive Button Action
Large buttons and knobs provide tactile feedback for positive operation.
Wide Viewing Angle LCD Display
A wide viewing angle, high intensity LCD offers extra clear, easy to read characters. The bright LED indicator on the top of the panel shows the operating condition clearly.
Easy to Operate Even for Unskilled Operators
Operation instructions are printed on the rear panel. All operations can be made with one hand.
Other Features
One touch access to Channel 16 and call channel
Highly visible yellow colored body
Bright LED indicator on the top of panel
Supports 4-digit channels
Frequency range
Tx/Rx
156.300–156.875 MHz
Dimensions (W×H×D)
(Projections not included)
65×145×44 mm
2.56×5.7×1.7 in
Weight (approx.)
385 g; 13.6 oz
(With BP-234)
Current drain
Transmit (High)
1.0 A (2 W)/0.7 A (1.2 W)
Max. audio
400 mA (Internal SP)/200 mA (External SP)
Sensitivity (at 12 dB SINAD)
0.20 µV typical (at 12 dB SINAD)
Intermodulation rejection
70 dB typical
Audio output power (10% dist./ 8 Ω load)
350 mW typical (External SP)
700 mW typical (Internal SP)
RF output power
2 W/1.2 W
All stated specifications are subject to change without notice or obligation.
Supplied Accessories
Battery pack, BP-252
Battery charger, BC-173
AC adapter, BC-147SA/SE*
Belt clip, MB-103Y
Antenna, FA-S61V
Neck strap
* Depending on version
Catalogs / Brochures
Instruction Manual / Guides

Close

Close

Ingress Protection (IP) Code
Ingress Protection (IP) ratings define the level of protection provided by enclosures to prevent the ingress of foreign objects (dust) and liquid into the electrical equipment.
International Standard IEC 60529 outlines an international classification system that describes the sealing characteristics of electrical equipment.
The classification system uses the "IP" code, or "Ingress Protection" code, to define the level of seal.
An IP number contains two numbers (i.e. IP67) in most instances which relate to the level of protection provided by an enclosure or housing.
Either number may be shown as "X" (i.e. IPX6 / IP7X) to indicate the "X" part is not tested.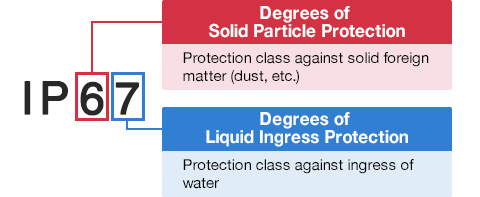 Degrees of Solid Particle Protection – 1st Digit
| | |
| --- | --- |
| IP6x | No ingress of dust; complete protection against contact. (Dust tight) |
| IP5x | Protected from the amount of dust that would interfere with normal operation. (Dust protected) |
Degrees of Liquid Ingress Protection – 2nd Digit
IPx8
Protected against continuous immersion in water.
Depth and duration specified by model.
IPx7
Protected against temporary immersion in water for 1 m (3.3 ft) for 30 minutes
IPx6
Protected against water projected by powerful jets from any direction.
100 L per minute by a powerful jets (12.5 mm) for 3 minutes.
IPx5
Protected against water projected by jets from any direction.
12.5 L per minute by a nozzle (6.3 mm) for 3 minutes.
IPx4
Protected against water splashed against the equipment from any direction