General Features
146–174, 400–430, 450–480MHz
5W output power (100% duty cycle)
Repeater or base operation
1U 19-inch rack mountable
6 programmable function keys
Two-digit LED display
30 channel scanning base (Conventional mode)
3W external speaker audio
Program/modem interface
Remote terminal interface
DTMF AUX output control
DTMF AUX input monitoring
Programmable AUX I/O's
Flash firmware upgrading
16 CTCSS and DTCS built-in
Digital Features*
Digital conventional mode
Multi-site conventional
NXDN™ Type-C trunking mode
Digital/analog mixed mode operation
15-bit digital scrambler
6.25 & 12.5 kHz channels
Unit ID & Group ID validation
Optional OCXO unit for 6.25kHz channel spacing
Up to 48 site trunked IP network
IP network connectivity
Compact flash memory expansion
* Some features require activation licenses.
Type-C Multi-site Trunking
Multi-site Conventional System
With the IC-FR5000C series, up to 16 or 48 repeaters can be interlinked with each other*.
General
IC-FR5000C

IC-FR6000C

Frequency coverage
146–174MHz
400–430MHz
450–480MHz
Number of channels
30 channels
Channel spacing
6.25/12.5kHz
Type of emission
11K0F3E, 8K30F1E/F1D/F7W,
4K00F1E/F1D/F7W/F2D
Frequency stability
±1.5ppm
±0.1ppm (Option)
Antenna impedance
50Ω (Type-N)
Operating temperature range
−30°C to +60°C; −22°F to +140°F
Power supply voltage
10.8–15.9V DC nominal
Dimensions (W×H×D)
483×44×331 mm; 19.02×1.73×13.03 in
Weight
5kg; 11.02 lb (approximately)
Transmitter
IC-FR5000C

IC-FR6000C

Output power
5–0.5W
100% duty cycle
Spurious emissions
73dB typ.
FM hum and noise
50dB typ. (Narrow)
Audio distortion
Less than 1% (at 1000Hz)
Receiver
IC-FR5000C

IC-FR6000C

Sensitivity
Analog
0.30μV typ. (at 12dB SINAD)
Digital
0.33/0.27μV typ. (D 12.5kHz/D 6.25kHz, at 3% BER)
Adjacent channel selectivity
85dB typ. (Narrow)
81dB typ. (Narrow)
Spurious response
100dB typ.
Intermodulation distortion
85dB typ. (Narrow)
Hum and noise ratio
55dB typ. (Narrow)
Audio output power
3W typ. (External SP, at 5% distortion with 4Ω load)
All stated specifications are subject to change without notice or obligation.
Supplied Accessory

Close

Close

Ingress Protection (IP) Code
Ingress Protection (IP) ratings define the level of protection provided by enclosures to prevent the ingress of foreign objects (dust) and liquid into the electrical equipment.
International Standard IEC 60529 outlines an international classification system that describes the sealing characteristics of electrical equipment.
The classification system uses the "IP" code, or "Ingress Protection" code, to define the level of seal.
An IP number contains two numbers (i.e. IP67) in most instances which relate to the level of protection provided by an enclosure or housing.
Either number may be shown as "X" (i.e. IPX6 / IP7X) to indicate the "X" part is not tested.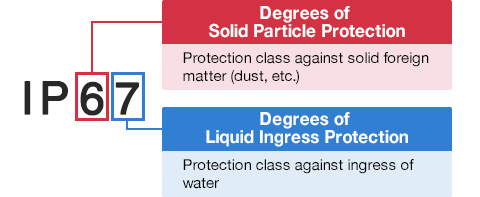 Degrees of Solid Particle Protection – 1st Digit
| | |
| --- | --- |
| IP6x | No ingress of dust; complete protection against contact. (Dust tight) |
| IP5x | Protected from the amount of dust that would interfere with normal operation. (Dust protected) |
Degrees of Liquid Ingress Protection – 2nd Digit
IPx8
Protected against continuous immersion in water.
Depth and duration specified by model.
IPx7
Protected against temporary immersion in water for 1 m (3.3 ft) for 30 minutes
IPx6
Protected against water projected by powerful jets from any direction.
100 L per minute by a powerful jets (12.5 mm) for 3 minutes.
IPx5
Protected against water projected by jets from any direction.
12.5 L per minute by a nozzle (6.3 mm) for 3 minutes.
IPx4
Protected against water splashed against the equipment from any direction