Built-in Versatile Tone Signaling
Use the built-in CTCSS, DTCS, 2-Tone 5-Tone or BIIS 1200 capability to set up your own talk groups, and have your radio standby quietly when other groups are talking. Up to 10 2-Tone, 8 5-Tone codes can be decoded on a single memory channel.
Dot-Matrix, Multi-Function LCD
The IC-F5062D series has a large dot-matrix display to show information with high visibility characters. 4 watts (typ.) front mounted speaker delivers clear and loud audio.
IP54 Dust-Protection and Splash Resistance (Controller only)
When used with the optional separation kit, RMK-3, and separation cable, the front panel of the IC-F5062D series can be detached from the main unit. The control head has dust-protection and splash resistance construction equivalent to IP54.
IDAS Digital Mode Ready
IDAS (Icom Digital Advanced System) is Icom's digital land mobile system using the 6.25kHz narrowband FDMA technology. IDAS has choice of an NXDN™ protocol or an ETSI dPMR™ protocol.
Mode Dependent Scan
In the normal mode scan, you can select a scanning list independent to the channel setting. In the mode dependent setting, the scanning list is automatically selected according to the operating channel. It is convenient when you change operating channels or move to a different operating area, you don't need to change the scanning setting.
Optional Active Noise Canceling Microphone
The optional active noise canceling microphone HM-211 can automatically reduce noise in extremely noisy environments and assist in transmitting clear and accurate audio.

Watch the HM-211 performance video:
Other Features
Nuisance delete
Built-in inversion-type voice scrambler and optional UT-109R/UT-110R available
Built-in basic LTR™ trunking and MDC 1200 capability* (* Depending on version)
8 DTMF autodialing memories and ANI function
D-Sub accessory connector, ignition sensing line
and more...

General
IC-F5062D

IC- F6062D

Frequency coverage
(Varies according to version)

136–174 MHz

400-470 MHz

Number of channels

512 ch/128 zones

Channel spacing
(Varies according to version)

25/20/12.5/6.25kHz

Type of emission

16K0F3E, 14K0F3E, 8K50F3E,
4K00F1E/D*(* Digital)

Current drain
Tx High

7A

Rx
Stand-by

300mA

Max. audio

1.2A

Dimensions
(projections not included; W×H×D)

160×45×150 mm

Weight (approx.)

1.3kg
Transmitter
IC-F5062D

IC- F6062D

RF output power (High)

25W

Spurious emissions

0.25μW (≦1GHz)

Frequency stability

±1.5kHz

Audio harmonic distortion

3% typical
40% deviation

FSK error

5% Max.
Receiver
IC-F5062D

IC- F6062D

Sensitivity
at 20dB SINAD

–4dBμV emf (typ.)

at 5% BER

-8dBμV emf (typ.)

Adjacent channel selectivity (W/M/N)

85/83/75dB (typ.)

Spurious response rejection

90dB (typ.)

Intermodulation rejection

70dB (typ.)

AF output power
(at 5% distortion with a 4Ω load)

4W (typ.)
Function Comparison and Internal Unit Options
IC-F5062D
IC-F6062D
(IDAS dPMR version)

IC-F5062D
IC-F6062D
(IDAS NXDN version)

Number of option slots
1
1
CTCSS/ DTCS
encoder
Available
Available
decoder
Available
Available
2-Tone
encoder
Available
Available
decoder
Available
Available
5-Tone
encoder
Available
Available
decoder
Available
Available
DTMF autodial
Available
Available
DTMF decoder
Available
Available
Voice Scrambler
Inversion
Available
Available
Non-rolling
UT-109R
UT-109R
Rolling
UT-110R
UT-110R
IDAS dPMR
Tier 2 Mode1/2
Available
-
Tier 2 Mode 3
Planned
-
IDAS NXDN
Conventional
-
Available
Single-site type
D trunking
-
Available
Multi-site type D
trunking
-
Available
MPT 1327
-
-
BllS 1200
Available
Available
MDC 1200
-
Available
LTR™ trunking
-
Available
Applicable U.S. Military Specifications
Icom makes rugged products that have been tested to and passed the following MIL-STD requirements and strict environmental standards.
Standard
MIL-810 F
Method, Proc.
High Temperature Storage

501.4 I

High Temperature Operation

501.4 II

Low Temperature Storage

502.4 I

Low Temperature Operation

502.4 II

Temperature Shock

503.4 I

Rain Blowing

506.4 I*

Rain Drip

506.4 III*

Humidity Induced

507.4

Vibration

514.5 I

Shock Functional

516.5 I

Shock Transit Drop

516.5 IV
* Rain blowing and drip tests were performed on the controller and RMK-3 only.

Also meets equivalent MIL STD 810 -C, -D and -E.
All stated specifications are subject to change without notice or obligation.
Supplied Accessories
Microphone, HM-152
Microphone hanger and its cable
Mounting bracket kit
DC power cable
Function name sticker
Instruction Manual / Guides

Close

Close

Ingress Protection (IP) Code
Ingress Protection (IP) ratings define the level of protection provided by enclosures to prevent the ingress of foreign objects (dust) and liquid into the electrical equipment.
International Standard IEC 60529 outlines an international classification system that describes the sealing characteristics of electrical equipment.
The classification system uses the "IP" code, or "Ingress Protection" code, to define the level of seal.
An IP number contains two numbers (i.e. IP67) in most instances which relate to the level of protection provided by an enclosure or housing.
Either number may be shown as "X" (i.e. IPX6 / IP7X) to indicate the "X" part is not tested.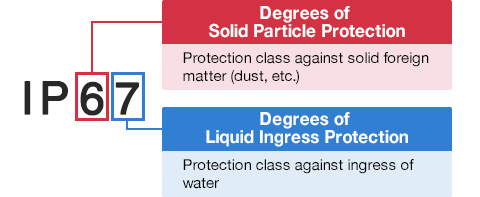 Degrees of Solid Particle Protection – 1st Digit
| | |
| --- | --- |
| IP6x | No ingress of dust; complete protection against contact. (Dust tight) |
| IP5x | Protected from the amount of dust that would interfere with normal operation. (Dust protected) |
Degrees of Liquid Ingress Protection – 2nd Digit
IPx8
Protected against continuous immersion in water.
Depth and duration specified by model.
IPx7
Protected against temporary immersion in water for 1 m (3.3 ft) for 30 minutes
IPx6
Protected against water projected by powerful jets from any direction.
100 L per minute by a powerful jets (12.5 mm) for 3 minutes.
IPx5
Protected against water projected by jets from any direction.
12.5 L per minute by a nozzle (6.3 mm) for 3 minutes.
IPx4
Protected against water splashed against the equipment from any direction