High Visibility OLED Screen
The OLED (Organic Light Emitting Diode) emits light from itself, so a display backlight is not required. It provides higher contrast, wider viewing angle of almost 180 degrees and faster response time than a conventional LCD. The IC-A220's display has a wide active area, allowing operating frequencies to be maximized in the display, while operating status can be shown on both top and bottom of the display.
Large Switch Buttons
The IC-A220 has large switch buttons on the front panel. The most frequently used FLIP-FLOP (Frequency exchange) switch button is designed large enough to be pushed with ease. All switch buttons and knobs are illuminated with pure-white backlighting, which are the same color as the OLED display.
Auto Squelch Function
The squelch sensitivity is automatically adjusted in accordance with the noise level to eliminate annoying background noise and unwanted signals.
Quick Squelch Adjustment
The auto and manual squelch including squelch level can be quickly adjusted with the Volume knob. The squelch test function temporarily opens the squelch and allows you to monitor signals
GPS Memory Function
When connected to an external GPS receiver* equipped with an airport frequency database, the frequency data such as nearby airports can be transferred and made available in the IC-A220.
* Ask your dealer for available GPS receiver details.
Optional Power Supply PS-80 for the Ground
When combined with the IC-A220, the optional PS-80 power supply provides a convenient base station operation on the ground. The PS-80 includes built-in speaker and HM-176 hand microphone.
Auto Dimmer
The auto dimmer function sets display and key backlighting brightness. The ICA220's high sensitivity light sensor covers a wide illumination range.
External Dimmer Control
By connecting to an external dimmer control system on the aircraft, the ICA220's dimmer function can be linked with the aircraft dimmer level.
Intercom Function
The IC-A220 has a built-in voice activated intercom function allowing the pilot to talk with the copilot via the headset. The IC-A220 has adjustable audio level and squelch control functions.
Remote Control Capability
You can remotely control the FLIP-FLOP (frequency exchange), intercom and recall switches via the rear panel connector
8.33 kHz Channel Spacing
The IC-A220 allows switching between 8.33 kHz and 25 kHz frequency steps in the menu mode.
* Use of 8.33 kHz channel spacing may be prohibited depending on country.
Memory Channels
The IC-A220 has 20 memory channels and 20 history memory channels respectively. Often used memory channels can be instantly recalled. Group memory channels are organized into 10 memory channels by five groups (total 50 channels). Weather channel scanning function searches for weather channel signals.
Other Features
Dualwatch and priority watch functions
One touch access to 121.5 MHz emergency frequency
Side tone function for monitoring your voice with a headset
ANL (Automatic noise limiter) function reduces pulse type noise
Remote control capability
PC programming capability
Dial lock and panel lock
Time-out-timer
D-SUB 25-pin connector and MIL-Spec M39029/63-368 compliant socket pins
Slim 33 mm (1.3 inch) height can be installed in a limited panel space
Two types of menu mode; settings menu and configuration menu
Both 13.8 V and 27.5 V electrical systems compatible
Rear Panel View
General
Frequency range
TX/RX
8.33 kHz spacing
118.000–136.992 MHz
25 kHz spacing
118.000–136.975 MHz
RX
Weather channel
161.650–163.275 MHz
Frequency spacing
8.33 kHz / 25 kHz
Mode
AM (6K00A3E, 5K60A3E)
Frequency stability
±5 ppm
Operating temperature
–20˚C to +55˚C; –4˚F to +131˚F
Antenna impedance
50 Ω
Number of memory channels
20 regular, 50 group memory, 10 GPS, 20 history, 10 weather
Power supply requirement
13.8 V/27.5 V DC (Negative ground)
Dimensions (W × H × D,
Projections not included)
160 × 34 × 271 mm;
6.3 × 1.34 × 10.67 in
Weight (approximately)
1.0 kg; 2.2 lb
Transmitter
| | |
| --- | --- |
| Output power | 8 W (Carrier power) |
| Spurious emission | –60 dBc |
| Modulation limiting | 70% (Maximum 98%) |
| Microphone impedance | 600Ω |
Receiver
Intermediate frequencies
38.85 MHz/450 kHz (1st/2nd)
Sensitivity
AM (6 dB S/N)
Less than 2μV
FM (12 dB SINAD)
Less than 1.4μV
Selectivity
25 kHz spacing
±3 kHz/±22 kHz (6 dB/60 dB)
8.33 kHz spacing
±2.778 kHz/±7.37 kHz (6 dB/60 dB)
Spurious response
More than 74 dBμ
Audio output power
External SP
5 W with a 4 Ω load
Headphone
60 mW with a 500 Ω load
Applicable U.S. Military Specifications
Standard

MIL-810 G
Method
Procedure
Low Temperature
502.5
I,II
Temperature Shock
503.5
I-C
Solar Radiation
505.5
I
Humidity
507.5
II
Vibration
514.6
I
Shock
516.6
I
Also meets equivalent MIL-STD-810-C, -D -E and -F.
Supplied Accessories
Measurements made in accordance with RTCA DO-186B.
All stated specifications are and subject to change without notice or obligation.
Catalogs / Brochures
Instruction Manual / Guides

Close

Close

Ingress Protection (IP) Code
Ingress Protection (IP) ratings define the level of protection provided by enclosures to prevent the ingress of foreign objects (dust) and liquid into the electrical equipment.
International Standard IEC 60529 outlines an international classification system that describes the sealing characteristics of electrical equipment.
The classification system uses the "IP" code, or "Ingress Protection" code, to define the level of seal.
An IP number contains two numbers (i.e. IP67) in most instances which relate to the level of protection provided by an enclosure or housing.
Either number may be shown as "X" (i.e. IPX6 / IP7X) to indicate the "X" part is not tested.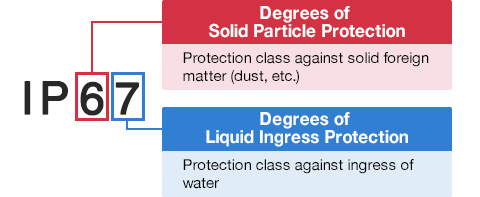 Degrees of Solid Particle Protection – 1st Digit
| | |
| --- | --- |
| IP6x | No ingress of dust; complete protection against contact. (Dust tight) |
| IP5x | Protected from the amount of dust that would interfere with normal operation. (Dust protected) |
Degrees of Liquid Ingress Protection – 2nd Digit
IPx8
Protected against continuous immersion in water.
Depth and duration specified by model.
IPx7
Protected against temporary immersion in water for 1 m (3.3 ft) for 30 minutes
IPx6
Protected against water projected by powerful jets from any direction.
100 L per minute by a powerful jets (12.5 mm) for 3 minutes.
IPx5
Protected against water projected by jets from any direction.
12.5 L per minute by a nozzle (6.3 mm) for 3 minutes.
IPx4
Protected against water splashed against the equipment from any direction