Large, Bright OLED Display
The IC-A210 has an organic light emitting diode (OLED) display. The display offers many advantages in brightness, vividness, contrast, viewing angle and response time compared to a conventional display. In addition, the auto dimmer function adjusts the display for optimum brightness at day or night.
Easy Channel Selection
It's fast and easy to select any of the memory channels in the IC-A210. The "flip-flop" arrow button switches between main and stand-by channels. The dualwatch function allows you to monitor two channels simultaneously. In addition, the auto stack memory stores the last 10 channels used and allows you to recall those channels easily.
GPS Memory Function
When connected to an external GPS receiver* equipped with an airport frequency database, the frequency data such as nearby airports can be transferred and made available in the IC-A210.
* Ask your dealer for available GPS receiver details.
12 V/24 V DC Power Source
The built-in DC-DC converter accepts a 12/24 V DC power source. The IC-A210 is easily installed in most airplanes or vehicles.
Intercom Functions
The IC-A210 has a built-in voice activated intercom function allowing the pilot to talk with the co-pilot via the headset. The IC-A210 has adjustable audio level and squelch control functions.
Easy Installation
The IC-A210 neatly fits inside the common mounting brackets used on most airplanes including Icom's IC-A200. Two types of rear-panel adapters are included, allowing for streamlined plug-in connectivity.
* Ask your dealer for compatible panel mount radio details.
Other Features
8.33 kHz/25 kHz channel spacing (Depending on version)
NOAA weather channel receive (USA version only)
One touch access to 121.5 MHz emergency frequency
Side tone function
ANL (Automatic noise limiter) function
Remote control capability
Time-out-timer
PC programmable
General
Frequency range
TX/RX
8.33 kHz spacing
118.000–136.992 MHz

25 kHz spacing
118.000–136.975 MHz
RX WX Channels
161.650–163.275 MHz (USA only)
Number of memory channels
240 ch (Max.)
Channel spacing
8.33 kHz / 25 kHz
Power supply requirements
13.8/27.5 V DC
(automatic selection)
Current drain
TX
5.0 A Max.
RX
Stand-by
500 mA
Max. audio
4.0 A
Dimensions (W×H×D)
(Projections are not included)
160×34×271 mm
6.3×1.34×10.67 in
Weight
1.0 kg; 2.2 lb
Operating temperature range
–20°C to +55°C
Frequency stability
±5 ppm
Transmitter
| | |
| --- | --- |
| RF output power | 8.0 W typ. (Carrier power) |
| Microphone impedance | 600 Ω |
Receiver
Sensitivity
2 μV (6dB S/N)
Selectivity
6 dB: ±3 kHz / ±2.778 kHz
60 dB: ±22 kHz / ±7.37 kHz
(25 kHz / 8.33 kHz spacing)
Spurious response rejection
74 dBμ
Audio output power
(at 10% distortion)
5 W typ. with a 4 Ω load
60 mW with a 500 Ω load
Applicable U.S. Military Specifications
The IC-A210 has been tested to and passed the following MIL-STD requirements and strict environmental standards.
Standard
MIL-810 F
Method, Proc.
Low Pressure Storage
500.4 I
Low Pressure Operation
500.4 II
High Temperature Storage
501.4 I
High Temperature Operation
501.4 II
Low Temperature Storage
502.4 I
Low Temperature Operation
502.4 II
Temperature Shock
503.4 I
Solar Radiation
505.4 I
Humidity
507.4
Vibration
514.5 I
Shock Functional
516.5 I
Also meets equivalent MIL-STD-810-C, -D and -E.

All stated specifications are subject to change without notice or obligation.
Supplied Accessories
Mounting bracket kit
Rear panel adapter, MB-113*
* Depending on version
Catalogs / Brochures
Instruction Manual / Guides

Close

Close

Ingress Protection (IP) Code
Ingress Protection (IP) ratings define the level of protection provided by enclosures to prevent the ingress of foreign objects (dust) and liquid into the electrical equipment.
International Standard IEC 60529 outlines an international classification system that describes the sealing characteristics of electrical equipment.
The classification system uses the "IP" code, or "Ingress Protection" code, to define the level of seal.
An IP number contains two numbers (i.e. IP67) in most instances which relate to the level of protection provided by an enclosure or housing.
Either number may be shown as "X" (i.e. IPX6 / IP7X) to indicate the "X" part is not tested.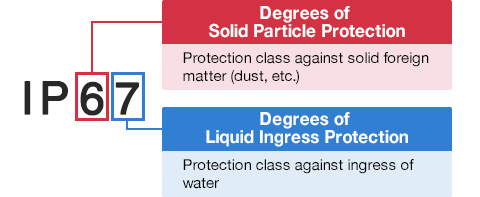 Degrees of Solid Particle Protection – 1st Digit
| | |
| --- | --- |
| IP6x | No ingress of dust; complete protection against contact. (Dust tight) |
| IP5x | Protected from the amount of dust that would interfere with normal operation. (Dust protected) |
Degrees of Liquid Ingress Protection – 2nd Digit
IPx8
Protected against continuous immersion in water.
Depth and duration specified by model.
IPx7
Protected against temporary immersion in water for 1 m (3.3 ft) for 30 minutes
IPx6
Protected against water projected by powerful jets from any direction.
100 L per minute by a powerful jets (12.5 mm) for 3 minutes.
IPx5
Protected against water projected by jets from any direction.
12.5 L per minute by a nozzle (6.3 mm) for 3 minutes.
IPx4
Protected against water splashed against the equipment from any direction