HF/50MHz TRANSCEIVER
IC-

7300

USA Version
The Innovative HF Transceiver with High Performance Real-Time Spectrum Scope
Smoother FT8 Mode Operation with Constantly Evolving Firmware
The latest firmware offers smoother FT8 operation. One touch FT8 mode preset, Scroll mode, WLAN (Access Point) function and other updates are available.
Class Leading Real-Time Spectrum Scope
The IC-7300's real-time spectrum scope is class-leading in resolution, sweep speed and dynamic range. While listening to received audio, you can check the real-time spectrum scope and quickly move to an intended signal. When you first touch the scope screen around the intended signal, the touched part is magnified. A second touch of the scope screen changes the operating frequency and allows you to accurately tune.
Real-Time Spectrum Scope Specifications
High-Resolution Waterfall Function
The combination of the waterfall function and the real-time spectrum scope assists in maximum receive performance of the IC-7300 and increases QSO opportunities without missing weak signals. The waterfall function shows a change of signal strength over a period of time and allows you to find weak signals that may not be apparent on the spectrum scope.
Scroll mode automatically keeps the operating signal within the scope range.
Audio Scope Function
The audio scope function can be used to observe various AF characteristics such as microphone compressor level, filter width, notch filter width and keying waveform in the CW mode. Either the transmit or receive audio can be displayed on the FFT scope with the waterfall function and the oscilloscope.
RF Direct Sampling System
The IC-7300 employs an RF direct sampling system. RF signals are directly converted to digital data and processed in the FPGA (Field-Programmable Gate Array), making it possible to simplify the circuit construction. This system is a leading technology making an epoch in amateur radio.
New "IP+" Function
The new "IP+" function improves 3rd order intercept point (IP3) performance. When a weak signal is received adjacent to strong interference, the AD converter is optimized against signal distortion.
Class Leading RMDR and Phase Noise Characteristics
The IC-7300's RMDR is improved to about 100 dB* (typical value) and Phase Noise characteristics are improved about 20 dB (at 2 kHz frequency separation) compared to the IC-7200. The superior Phase Noise characteristics reduce noise components in both receive and transmit signals.
*At 2 kHz frequency separation (received frequency: 14.2MHz, MODE: CW, IF BW: 500Hz)
15 Discrete Band-Pass Filters
The IC-7300 has 15 discrete RF bandpass filters. The RF signal is only passed through one of the bandpass filters, while any out of range signals are rejected. High Q factor coils are used to minimize the loss in the RF band-pass filters.
Built-In Automatic Antenna Tuner
The antenna tuner memorizes its settings based on your transmit frequency, so that it can rapidly tune when you change operating bands. The Enforced Tuning function* allows a wide range of temporary antennas to be tuned.
* Do not use the Enforced Tuning function except in case of an emergency. Transmission power may be reduced.
Multi-Dial Knob for Smooth Operation
The combination of the multi-dial knob and the touch screen offers quick and smooth operation. When you push the multi-dial knob, menu items are shown on the right side of the display. You can select an item with a touch of the screen and adjust levels by turning the multi-dial knob.
Large Touch Screen Color TFT LCD
The large 4.3 inch color TFT touch LCD offers intuitive operation. Using the software keypad of the touch screen, you can easily set various functions and edit memory contents.
One-Touch FT8 Mode Preset
Preset memory offers smooth FT8 mode operation. You can start FT8 mode operation only by selecting [FT8] from PRESET menu. Up to five preset memories can be stored.
Superior Sound Quality
To offer superior sound quality, a new speaker unit has been incorporated and is allocated dedicated space in the aluminum die-cast chassis.
SD Memory Card Slot for Saving Data
The IC-7300 can store various content on an SD card such as received and transmitted audio, voice memories, RTTY/CW memories, RTTY decode logs and captured screen images. Personal and firmware update data can also be stored on the SD card for easy setting.
Rear Panel View
Other features
・ New HM-219 hand microphone supplied
・ A large and effective cooling fan system
・ A multi-function meter
・ 101 memory channels (99 regular, 2 scan edges)
・ Optional RS-BA1 IP remote control software
(the spectrum scope with the waterfall can be observed)
・ CW functions: Full break-in, CW reverse, CW auto tuning
General
Frequency coverage
Rx*1

0.030–74.800MHz
(Guaranteed range: 0.500–29.999, 50.000–54.000MHz.)

Tx*1

1.800–1.999MHz 3.500–3.999MHz
5.255–5.405MHz*2 7.000–7.300MHz
10.100–10.150MHz 14.000–14.350MHz
18.068–18.168MHz 21.000–21.450MHz
24.890–24.990MHz 28.000–29.700MHz
50.000–54.000MHz

*1 USA version. Varies according to version.
*2 Some frequency bands are not guaranteed.

Mode
SSB, CW, RTTY, AM, FM
Number of channels
101 (99 regular, 2 scan edges)
Antenna connector
SO-239 (50Ω)
Power supply requirement
13.8V DC ±15%
Power consumption
Tx
21A (at 100W output power)
Rx
0.9A typical (Standby),
1.25A (Maximum audio)
Operating temperature range
–10˚C to +60˚C; 14˚F to 140˚F
Frequency stability
Less than ±0.5ppm
(–10˚C to +60˚C; 14˚F to 140˚F)
Frequency resolution
1Hz
Dimensions (W×H×D)
(projections not included)
240×94×238mm;
9.4×3.7×9.4in
Weight (approximately)
4.2kg; 9.3lb
Transmitter
Output power
(HF/50MHz)
SSB/CW/FM/RTTY
2–100W
AM
1–25W
Modulation system
SSB
Digital P.S.N. modulation
AM
Digital Low power modulation
FM
Digital Reactance modulation
Spurious emissions
Less than –50dB (HF bands),
Less than –63dB (50MHz band)
Carrier suppression
More than 50dB
Unwanted sideband
More than 50dB
Microphone impedance
600Ω
Receiver
Receiver system
Direct Sampling Superheterodyne
Intermediate frequency
36kHz
Sensitivity
SSB/CW
(BW: 2.4kHz at 10dB S/N)
1.8–29.999MHz 0.16μV (Preamp 1 ON)
50MHz 0.13μV (Preamp 2 ON)
AM
(BW: 6kHz at 10dB S/N)
0.5–1.8MHz 12.6μV (Preamp 1 ON)
1.8–29.999MHz 2.0μV (Preamp 1 ON)
50MHz 1.0μV (Preamp 2 ON)
FM
(BW: 15kHz at 12dB SINAD)
28.0–29.7MHz 0.5μV (Preamp 1 ON)
50MHz 0.25μV (Preamp 2 ON)
Squelch sensitivity (Threshold)
SSB
Less than 5.6μV
FM
Less than 0.3μV
(HF: Preamp 1 ON, 50MHz: Preamp 2 ON)
Selectivity (sharp filter shape)
SSB
(BW: 2.4kHz)
More than 2.4kHz / –6dB
Less than 3.4kHz / –40dB
CW
(BW: 500Hz)
More than 500Hz / –6dB
Less than 700Hz / –40dB
RTTY
(BW: 500Hz)
More than 500Hz / –6dB
Less than 800Hz / –40dB
AM
(BW: 6kHz)
More than 6.0kHz / –6dB
Less than 10.0kHz / –40dB
FM
(BW: 15kHz)
More than 12.0kHz / –6dB
Less than 22kHz / –40dB
Spurious and image rejection ratio
HF
More than 70dB
50MHz: More than 70dB (Except for ADC Aliasing)
Audio output power
More than 2.5W
(at 10% distortion with an 8Ω load, 1kHz)
Tuner
| | |
| --- | --- |
| Frequency range | 1.9–50MHz bands |
| Matching impedance range | 16.7Ω–150Ω unbalanced (VSWR better than 1: 3) |
| Tuning accuracy | VSWR 1: 1.5 or less |
| Tuning time | 2–3 seconds (Maximum 15 seconds) |
All stated specifications are subject to change without notice or obligation.
Supplied Accessories (May differ depending on the version)
・ Hand microphone, HM-219
・ DC power cable
・ Fuses
・ Plugs


Close

Close

Ingress Protection (IP) Code
Ingress Protection (IP) ratings define the level of protection provided by enclosures to prevent the ingress of foreign objects (dust) and liquid into the electrical equipment.
International Standard IEC 60529 outlines an international classification system that describes the sealing characteristics of electrical equipment.
The classification system uses the "IP" code, or "Ingress Protection" code, to define the level of seal.
An IP number contains two numbers (i.e. IP67) in most instances which relate to the level of protection provided by an enclosure or housing.
Either number may be shown as "X" (i.e. IPX6 / IP7X) to indicate the "X" part is not tested.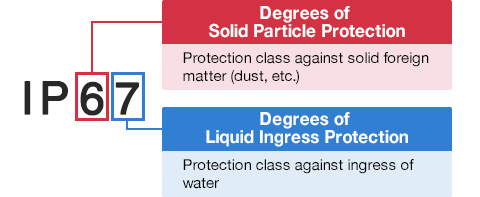 Degrees of Solid Particle Protection – 1st Digit
| | |
| --- | --- |
| IP6x | No ingress of dust; complete protection against contact. (Dust tight) |
| IP5x | Protected from the amount of dust that would interfere with normal operation. (Dust protected) |
Degrees of Liquid Ingress Protection – 2nd Digit
IPx8
Protected against continuous immersion in water.
Depth and duration specified by model.
IPx7
Protected against temporary immersion in water for 1 m (3.3 ft) for 30 minutes
IPx6
Protected against water projected by powerful jets from any direction.
100 L per minute by a powerful jets (12.5 mm) for 3 minutes.
IPx5
Protected against water projected by jets from any direction.
12.5 L per minute by a nozzle (6.3 mm) for 3 minutes.
IPx4
Protected against water splashed against the equipment from any direction