2.3" Large High Visibility LCD
2.3" large, high contrast and full dot-matrix LCD ensures good readability under direct sunlight. Large compass screens and large character size provide at-a-glance information.
Slimmest* Buoyant DSC Radio
By adopting a flat sheet keypad, at 38.5 mm the IC-M93D EURO is the slimmest buoyant DSC handheld radio in the world. Fits comfortably in your palm for ease of use.
* As of June 2016, researched by Icom.
Intuitive User Interface
For an operator not familiar with DSC radio operation, the combination of the four directional keypad and soft keys provides straight-forward operation of all functions.
Built-in Class H DSC with a CH70 Receiver
A dedicated DSC receiver continuously monitors CH70. Distress calls can be made with the rear panel button.
Float'n Flash and MOB Auto Set Function
The IC-M93D EURO floats and flashes on the water. Pressing the distress button while Float'n Flash is working will transmit the MOB distress signal, rather than the plain undesignated one for better protection of sailors.
Integrated GNSS Receiver
The integrated GNSS receiver provides your location, bearing and speed with fast-setup time and pinpoint accuracy by using information from GPS, GLONASS, QZSS and SBAS.
Active Noise Cancelling
Active Noise Cancelling digitally removes background noise from both transmit and receive audio and provides clear communication in a noisy maritime environment.
Active noise cancelling video:
Comes with Rapid Charger, BC-220
The supplied rapid charger, BC-220, charges the BP-285 in 3 hours (approximately).
Other Features
IPX7 waterproof (1 m depth of water for 30 minutes)
Navigation function from current position to the specified waypoint
50 waypoint memories with alphanumeric name for navigation
Dual/Tri-watch function for monitoring CH16 and/or call channel
Battery indicator shows remaining battery power in four levels
Favorite channel function for quick access to often used channels
AquaQuake™ draining function clears water away from speaker grill
Support 4-digit channels
When the HM-165 is connected to the IC-M93D EURO, the HM-165 and the radio floats on the water
General
Frequency range
Tx
156.000–161.450 MHz
Rx
156.000–163.425 MHz
Rx (CH70)
156.525 MHz
Usable channel groups
INT, USA*, ATIS* channels
* Available depending on version
Type of emission
16K0G3E (FM), 16K0G2B (DSC)
Current drain
(at 7.2 V DC)
TX
(5.0 W output)
1.5 A (approx.)
(1.0 W output)
700 mA (approx.)
RX
(Internal SP, Max. audio)
450 mA (approx.)
(External SP, Max. audio)
250 mA (approx.)
Operating temperature range
–15°C to +55°C
Antenna impedance
50 Ω
Dimensions (W×H×D)
(Projections not included)
57.0×144.6×38.5 mm
Weight (approximately)
300 g
(With BP-285, FA-SC59V, MB-133)
Transmitter
| | |
| --- | --- |
| Output power (Hi/Low) | 5 W/1 W |
| Max. frequency deviation | ±5.0 kHz |
| Frequency stability | ±1.5 kHz |
| Spurious emissions | 0.25 μW |
Receiver
Sensitivity (at 20 dB SINAD)
DSC receiver (at 1% BER)
–6 dBμ emf typical
–5 dBμ emf typical
Squelch sensitivity (Threshold)
–6 dBμ emf typical
Adjacent channel selectivity
DSC receiver (at 1% BER)
70 dB
73 dBμ emf typical
Spurious response
DSC receiver (at 1% BER)
70 dB
73 dBμ emf typical
Intermodulation
DSC receiver (at 1% BER)
68 dB
68 dBμ emf typical
Hum and noise
40 dB
Audio output power
(at 10% distortion)
Internal SP
900 mW typical (12 Ω load at 1 kHz)
External SP
200 mW (8 Ω load)
Measurements made in accordance with EN302-885-1 and IEC 62238. All stated specifications are subject to change without notice or obligation.
Applicable U.S. Military Specifications & IP Rating
Standard

MIL-810 G
Method
Procedure
Low Pressure

500.5

I, II

High Temperature

501.5

I, II

Low Temperature

502.5

I, II

Temperature Shock

503.5

I-C

Solar Radiation

505.5

I

Rain Blowing/Drip

506.5

I, III

Humidity

507.5

II

Salt Fog

509.5

-

Dust Blowing

510.5

I

Immersion

512.5

I

Vibration

514.6

I

Shock

516.6

I, IV
Also meets equivalent MIL-STD-810-C, -D, -E and -F.
Ingress Protection Standards
Water

IPX7 (Waterproof protection)
All stated specifications are subject to change without notice or obligation.
Supplied Accessories
AC adapter, BC-123SE/SUK*
Battery charger, BC-220
Battery pack, BP-285
Belt clip, MB-133
Antenna, FA-SC59V
Hand strap
* May differ depending on version.
Catalogs / Brochures
Instruction Manual / Guides

Close

Close

Ingress Protection (IP) Code
Ingress Protection (IP) ratings define the level of protection provided by enclosures to prevent the ingress of foreign objects (dust) and liquid into the electrical equipment.
International Standard IEC 60529 outlines an international classification system that describes the sealing characteristics of electrical equipment.
The classification system uses the "IP" code, or "Ingress Protection" code, to define the level of seal.
An IP number contains two numbers (i.e. IP67) in most instances which relate to the level of protection provided by an enclosure or housing.
Either number may be shown as "X" (i.e. IPX6 / IP7X) to indicate the "X" part is not tested.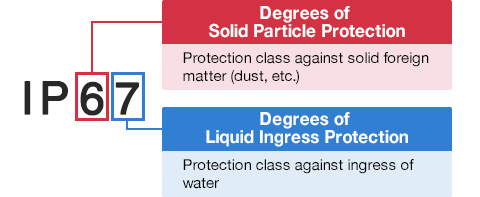 Degrees of Solid Particle Protection – 1st Digit
| | |
| --- | --- |
| IP6x | No ingress of dust; complete protection against contact. (Dust tight) |
| IP5x | Protected from the amount of dust that would interfere with normal operation. (Dust protected) |
Degrees of Liquid Ingress Protection – 2nd Digit
IPx8
Protected against continuous immersion in water.
Depth and duration specified by model.
IPx7
Protected against temporary immersion in water for 1 m (3.3 ft) for 30 minutes
IPx6
Protected against water projected by powerful jets from any direction.
100 L per minute by a powerful jets (12.5 mm) for 3 minutes.
IPx5
Protected against water projected by jets from any direction.
12.5 L per minute by a nozzle (6.3 mm) for 3 minutes.
IPx4
Protected against water splashed against the equipment from any direction