Descriptions
Enhance Your D-STAR Experience with iOS™ App
The RS-MS1I (for iOS™ devices) lets your D-STAR transceiver wirelessly connect to a D-STAR transceiver and remotely set the DR functions, link with a map app and send/receive messages in the DV mode. In addition, pictures on an iOS™ device can be transmitted in the DV Fast Data mode or DV mode.
Share Pictures
You can take pictures with your iOS™ device, or use stored pictures, and share them. Pictures of your shack, operating place in the field, rigs, or friends can be sent to other D-STAR transceivers that are also using the app.
Add images and make QSOs even more enjoyable.
Pictures can be sent in the DV Fast Data mode or conventional DV mode (with voice).
Text Messaging
DR Functions and Remote Setting
You can set the transceiver's "FROM" and "TO" fields and change some of the transceiver's function settings from your iOS™ device. When using with the optional VS-3 Bluetooth® headset, you can wirelessly talk through the IC-705 or ID-4100A/E from a short distance* away from your rig.

* Communication range of Bluetooth® is approximately 10 meters (33 feet).
D-STAR Stations and Repeater Sites Mapping
Repeater List Viewer
You can see detailed repeater information, including frequencies, call signs and frequency offsets in the Repeater list.
You can use it to manually set your transceiver when you are in a different area from your usual operating environment.
Call Sign List
The app enables you to edit call signs and names used in the DR function. Also, you can add a call sign and a name in the Call sign list at any time.
Receive History
In the DV mode, you can read and edit the received station's information. Additional information from an Internet database, such as QRZ.com or APRS.fi, can be downloaded.
Import and Export
You can import a user-programmable repeater list or a repeater list, on the Internet, from a PC to the app. In addition, receive history can be exported from the app to a PC.

Function Comparison Chart
Transceivers
ID-4100 A/E

IC-705*2

ID-52A/ID-52E

Bluetooth® Connection
UT-137
Bluetooth® UNIT required
✔
DV Fast Data Mode
✔*1
✔*1
DR Function
✔
✔
Share Pictures
✔
✔
Text Messaging
✔
✔
Map
✔
✔
Offline Map
N/A
N/A
RX History
✔
✔
Your Call Sign
✔
✔
Repeater List
✔
✔
Transceiver Setting
✔
✔
App Setting
✔
✔
Import
✔
✔
Export
✔
✔
USB Connection
N/A
N/A
*1 When sending or receiving pictures using "DV Fast Data Mode," the headset audio will be temporarily interrupted because of the transceiver's Bluetooth® unit limitations.
*2 The latest firmware version is required.
Specifications
Operating System

iOS version 12 or later
iPadOS version 13 or later

Note
UT-137 Bluetooth® unit is required for the ID-4100A/E.

* The RS-MS1I may not work, depending on the OS version, installed applications, and so on.
Downloads
BLUETOOTH® UNIT
UT-137

BLUETOOTH UNIT
RS-MS1I

iOS™ APPLICATION
Catalogs / Brochures
Instruction Manual / Guides
| Name | Model Name | Note |
| --- | --- | --- |
| D-STAR Application Guide | ID-52A/ID-52E/IC-705/IC-905/IC-9700/IC-7100/ID-4100E/ID-4100A/ID-5100E/ID-5100A/ID-51E/ID-51A/ID-31E/ID-31A/ID-31E PLUS/ID-31A PLUS/RS-MS1A/RS-MS1I/RS-MS3A/ST-4001A/ST-4001I/ID-50A/ID-50E | |
| Instructions | RS-MS1I | |

Close

Ingress Protection (IP) Code
Ingress Protection (IP) ratings define the level of protection provided by enclosures to prevent the ingress of foreign objects (dust) and liquid into the electrical equipment.
International Standard IEC 60529 outlines an international classification system that describes the sealing characteristics of electrical equipment.
The classification system uses the "IP" code, or "Ingress Protection" code, to define the level of seal.
An IP number contains two numbers (i.e. IP67) in most instances which relate to the level of protection provided by an enclosure or housing.
Either number may be shown as "X" (i.e. IPX6 / IP7X) to indicate the "X" part is not tested.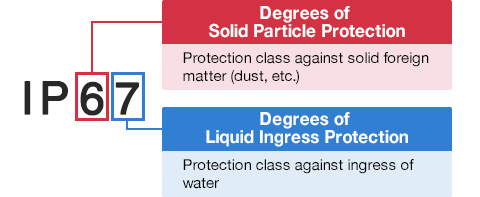 Degrees of Solid Particle Protection – 1st Digit
| | |
| --- | --- |
| IP6x | No ingress of dust; complete protection against contact. (Dust tight) |
| IP5x | Protected from the amount of dust that would interfere with normal operation. (Dust protected) |
Degrees of Liquid Ingress Protection – 2nd Digit
IPx8
Protected against continuous immersion in water.
Depth and duration specified by model.
IPx7
Protected against temporary immersion in water for 1 m (3.3 ft) for 30 minutes
IPx6
Protected against water projected by powerful jets from any direction.
100 L per minute by a powerful jets (12.5 mm) for 3 minutes.
IPx5
Protected against water projected by jets from any direction.
12.5 L per minute by a nozzle (6.3 mm) for 3 minutes.
IPx4
Protected against water splashed against the equipment from any direction