MULTI-FUNCTION BACKPACK
LC-192
Making your field operation more fun and convenient with the LC-192, the IC-705's utility backpack.
The IC-705 fits perfectly in the optional LC-192 multi-function backpack. It has various features, such as ports for the antenna and for passing through coaxial and microphone cables. You can easily operate the IC-705 with it in the backpack.

Descriptions
・ Dedicated optional backpack for the IC-705
・ Side plate for an antenna installation
・ Accessory pockets that hold 3 BP-272s battery packs
・ Pocket for A4 size documents
・ Antenna/microphone port
・ Shoulder strap with hooks to hang a handheld radio/microphone
・ Call sign holder
・ Flexible partition boards included
Specifications
| | |
| --- | --- |
| Dimensions | 255 (W) x 375 (H) x 148 (D) mm (Approx., excluding shoulder strap and handle) |
| Capacity | 11 L (Approx.) |
| Weight | 1 kg (Approx., excluding accessories) |
| Material | Polyester |
Templates for call signs
Twelve types of templates for a call sign for the LC-192 are available. You can easily create a plate with your call sign.
See the instructions on how to use them.
※Note that printed characters/colors may adhere to the cover of the call sign plate holder.

To view the PDF file, you need Internet Explorer 11 or above browser, and Adobe Reader distributed by Adobe Inc.
Adobe Reader can be downloaded free of charge from the link below.
※Those who are using browsers other than Internet Explorer 11 can right-click on the PDF, save the file, and then open it with Adobe Reader.
Introduction for Icom LC-192 Multi-Function Backpack JH1CBX Masaco

Close

Ingress Protection (IP) Code
Ingress Protection (IP) ratings define the level of protection provided by enclosures to prevent the ingress of foreign objects (dust) and liquid into the electrical equipment.
International Standard IEC 60529 outlines an international classification system that describes the sealing characteristics of electrical equipment.
The classification system uses the "IP" code, or "Ingress Protection" code, to define the level of seal.
An IP number contains two numbers (i.e. IP67) in most instances which relate to the level of protection provided by an enclosure or housing.
Either number may be shown as "X" (i.e. IPX6 / IP7X) to indicate the "X" part is not tested.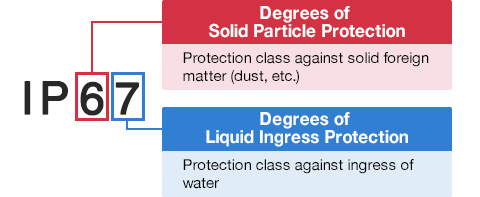 Degrees of Solid Particle Protection – 1st Digit
| | |
| --- | --- |
| IP6x | No ingress of dust; complete protection against contact. (Dust tight) |
| IP5x | Protected from the amount of dust that would interfere with normal operation. (Dust protected) |
Degrees of Liquid Ingress Protection – 2nd Digit
IPx8
Protected against continuous immersion in water.
Depth and duration specified by model.
IPx7
Protected against temporary immersion in water for 1 m (3.3 ft) for 30 minutes
IPx6
Protected against water projected by powerful jets from any direction.
100 L per minute by a powerful jets (12.5 mm) for 3 minutes.
IPx5
Protected against water projected by jets from any direction.
12.5 L per minute by a nozzle (6.3 mm) for 3 minutes.
IPx4
Protected against water splashed against the equipment from any direction