COMMAND MICROPHONE
HM-229B
Rating of waterproofing is equivalent to the rating of the radio it is connected to.
Descriptions
・Small, lightweight remote control microphone with built-in speaker (COMMANDMIC™)
Specifications
| | |
| --- | --- |
| Operating Temeperature Range | -20℃~+60℃ |
| Audio Output Power | 2.0 W typ. @ 10% distortion with 4 Ω |
| Waterproof | IPX7 |
| Note | Black color |
| Cable length | 560 mm; 22.0 in (when curled) |
EXTENSION CABLE
Compatible Products
OPC-1541

EXTENSION CABLE
HM-229B

COMMAND MICROPHONE

HM-229W

COMMAND MICROPHONE
Up to two OPC-1541 cables available.

Close

Ingress Protection (IP) Code
Ingress Protection (IP) ratings define the level of protection provided by enclosures to prevent the ingress of foreign objects (dust) and liquid into the electrical equipment.
International Standard IEC 60529 outlines an international classification system that describes the sealing characteristics of electrical equipment.
The classification system uses the "IP" code, or "Ingress Protection" code, to define the level of seal.
An IP number contains two numbers (i.e. IP67) in most instances which relate to the level of protection provided by an enclosure or housing.
Either number may be shown as "X" (i.e. IPX6 / IP7X) to indicate the "X" part is not tested.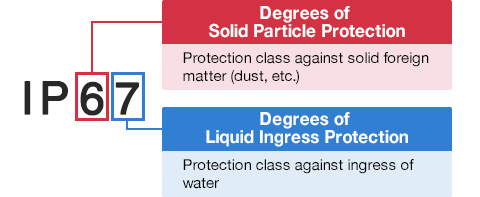 Degrees of Solid Particle Protection – 1st Digit
| | |
| --- | --- |
| IP6x | No ingress of dust; complete protection against contact. (Dust tight) |
| IP5x | Protected from the amount of dust that would interfere with normal operation. (Dust protected) |
Degrees of Liquid Ingress Protection – 2nd Digit
IPx8
Protected against continuous immersion in water.
Depth and duration specified by model.
IPx7
Protected against temporary immersion in water for 1 m (3.3 ft) for 30 minutes
IPx6
Protected against water projected by powerful jets from any direction.
100 L per minute by a powerful jets (12.5 mm) for 3 minutes.
IPx5
Protected against water projected by jets from any direction.
12.5 L per minute by a nozzle (6.3 mm) for 3 minutes.
IPx4
Protected against water splashed against the equipment from any direction