Best Match to Icom RoIP Products
The SR-VPN1, VPN router creates a VPN tunnel over the Internet and assists in building a Radio over IP communication network with easy configuration. Icom offers a variety of products which merge a radio system with an IP network and expand communication coverage (IDAS™ans VE-PG3). The SR-VPN1 is the best match VPN router for these Icom RoIP products.
Up to 32 Multi-site VPN Tunnels
The SR-VPN1, VPN router provides up to 32 VPN IPsec tunnels. The VPN allows secure, private communication over the Internet. The IPsec wizard focuses on the basic setting items for VPN connection and provides simple step-by-step instructions.
IP Multicast Routing
The SR-VPN1 supports IPv4 multicast routing for VE-PG3 multicast transmission.
High-speed Gigabit Network
Built-in 1000BASE-T gigabit Ethernet delivers the performance required for RoIP communication. The 4 gigabit LAN ports with managed switch function offer simple network confi guration. The automatic MDI/MDI-X function detects the required cable types.
Dual WAN Ports for Automatic Failover
The dual WAN ports keep a redundant Internet connection. Different internet providers can be confi gured to each port. If the primary line is down, the SR-VPN1 automatically switches over to the secondary line.
USB Flash Drive Connection
A USB flash drive can be connected to USB ports on the front panel. Firmware updates and setting data backup and restore can be made via the connected USB flash drive. A firmware update also can be made via Internet connection.
SNMP and Syslog Messages
The SR-VPN1 supports SNMP and syslog messages for network monitoring. The stored syslog messages can assist in system administration and troubleshooting.
* A xDSL or FTTH modem is required separately for Internet connection
Rear Panel View
General
Power supply
12 V DC ±10% (main unit)
(12 V AC adapter supplied.)
Operating temperature range
0°C to +40°C; 32°F to 104°F
Dimensions (WxHxD)
(Projections are not included)
232×38×168 mm; 9.13×1.5×6.61 in
Weight
800 g; 1.76 lb (approx.)
Interface
WAN interface
Two 10BASE-T/100BASE-TX/1000BASE-T ports
(RJ-45 connectors, Auto MDI/MDI-X)
LAN interface
Four 10BASE-T/100BASE-TX/1000BASE-T ports
with switching hub
USB interface
Two USB(2.0) ports
Maintenance console
One RS-232C (RJ-11) connector
VPN
IPsec tunnels
Up to 32
Encryption
3DES, AES-128, AES-192, AES-256
Authentication
MD5, SHA-1
IKE keying method
Pre-shared Key
NAT traversal
Supported
Multicast protocol
Supported
(VE-PG3 only)

All stated specifications are subject to change without notice or obligation.
Supplied Accessories

Close

Close

Ingress Protection (IP) Code
Ingress Protection (IP) ratings define the level of protection provided by enclosures to prevent the ingress of foreign objects (dust) and liquid into the electrical equipment.
International Standard IEC 60529 outlines an international classification system that describes the sealing characteristics of electrical equipment.
The classification system uses the "IP" code, or "Ingress Protection" code, to define the level of seal.
An IP number contains two numbers (i.e. IP67) in most instances which relate to the level of protection provided by an enclosure or housing.
Either number may be shown as "X" (i.e. IPX6 / IP7X) to indicate the "X" part is not tested.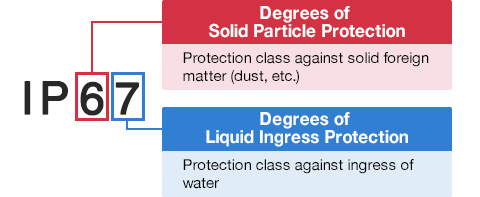 Degrees of Solid Particle Protection – 1st Digit
| | |
| --- | --- |
| IP6x | No ingress of dust; complete protection against contact. (Dust tight) |
| IP5x | Protected from the amount of dust that would interfere with normal operation. (Dust protected) |
Degrees of Liquid Ingress Protection – 2nd Digit
IPx8
Protected against continuous immersion in water.
Depth and duration specified by model.
IPx7
Protected against temporary immersion in water for 1 m (3.3 ft) for 30 minutes
IPx6
Protected against water projected by powerful jets from any direction.
100 L per minute by a powerful jets (12.5 mm) for 3 minutes.
IPx5
Protected against water projected by jets from any direction.
12.5 L per minute by a nozzle (6.3 mm) for 3 minutes.
IPx4
Protected against water splashed against the equipment from any direction