LTE radio application for business customers
This application is a service for business customers. Individual contracts are not allowed. Also, you cannot use it just by installing it, you need to set up a login account at an Icom dealer. Please contact your dealer for more information.
You can install it on your smartphone and talk to LTE radios
The IP500APP is a PTT application that can communicate with Icom LTE radios such as the IP501H, IP503H and IP501M. By installing this application on your smartphone, you can get almost the same functions as with Icom LTE radios.
Radio terminal or application, use either one according to your needs
For field workers who frequently exchange information and need immediate response, LTE radio terminals are suitable since they can be used easily and quickly. For managers who need communication only when giving instructions or understanding situations, the IP500APP installed on asmartphone may be suitable. By using either one of them, according to your needs, you can use the LTE radio system more conveniently.
Full-duplex and multiple user communications
Icom's LTE radio on both radio terminals, and the P500APP application, supports full-duplex communication, just like a mobile phone. It enables smooth telephone style conversations. It also supports multiple user communication by a large number of people, and can be used for telephone conferences. In case of an emergency, you can break into an on-going call to transmit an important message.
Equipped with almost the same functions as an LTE radio.
Supports Individual, Group and All calls. In Group calls, one terminal can belong to multiple groups, so flexible operation is possible. In addition, you can have almost the same functions as the LTE radio, such as recording/playback functions and send/receive for preset text messaging.
Expandable communications with various radio systems and protocols
Installing an optional VE-PG4 RoIP gateway enables you to interconnect with various communication systems such as digital, analog radios, and IP phones, in addition to LTE radios.
Specifications
Operating environments

Android®: 8.0 or later

iOS®: 12 or later

*Operation is not guaranteed on all Android or iOS devices.

Also, it may not work, depending on the OS version or installed applications.
Authentication

This application cannot be used just by installing it.

At the first startup, login settings are required. Please contact your dealer for more information.

Close

Close

Ingress Protection (IP) Code
Ingress Protection (IP) ratings define the level of protection provided by enclosures to prevent the ingress of foreign objects (dust) and liquid into the electrical equipment.
International Standard IEC 60529 outlines an international classification system that describes the sealing characteristics of electrical equipment.
The classification system uses the "IP" code, or "Ingress Protection" code, to define the level of seal.
An IP number contains two numbers (i.e. IP67) in most instances which relate to the level of protection provided by an enclosure or housing.
Either number may be shown as "X" (i.e. IPX6 / IP7X) to indicate the "X" part is not tested.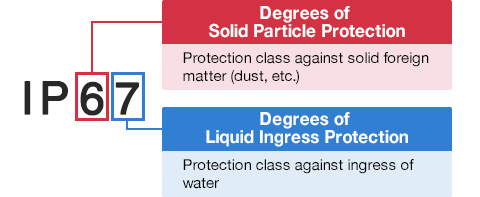 Degrees of Solid Particle Protection – 1st Digit
| | |
| --- | --- |
| IP6x | No ingress of dust; complete protection against contact. (Dust tight) |
| IP5x | Protected from the amount of dust that would interfere with normal operation. (Dust protected) |
Degrees of Liquid Ingress Protection – 2nd Digit
IPx8
Protected against continuous immersion in water.
Depth and duration specified by model.
IPx7
Protected against temporary immersion in water for 1 m (3.3 ft) for 30 minutes
IPx6
Protected against water projected by powerful jets from any direction.
100 L per minute by a powerful jets (12.5 mm) for 3 minutes.
IPx5
Protected against water projected by jets from any direction.
12.5 L per minute by a nozzle (6.3 mm) for 3 minutes.
IPx4
Protected against water splashed against the equipment from any direction