300 WLAN Radios Can Be Registered
The IP1100CV can be registered up to 300 units WLAN radios (including IP100FS terminals).
When you install the IP100FS Wireless LAN radio application software, you can use your Windows® PC to communicate with handheld type wireless LAN radios, IP110H/IP100H.
Up to 500 IP110H Call Addresses Programmable
The IP1100CV has the auto-provisioning function of the wireless LAN system. This function uses the IP1100CV as a provisioning server to provide a configuration setting to wireless LAN radios. When a wireless LAN radio is connected to the network, the configuration setting is automatically applied to that radio. The IP1100CV can set up to 500 call addresses for individual and group calls.
2.5 Gbps WAN Port and VPN Router Function
The built-in 2.5 Gbps WAN port and VPN router function* can link multiple sites with secure VPN tunnel on the Internet and extend the communication area of the wireless LAN radio system. For example, by linking between IP1100CVs using an Internet VPN, the staff in the Head Office and staff in a branch office can communicate with each other by wireless LAN radio.
* The VPN function is available between IP1100CVs or IP1100CV and VE-PG4.
19-inch Rack Mount Design
WLAN Radio System Programmable with a Web Browser
You can set up the wireless LAN system using a web browser. The setting data can be exported to a USB flash drive, or the saved setting data can be imported into the IP1100CV for easy maintenace.
Other Features
Online firmware update capability

A Security Slot can reduce the risk of theft
The above features and specifications are subject to change without notice.
Planned additional features (TBD).
Specifications
IP1100CV
Power supply requirement
12 V DC ±10%
Less than 33 Watts
Usable environment

Temperature 0 to +40°C; +32 to +104°F
Humidity 5–95% (at no condensation)

Dimensions (Approximate)
(* Projections are not included.)
213 (W) × 36.8 (H) × 242 (D) mm;
8.4 (W) × 1.4 (H) × 9.5 (D) in
Weight (Approximate)
1.5 kg; 3.3 lb
WAN
RJ-45 connector × 1
2.5GBASE-T/1000BASE-T/100BASE-TX
(Auto MDI/MDI-X)
LAN
RJ-45 connector × 1
2.5GBASE-T/1000BASE-T/100BASE-TX
(Auto MDI/MDI-X)
USB
USB 3.0 Type-A × 1
Maintenance console
USB 2.0 Type-C × 1
Regulatory compliance
FCC Part15 Subpart B/Canada ICES-003
EN60950-1/EN55032/EN55035/EN 61000-3-2/EN 61000-3-3
Supplied Accessories
・Magnet legs
・Screws
・Clamp
・Flat washer and screw
(AC adapter must be prepared separately.)
AC ADAPTERS
MOUNTING BRACKETS

Close

Close

Ingress Protection (IP) Code
Ingress Protection (IP) ratings define the level of protection provided by enclosures to prevent the ingress of foreign objects (dust) and liquid into the electrical equipment.
International Standard IEC 60529 outlines an international classification system that describes the sealing characteristics of electrical equipment.
The classification system uses the "IP" code, or "Ingress Protection" code, to define the level of seal.
An IP number contains two numbers (i.e. IP67) in most instances which relate to the level of protection provided by an enclosure or housing.
Either number may be shown as "X" (i.e. IPX6 / IP7X) to indicate the "X" part is not tested.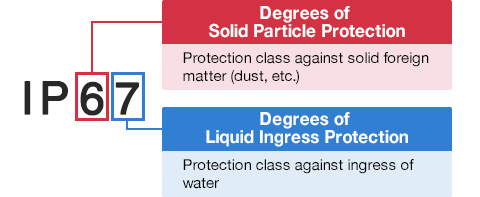 Degrees of Solid Particle Protection – 1st Digit
| | |
| --- | --- |
| IP6x | No ingress of dust; complete protection against contact. (Dust tight) |
| IP5x | Protected from the amount of dust that would interfere with normal operation. (Dust protected) |
Degrees of Liquid Ingress Protection – 2nd Digit
IPx8
Protected against continuous immersion in water.
Depth and duration specified by model.
IPx7
Protected against temporary immersion in water for 1 m (3.3 ft) for 30 minutes
IPx6
Protected against water projected by powerful jets from any direction.
100 L per minute by a powerful jets (12.5 mm) for 3 minutes.
IPx5
Protected against water projected by jets from any direction.
12.5 L per minute by a nozzle (6.3 mm) for 3 minutes.
IPx4
Protected against water splashed against the equipment from any direction