Multi-Function Dual Band D-STAR Transceiver
Longer Distance Communication Through the D-STAR Network
Picture Sharing Functions
DR (D-STAR Repeater) Function
Terminal Mode and Access Point Mode*
Terminal Mode
Access Point Mode
Advanced Functions and Operations with Vivid Color Display
2.3" Large Color Display
Bluetooth® Enabled Features
Handy Radio First! Waterfall Display
V/V, U/U, V/U Dualwatch Including DV/DV Mode
VHF/UHF Airband and FM Broadcast Receiver
Integrated GPS/GLONASS Receiver
microSD Card Slot
Micro USB Connector
IPX7 Waterproof and Tough Construction
Other Features
GENERAL
Frequency
coverage
(Unit: MHz)
Version
Transmit
Receiver
Broadcast band
USA
144–148,
430–450*
(A) 108–174, 225–479*
(B) 137–174, 375–479*

88.0–108.0

(A) means A band, (B) means B band. Guaranteed range: * 144–148, 440–450 MHz
Type of emission
F2D, F3E, F7W
Mode
DV, FM, FM-N, WFM*, AM*, AM-N*
(* WFM, AM and AM-N are Rx only)
Number of memory channels
1000 memory channels, 4 call channels, 50 scan edges,
100 skip channels, 500 broadcast stations,
2500 repeaters, 300 call signs and 300 GPS memories
Frequency resolution
5, 6.25, 8.33*, 10, 12.5, 15, 20, 25, 30, 50, 100, 125 and 200 kHz
* Selectable depending on the operating band.
Operating temperature range
–20℃ to +60℃ ; –4°F to +140°F
Frequency stability
±2.5 ppm (–20℃ to +60℃ on the basis of 25℃)
Antenna impedance
50 Ω (SMA)
Power supply
requirement
Battery pack
7.4 V DC (with BP-272),
7.2 V DC (with BP-307)
Alkaline cells
5.5 V DC (with BP-273)
External DC
10–16 V DC
Current drain
(at 7.4 V DC)
Tx High
Less than 2.5 A
Rx AF Max.
Less than 450 mA (DV),
Less than 400 mA (FM, FM-N) (Internal SP, 8 Ω)
Dimensions (W×H×D)
(projections not included)

61.1 × 121.6 × 29.7 mm ; 2.4 × 4.8 × 1.2 in (main unit)

61.1 × 121.6 × 34.8 mm ; 2.4 × 4.8 × 1.4 in (with BP-272)

Weight (approx.)
330 g ; 11.6 oz (with BP-272 & antenna)
TRANSMITTER
Modulation system
DV
GMSK reactance modulation
FM, FM-N
FM reactance modulation
Output power (at 7.4 V DC)
5 W, 2.5 W, 1.0 W, 0.5 W, 0.1 W
(High, Mid, Low2, Low1, S-low)
Spurious emissions
Less than –60 dBc (High, Mid),
Less than –13 dBm (Low2, Low1, S-low)
Max. frequency deviation
±5.0/2.5 kHz (FM/FM-N)
Ext. Mic impedance
2.2 kΩ
RECEIVER
Sensitivity
DV
Less than 0.2 μV (at 1% BER)
FM, FM-N
Less than 0.18 μV (at 12 dB SINAD)
Selectivity
More than 50 dB (DV, FM-N), More than 55 dB (FM)
Spurious rejection
More than 60 dB
Audio output power
Internal SP
More than 750 mW (8 Ω load)
External SP
More than 200 mW (8 Ω load)
Receiver sensitivity (Except amateur bands.)
Frequency range
(Unit: MHz)
FM/FM-N/WFM (12 dB SINAD)
AM/AM-N
(10 dB S/N)
BC band
88.000–108.000
Less than 1 μV (WFM)
-
A band
108.000-136.991
-
Less than 1 μV
137.000-142.000
Less than 0.18 μV
Less than 1 μV
142.005-148.000
Less than 0.18 μV
-
148.005-174.000
Less than 0.32 μV
-
225.000-259.995
Less than 0.56 μV
Less than 1.8 μV*
260.000-354.995
Less than 0.32 μV
Less than 1 μV*
355.000-374.995
Less than 0.5 μV
Less than 1.8 μV*
375.000-399.995
Less than 0.5 μV
-
400.000–479.000
Less than 0.32 μV
-
B band
137.000-148.000
Less than 0.18 μV
-
148.005-174.000
Less than 0.32 μV
-
375.000-399.995
Less than 0.5 μV
-
400.000-479.000
Less than 0.32 μV
-
*AM-N mode cannot be received from 225 to 374.995 MHz.
All stated specifications are subject to change without notice or obligation.
Supplied Accessories
Battery pack, BP-272
Wall charger, BC-167SA
Antenna, FA-S270C
Belt clip, MB-127
Hand strap
* Supplied accessories may differ depending on the transceiver version.
The Ten Best Features of the ID-52A/E

Close

Close

Ingress Protection (IP) Code
Ingress Protection (IP) ratings define the level of protection provided by enclosures to prevent the ingress of foreign objects (dust) and liquid into the electrical equipment.
International Standard IEC 60529 outlines an international classification system that describes the sealing characteristics of electrical equipment.
The classification system uses the "IP" code, or "Ingress Protection" code, to define the level of seal.
An IP number contains two numbers (i.e. IP67) in most instances which relate to the level of protection provided by an enclosure or housing.
Either number may be shown as "X" (i.e. IPX6 / IP7X) to indicate the "X" part is not tested.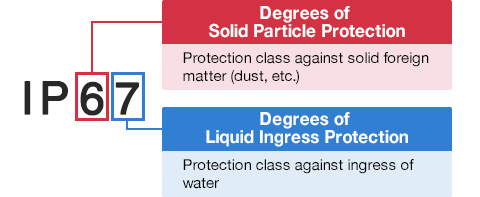 Degrees of Solid Particle Protection – 1st Digit
| | |
| --- | --- |
| IP6x | No ingress of dust; complete protection against contact. (Dust tight) |
| IP5x | Protected from the amount of dust that would interfere with normal operation. (Dust protected) |
Degrees of Liquid Ingress Protection – 2nd Digit
IPx8
Protected against continuous immersion in water.
Depth and duration specified by model.
IPx7
Protected against temporary immersion in water for 1 m (3.3 ft) for 30 minutes
IPx6
Protected against water projected by powerful jets from any direction.
100 L per minute by a powerful jets (12.5 mm) for 3 minutes.
IPx5
Protected against water projected by jets from any direction.
12.5 L per minute by a nozzle (6.3 mm) for 3 minutes.
IPx4
Protected against water splashed against the equipment from any direction