Rugged, Loud and Reliable
License Free Radio for Professional Use
IP54 and MIL-STD 810G Tough and Rugged Body
While the radio is a compact unit with a height of only 111 mm, the radio is tested to dust protection and water resistant equivalent to IP54 and 11 categories of MILSTD- 810 environmental tests. In short, the IC-V3MR is built rugged!
1500 mW (typ.) Powerful Audio with BTL Amplifier
The radio provides 1500 mW (typ.)* loud and clear audio with Icom custom high power handling capacity speaker. Clear communication is available even in noisy environments.
* Typical with internal speaker
Optional 1500mW Speaker-Microphone, HM-222HLWP
The combination of the optional HM-222HLWP and the IC-V3MR also provides 1500 mW(typ.) * loud audio from the attached speaker-microphone.
* Typical with optional speaker-microphone, HM-222HLWP
2 Watts Output and All 5 MURS Frequencies for Business Use
The IC-V3MR is a professional-grade, license-free MURS radio is ready for any kind of operation. Take advantage of the large communication range*: up to 250,000 square feet in buildings, 20 floors, and up to two miles in a traditional worksite. This radio is suited for service, education, health, tourism, personal use, and more!
* Ranges may differ depending on operating environment.
High Capacity Li-ion Battery 24 hours Operational Time (5/5/90 duty)
A low power consumption design and the supplied 2250 mAh (typ.) Lithium-Ion battery allow use of the radio for more than 24 hours*.
*5:5:90 duty ratio for transmit: receive: stand-by (with power save function)
Made in Japan Quality Full Robotic Assembly
The IC-V3MR is made by Icom's full robotic assembly line in Japan. It can maintain stable high quality through the production process.
Other Features
VOX (Voice Operated Transmit) function
MDC PTT ID transmit
CTCSS Tone and DTCS code
DTMF functions
Emergency and Lone Worker functions
2-step low battery beep
Customizable settings with PC programming software (free download)
FCC Certified
Communication Range
Communication range may differ depending on operating environment or weather conditions, etc.
SPECIFICATIONS
IC-V3MR
Usable Frequencies and (bandwidth)

151.820 MHz (11.25 kHz), 151.880 MHz (11.25 kHz),
151.940 MHz (11.25 kHz), 154.570 MHz (20.00 kHz),
154.600 MHz (20.00 kHz)

Number of Memory channels
16 ch
Transmit output power
2 W (High), 1 W (Mid), 0.5 W (Low)
Receiver sensitivity
0.25 μV (typical) for 12 dB SINAD
Squelch sensitivity
0.25 μV (typical) at squelch threshold point
Audio output power
(at 5% distortion, 8 Ω load)
Internal SP 1.5 W (typical)
External SP 0.4 W (typical)
HM-222HLWP 1.5 W (typical)
Antenna impedance
50 Ω
Power supply Voltage
7.2 V DC
Current drain
Receive stand-by 75 mA
Receive max. audio 500 mA
Transmit (High) 0.9 A
Dimensions (Projections not included)
58 (W) × 111 (H) × 35.5 (D) mm,
2.3 (W) × 4.4 (H) × 1.4 (D) in (with BP-298)
Weight (Approximate)
265 g, 9.3 oz (with BP-298)

All stated specifications are subject to change without notice or obligation.
Measurements made in accordance with TIA-603.
Applicable U.S. Military Specifications
Standard

MIL-810 G

Method

Procedure

Simple explanation
(radio specifications are not changed after each test)
Low Pressure

500.5

I, II

Keep the transceiver 20℃/101.3 kPa and
25℃/57.2 kPa for a total of 7 hours
High Temperature

501.5

I, II

Keep the transceiver between 30 to 63℃ for a total of 168 hours
Low Temperature

502.5

I, II

Keep the transceiver at -25℃ for 4 hours
Temperature Shock

503.5

I-C

Keep the transceiver at -51℃/2 h and +71℃/2 h × 3 cycles (total 12 hours)
Solar Radiation

505.5

I

Keep the transceiver at 49℃ and 1120 W/m2 for 24 h × 3 cycles (for a total of 72 hours)
Rain Blowing/Drip

506.5

I, III

I : Blast 1.7 mm/min rain with 18 m/s wind for
30 min to 6 surfaces (for a total of 180 min)
III: Drip water 2800 l/m2/h for 15 min.
Humidity

507.5

II

Keep the transceiver at 95% humidity with 30℃ and 60℃ for 240 hours.
Salt Fog

509.5

-

Spray 5% salt water with 1-3 ml/h at 80 cm 2 under 35℃/95% condition for 24 hours then dry it under 24℃/50% condition × 2 cycles
Dust Blowing

510.5

I

Blowing talc powder Temp/time: 23℃/6 h and 60℃/6 h, humidity: less than 30%, wind speed: 8.9 m/s, powder density: 10 ±7 g/m3
Vibration

514.6

I
Vibrate the transceiver at each 3 axis (X, Y, Z), frequencies 5 – 500 Hz, 1.05 G for 1 hour
Shock

516.6

I, IV

When packing, drop 1.22 m height for
6 surfaces, 8 corners, 12 edges (total 26 drops)

Also meets equivalent MIL-STD-810-C, -D, -E and -F.
Ingress Protection Standards
| | |
| --- | --- |
| Dust & Water | IP54 (Dust-protection and water resistant) |
Supplied Accessories
Battery Pack, BP-298
Rapid Charger, BC-240
AC Adapter, BC-242
Belt Clip, MB-124
Antenna, FA-SC28V
Catalogs / Brochures
Instruction Manual / Guides
Firmware / Software

Close

Close

Ingress Protection (IP) Code
Ingress Protection (IP) ratings define the level of protection provided by enclosures to prevent the ingress of foreign objects (dust) and liquid into the electrical equipment.
International Standard IEC 60529 outlines an international classification system that describes the sealing characteristics of electrical equipment.
The classification system uses the "IP" code, or "Ingress Protection" code, to define the level of seal.
An IP number contains two numbers (i.e. IP67) in most instances which relate to the level of protection provided by an enclosure or housing.
Either number may be shown as "X" (i.e. IPX6 / IP7X) to indicate the "X" part is not tested.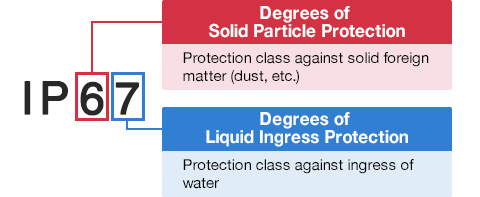 Degrees of Solid Particle Protection – 1st Digit
| | |
| --- | --- |
| IP6x | No ingress of dust; complete protection against contact. (Dust tight) |
| IP5x | Protected from the amount of dust that would interfere with normal operation. (Dust protected) |
Degrees of Liquid Ingress Protection – 2nd Digit
IPx8
Protected against continuous immersion in water.
Depth and duration specified by model.
IPx7
Protected against temporary immersion in water for 1 m (3.3 ft) for 30 minutes
IPx6
Protected against water projected by powerful jets from any direction.
100 L per minute by a powerful jets (12.5 mm) for 3 minutes.
IPx5
Protected against water projected by jets from any direction.
12.5 L per minute by a nozzle (6.3 mm) for 3 minutes.
IPx4
Protected against water splashed against the equipment from any direction