65 W Powerful RF Output Power
The IC-V3500 is a rugged 2 m mobile transceiver providing powerful 65 W* of output power. The output power level is selectable in four steps and the selected power is displayed.
* Output power differs depending on version and specific regulatory requirements.
Modern White Display and Simple Operation
While the IC-V3500 retains a simple user interface despite additional function updates for an easy to use radio. The white LCD backlight offers a better readability suitable for mobile operation. The bottom of the display indicates the available functions of the front panel buttons directly below the display.
4.5 W Loud and Clear Audio Output
The IC-V3500 provides class-leading 4.5 W loud audio from the built-in speaker. By improving the frequency response of the speaker and increasing opening slit, the voice is clearly audible and easy to hear.
Instant Volume Loud and Mute Functions
You can temporarily change the volume to a preset level with a simple operation. It can be used as a One-touch mute function by preset volume to zero.
Emergency Call and Alert Functions
In the case of an emergency, the emergency call function alternatively sends an emergency beep and hot microphone audio to let the receiver to know that an emergency has occurred. At the same time, an emergency alarm sounds from the IC-V3500 speaker to notify the people around you of your existence and situation.
Countermeasures against Counterfeit Products
And More…
A total of 207 memory channels with 6 character channel name
Dynamic bank link scan function scans all memory channels in the selected banks
Built-in CTCSS and DTCS encoder/decoder
Up to 16 DTMF autodial memory channels
Tough construction to pass the MIL-STD 810 G specifications
Weather channel receive and weather alert function (USA version only)
Free download PC programming software, CS-V3500


(https://www.icomjapan.com/support/firmware_driver/)

Auto repeater function (USA version only)
Priority watch function
Wide/narrow channel setting
Power supply voltage display
Most of functions are programmable from remote-control microphone
Frequency coverage
USA version
Transmit
144–148 MHz
Receive
136–174 MHz*
TPE Version, KOR Version
Transmit/Receive
144–146 MHz
THA Version
Transmit/Receive
144–147 MHz
Number of memory channels
207 channels (including 1 call and 6 scan edges)
Type of emission
F2D, F3E (FM)
Frequency stability
±3 ppm
Power supply requirement
13.8 V DC ±15%
Current drain (approximate)
Tx 65 W
11 A
Rx Max. audio/Stand-by
1.5 A/0.4 A
Antenna impedance
50 Ω (SO-239)
Operating temperature range
–10°C to +60°C; 14°F to +140°F
Dimensions
(W × H × D; Projections not included)
140 × 40 × 118 mm;
5.5 × 1.6 × 4.6 in
Weight (approximate)
1.1 kg; 2.4 lb

* Guaranteed range TX/RX: 144–148 MHz.
Transmitter
Output power (13.8 V DC)
USA version
65 W, 25 W, 10 W, 5 W
TPE version
24 W, 10 W, 5 W
KOR version
50 W, 25 W, 10 W, 5 W
THA version
60 W, 25 W, 10 W, 5 W
Max. frequency deviation
±5.0 kHz/±2.5 kHz (W/N)
Spurious emissions
Less than –60 dBc
Microphone impedance
600 Ω (8-pin modular)
Receiver
Sensitivity (at 12 dB SINAD)
Less than 0.18 μV
Selectivity
Wide
More than 6 kHz (at 6 dB)
Less than 14 kHz (at 60 dB)
Narrow
More than 3 kHz (at 6 dB)
Less than 9 kHz (at 55 dB)
Spurious response
More than 60 dB
Audio output power
4.5 W typ. (10% dist., 4 Ω load)
Ext. speaker connector
2-conductor 3.5 (d) mm (1/8ʺ)/4 Ω

All stated specifications are subject to change without notice or obligation.
Applicable U.S. Military Specifications
Standard


MIL-810 G

Method

Procedure

Low Pressure
500.5
I, II
High Temperature
501.5
I, II
Low Temperature
502.5
I, II
Temperature Shock
503.5
I-C
Solar Radiation
505.5
I
Vibration
514.6
I
Shock
516.6
I, IV

Also meets equivalent MIL-STD-810-C, -D -E and -F.
Supplied Accessories
Remote control Mic, HM-133V or Hand Mic, HM-154*
Mounting bracket kit
Microphone hanger*
DC power cable
Spare fuses
(* May differ or not supplied, depending on version)
Catalogs / Brochures
Instruction Manual / Guides

Close

Close

Ingress Protection (IP) Code
Ingress Protection (IP) ratings define the level of protection provided by enclosures to prevent the ingress of foreign objects (dust) and liquid into the electrical equipment.
International Standard IEC 60529 outlines an international classification system that describes the sealing characteristics of electrical equipment.
The classification system uses the "IP" code, or "Ingress Protection" code, to define the level of seal.
An IP number contains two numbers (i.e. IP67) in most instances which relate to the level of protection provided by an enclosure or housing.
Either number may be shown as "X" (i.e. IPX6 / IP7X) to indicate the "X" part is not tested.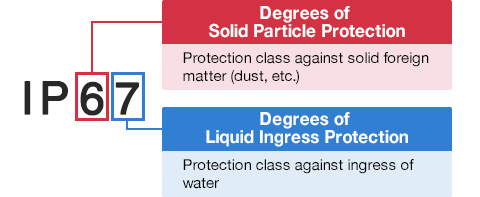 Degrees of Solid Particle Protection – 1st Digit
| | |
| --- | --- |
| IP6x | No ingress of dust; complete protection against contact. (Dust tight) |
| IP5x | Protected from the amount of dust that would interfere with normal operation. (Dust protected) |
Degrees of Liquid Ingress Protection – 2nd Digit
IPx8
Protected against continuous immersion in water.
Depth and duration specified by model.
IPx7
Protected against temporary immersion in water for 1 m (3.3 ft) for 30 minutes
IPx6
Protected against water projected by powerful jets from any direction.
100 L per minute by a powerful jets (12.5 mm) for 3 minutes.
IPx5
Protected against water projected by jets from any direction.
12.5 L per minute by a nozzle (6.3 mm) for 3 minutes.
IPx4
Protected against water splashed against the equipment from any direction