Tough and Waterproof
The IC-M88 is built tough to withstand hazardous environments. Even if it is dropped into water, its waterproof construction* will protect it from harm.
* Equivalent to IPX7. (1 m depth/30 min.)
Simple Operation
The volume/power knob combines with 6 clearly labeled front panel buttons to maximize simplicity of operation. A large, clear LCD with backlighting and backlit buttons make night time operation easy.
Li-Ion Battery for Long Battery Life
With the standard battery pack, the IC-M88 provides up to 15 hours of operating time.* Also, no worries about 'memory effect' of the battery with Li-Ion technology.
* Tx:Rx:Stand-by= 5:5:90 with BP-227.
22 Programmable Channels
The IC-M88 has 22 programmable channels reserved for land use (146–174 MHz).* Wide/narrow channel spacing is programmable for each channel, and CTCSS and DTCS signaling is built-in.
* Appropriate license will be required.
Other Features
Instant access to Ch.16 and Ch.9
Simple add/delete TAG scanning
Monitor button opens squelch
Auto power save
Key lock function
4-step battery indicator
Auto WX alert function (U.S.A. version only)

Frequency range
Tx
156.025–157.425 MHz
Rx
156.050–163.275 MHz
LMR; Tx/Rx
146–174 MHz
Dimensions (W×H×D)
(Projections not included)
62×97×39 mm
2.44×3.82×1.54 in
Weight (approx.)
280 g; 9.9 oz (With BP-227)
Current drain
Transmit (High)
1.6 A typical
Max. audio
200 mA typical
Power save
20 mA typical
Sensitivity (at 12 dB SINAD)
0.25 μV typical
Intermodulation rejection
70 dB typical
Audio output power (10% dist./ 8 Ω load)
350 mW typical
RF output power
5/3/1 W
Applicable U.S. Military Specifications
Icom makes rugged products that have been tested to and passed the following MIL-STD requirements and strict environmental standards.
| | |
| --- | --- |
| Low Pressure Storage (Altitude) | 500.4 I |
| Low Pressure Operation (Altitude) | 500.4 II |
| High Temp. Storage | 501.4 I |
| High Temp. Operation | 501.4 II |
| Low Temp. Storage | 502.4 I |
| Low Temp. Operation | 502.4 II |
| Temp. Shock | 503.4 I |
| Solar Radiation | 505.4 I |
| Rain Blowing | 506.4 I |
| Rain Drip | 506.4 II |
| Humidity | 507.4 |
| Salt Fog | 509.4 |
| Dust Blowing | 510.4 I |
| Vibration | 514.5 I |
| Shock Functional | 516.5 I |
| Shock Transit Drop | 516.5 IV |
Also meets equivalent MIL-STD-810-C, -D and -E.

All stated specifications are subject to change without notice or obligation.
Supplied Accessories
Battery pack
Battery charger
AC adapter*
Swivel belt clip
Antenna, FA-S59V
Hand strap
* Varies according to version.
Catalogs / Brochures
Instruction Manual / Guides

Close

Close

Ingress Protection (IP) Code
Ingress Protection (IP) ratings define the level of protection provided by enclosures to prevent the ingress of foreign objects (dust) and liquid into the electrical equipment.
International Standard IEC 60529 outlines an international classification system that describes the sealing characteristics of electrical equipment.
The classification system uses the "IP" code, or "Ingress Protection" code, to define the level of seal.
An IP number contains two numbers (i.e. IP67) in most instances which relate to the level of protection provided by an enclosure or housing.
Either number may be shown as "X" (i.e. IPX6 / IP7X) to indicate the "X" part is not tested.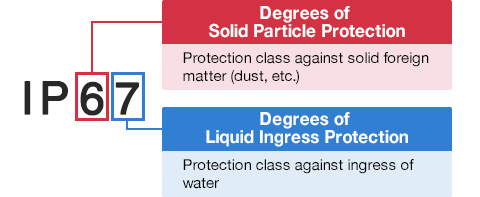 Degrees of Solid Particle Protection – 1st Digit
| | |
| --- | --- |
| IP6x | No ingress of dust; complete protection against contact. (Dust tight) |
| IP5x | Protected from the amount of dust that would interfere with normal operation. (Dust protected) |
Degrees of Liquid Ingress Protection – 2nd Digit
IPx8
Protected against continuous immersion in water.
Depth and duration specified by model.
IPx7
Protected against temporary immersion in water for 1 m (3.3 ft) for 30 minutes
IPx6
Protected against water projected by powerful jets from any direction.
100 L per minute by a powerful jets (12.5 mm) for 3 minutes.
IPx5
Protected against water projected by jets from any direction.
12.5 L per minute by a nozzle (6.3 mm) for 3 minutes.
IPx4
Protected against water splashed against the equipment from any direction