Compact and Lightweight
The IC-M85E is the most compact (W×H×D: 56 × 92 × 36.2 mm) and lightweight (weight: 281 g (with BP-294, FA-SC58V and MBB-3)) commercial grade marine and land mobile hybrid radio in the world*.
* As of November 2021, researched by Icom.
Covering 136–174 MHz PMR Frequency
In addition to VHF marine channels, the IC-M85E covers 136–174 MHz PMR channels. Up to 100 programmable channels are available for PMR use. Each channel is programmable with CTCSS and DTCS tone.
700 mW Powerful Audio
Despite its compact body, the IC-M85E delivers 700 mW of loud audio. Clear communications is vital in noisy environments.
Private Conversation
The radio has a built-in Voice Scrambler and provides private communication between stations (32-code, compatible with UT-112 voice scrambler unit).
Automated Emergency Alarm
The IC-M85E has three emergency related functions: the MOB Alarm, Man Down and Lone Worker functions. If one of these functions are activated, the radio automatically makes an emergency alarm.
Instant Operation with Multi-Function Button
Channel group changing (marine ⇔ PMR) or the scrambler function ON/OFF can be assigned in the multi-function button on the top panel*. The Key lock function can be activated by holding the button.
* Ask your dealer for details.
IP67 and MIL-STD Rugged Construction
The IC-M85E is built durable to endure 1 m submersion for 30 minutes and dust-tight protection. The radio also passes MIL-STD-810 specifications.
And More
AquaQuake™ prevents audio degradation from a water-logged speaker
Internal VOX capability for hands-free operation
21 hours of long battery life with BP-294 (TX: RX: Standby=5:5:90.)
5 W output power
The self check function checks internal temperature, and connected battery voltage (over voltage detection)
Monitor function
Priority scan function
Dual/Tri-watch function for monitoring CH16 and/or call channel
Favorite channel function for quick access to often used channels
General
Marine channels
PMR channels
Frequency coverage
Tx
156.000–161.450 MHz
136.000–174.000 MHz
Rx
156.000–163.425 MHz
Usable channel groups,
Number of channels
INT, USA* channels
(* Varies according to version)
100 PMR channels
Type of emissions
16K0G3E
(EUR, UK)
16K0F3E/8K50F3E

(FRG)
14K0F3E/8K50F3E
Channel spacing
25 kHz
(EUR, UK)
25/12.5 kHz

(FRG)
20/12.5 kHz
Power supply requirement
7.2 V DC nominal
Current drain
(approximate)
Tx (at 5 W)
1.5 A
Rx Max. audio
0.45 A
Antenna impedance
50 Ω
Operating temperature range
-15 °C to +55 °C
-25 °C to +55 °C
Dimensions (W×H×D)
(Projections not included)
56 × 92 × 36.2 mm (With BP-294)
56 × 92 × 29 mm (With BP-290)
Weight (approximate)
281 g (with BP-294, FA-SC58V and MBB-3)
246 g (with BP-290, FA-SC58V and MBB-3)
Transmitter
Marine channels
PMR channels
Output power (at 7.2 V DC)
5/3/1 W
5/3/1 W
Max. frequency deviation
±5.0 kHz
(EUR, UK)
±5.0 kHz (Wide)
±2.5 kHz (Narrow)

(FRG)
±4.0 kHz (Wide)
±2.5 kHz (Narrow)
Frequency stability
±1.5 kHz
Spurious emissions
0.25 μW (≤2 GHz),1.0 μW (>2 GHz)
Residual modulation
40 dB
40 dB (Wide)
34 dB (Narrow)
Audio harmonic distortion
10% (at 60% deviation)
Modulation limiting
60-100% of maximum deviation
Receiver
Marine channels
PMR channels
Sensitivity (at 20 dB SINAD)
-4 dBμ emf typical
-4 dBμ emf typical (Wide)
-2 dBμ emf typical (Narrow)
Adjacent channel selectivity
70 dB
70 dB (Wide)
60 dB (Narrow)
Spurious response
70 dB
Intermodulation
68 dB
65 dB
Hum and noise
40 dB
40 dB (Wide), 34 dB (Narrow )
Audio output power
Internal SP
700 mW typical
(at 10% distortion with 12 Ω load at 1 kHz)
External SP
700 mW typical
(at 10% distortion with 8 Ω load at 1 kHz)
Measurements made in accordance with EN 301-178 or EN 300 086.
All stated specifications are subject to change without notice or obligation.
Applicable U.S. Military Specifications
Standard

MIL-810 G
Method
Procedure
Low Pressure
500.5
I, II
High Temperature
501.5
I, II
Low Temperature
502.5
I, II
Temperature Shock
503.5
I-C
Solar Radiation
505.5
I
Rain Blowing/Drip
506.5
I, III
Humidity
507.5
II
Salt Fog
509.5
–
Dust Blowing
510.5
I
Immersion
512.5
I
Vibration
514.6
I
Shock
516.6
I, IV
Also meets equivalent MIL-STD-810-C, -D -E and -F.
Applicable IP Rating
Ingress Protection Standard
Water
IP67 (Dust-tight and waterproof protection)
Supplied Accessories
BP-294 battery pack
BC-227 rapid charger
BC-123S* AC adapter
FA-SC58V antenna
MBB-3 belt clip
Hand strap
* SE for Europe plug. SUK for UK plug. SV for Australia plug.
Catalogs / Brochures
Instruction Manual / Guides

Close

Close

Ingress Protection (IP) Code
Ingress Protection (IP) ratings define the level of protection provided by enclosures to prevent the ingress of foreign objects (dust) and liquid into the electrical equipment.
International Standard IEC 60529 outlines an international classification system that describes the sealing characteristics of electrical equipment.
The classification system uses the "IP" code, or "Ingress Protection" code, to define the level of seal.
An IP number contains two numbers (i.e. IP67) in most instances which relate to the level of protection provided by an enclosure or housing.
Either number may be shown as "X" (i.e. IPX6 / IP7X) to indicate the "X" part is not tested.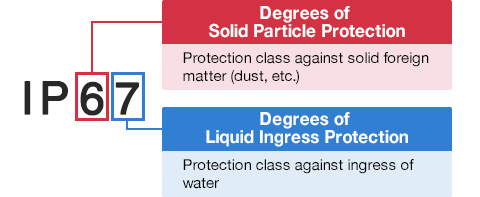 Degrees of Solid Particle Protection – 1st Digit
| | |
| --- | --- |
| IP6x | No ingress of dust; complete protection against contact. (Dust tight) |
| IP5x | Protected from the amount of dust that would interfere with normal operation. (Dust protected) |
Degrees of Liquid Ingress Protection – 2nd Digit
IPx8
Protected against continuous immersion in water.
Depth and duration specified by model.
IPx7
Protected against temporary immersion in water for 1 m (3.3 ft) for 30 minutes
IPx6
Protected against water projected by powerful jets from any direction.
100 L per minute by a powerful jets (12.5 mm) for 3 minutes.
IPx5
Protected against water projected by jets from any direction.
12.5 L per minute by a nozzle (6.3 mm) for 3 minutes.
IPx4
Protected against water splashed against the equipment from any direction