Integrated AIS Receiver
With an integrated AIS receiver, the IC-M506GE can show real-time AIS vessel traffic information on the display. The AIS target call function allows you to easily set up a DSC individual call. The Plotter, Target list and Danger list can be toggled on the display.
NMEA 2000™ Connectivity
With the plug-and-play functionality of NMEA 2000, the IC-M506GE can easily connect to a NMEA 2000 network. The M506GE can receive and transmit GPS (position, course (COG) and speed (SOG)), AIS report and DSC call information data and transmit radio frequency and PGN list data on the network. Using this function, the IC-M506GE can convert NMEA 0183 GPS data to NMEA 2000 data for other equipment.
Last Call Voice Recording
The last call voice recording function automatically saves the last two minutes of the last incoming call. You can replay the received call, and not miss any incoming call.
Active Noise Cancelling
Using digital signal processing technology, the built-in bidirectional active noise cancelling provides superb performance. It reduces background noise to up to 90% in the received signal and 30% fixed in the transmitting signal. The function OFF setting is also possible.
Intuitive Menu-Driven User Interface
The intuitive software key functions provide easy and fast operation to control the multiple functions of the IC-M506GE. The bottom line of the dot-matrix display shows the software key functions which can be toggled with the left and right buttons.
25 W Two-Way Hailer
When connected to the optional horn speaker, SP-37, you can talk with crews on the deck or shore from the radio's microphone and can hear any reply via the horn speaker. The RX hailer function allows you to monitor the received audio from the horn speaker. The built-in 25 W amplifier increases your talk power, making it loud and clear.
Built-in Horn (Automatic & Manual)
Four horn patterns are selectable for the automatic horn function when it is connected to the optional SP-37 horn speaker.
ITU Class D DSC (Meets ITU-R M493-14)
The built-in DSC watch function monitors Ch. 70 (DSC channel) activity, even while you are receiving another channel. DSC functions include: distress, individual, group, all ships, urgency, safety, position request/report, polling request and DSC test calls. Up to 100 DSC address IDs can be programmed.
GPS Receiver Built-in
A built-in GPS receiver with external antenna provides your location, bearing and speed by using information from GPS and GLONASS. The acquired position information can be used for DSC calls.
IPX8 Advanced Waterproof
The IC-M506GE and supplied HM-205B microphone can withstand 1m (3.2 ft) depth of water for 60 minutes.
Other Features
・ 15 W audio output power (with external speaker)
・ AquaQuake™ draining function
・ Optional voice scrambler, UT-112/A for private conversation
・ MA-500TR AIS transponder and MarineCommander™ compatible
Rear Panel View
General
Frequency range
TX
156.000–162.000 MHz
RX
156.000–163.425 MHz
CH70
156.525 MHz
AIS1, 2
161.975, 162.025 MHz
Usable channels
INT, USA* channels
*Available depending on version
Type of emission
16K0G3E (FM), 16K0G2B (DSC)
Power supply requirement
13.8 V DC (10.8–15.6 V DC)
Current drain
(at 13.8V DC)
TX 25 W output
5.5 A
RX AF Max
External SP
5.0 A (RX hailer ON)
Internal SP
1.5 A
Operating temperature range
−20°C to +60°C
Antenna impedance
50 Ω (SO-239)
Dimensions (W×H×D)
(Projections not included)
178.9×113.9×113.8 mm
Weight (approx.)
1400 g
Transmitter
| | |
| --- | --- |
| Output power (at 13.8 V DC) | 25 W, 1 W |
| Max. frequency deviation | ±5.0 kHz |
| Frequency stability | Less than ±0.5 kHz |
| Spurious emissions | Less than 0.25 μW |
Receiver
Intermediate frequency
CH70
1st 30.15 MHz, 2nd 450 kHz
1st 21.7 MHz, 2nd 450 kHz
Sensitivity
CH70
−5 dBμ emf typ. (20 dB SINAD)
−4 dBμ emf typ. (1% BER)
Adjacent channel
selectivity CH70 (1% BER)
More than 75 dB
More than 73 dBμ emf
Spurious response
CH70 (1% BER)
More than 75 dB
More than 73 dBμ emf
Intermodulation
CH70 (1% BER)
More than 75 dB
More than 68 dBμ emf
Hum and noise
More than 40 dB
Audio output power
(at 10% distortion)
More than 15 W with a 4 Ω
RX speaker
GPS/GLONASS Receiver
Receiving frequency
1575.42 MHz (GPS),
1602 MHz (GLONASS)
Receiving channels
24 channels
Satellite differential type
WAAS, EGNOS, MSAS, GAGAN
Applicable U.S. Military Specifications
Icom makes rugged products that have been tested to and passed the following MIL-STD requirements and strict environmental standards.
Standard
MIL-810 G
Method
Proc.
Low Pressure Storage
500.5
I
Low Pressure Operation
500.5
II
High Temperature Storage
501.5
I
High Temperature Operation
501.5
II
Low Temperature Storage
502.5
I
Low Temperature Operation
502.5
II
Temperature Shock
503.5
I-C
Solar Radiation
505.5
I
Rain Blowing
506.5
I
Humidity
507.5
II
Salt Fog
509.5
-
Dust Blowing
510.5
I
Water Immersion
512.5
I
Vibration
514.6
I
Shock Functional
516.6
I
Shock Transit Drop
516.6
IV
Also meets equicalent MIL-STD-810-C, -D, -E and -F.
Applicable IP Rating and Environmental Test.
Ingress Protection Standard
Water
IPX8 (1 m depth water for 60 minutes)
Supplied Accessories
Hand hanger
DC power cable
Mounting bracket kit
GPS antenna
Catalogs / Brochures
Instruction Manual / Guides

Close

Close

Ingress Protection (IP) Code
Ingress Protection (IP) ratings define the level of protection provided by enclosures to prevent the ingress of foreign objects (dust) and liquid into the electrical equipment.
International Standard IEC 60529 outlines an international classification system that describes the sealing characteristics of electrical equipment.
The classification system uses the "IP" code, or "Ingress Protection" code, to define the level of seal.
An IP number contains two numbers (i.e. IP67) in most instances which relate to the level of protection provided by an enclosure or housing.
Either number may be shown as "X" (i.e. IPX6 / IP7X) to indicate the "X" part is not tested.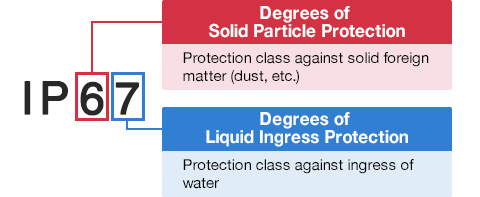 Degrees of Solid Particle Protection – 1st Digit
| | |
| --- | --- |
| IP6x | No ingress of dust; complete protection against contact. (Dust tight) |
| IP5x | Protected from the amount of dust that would interfere with normal operation. (Dust protected) |
Degrees of Liquid Ingress Protection – 2nd Digit
IPx8
Protected against continuous immersion in water.
Depth and duration specified by model.
IPx7
Protected against temporary immersion in water for 1 m (3.3 ft) for 30 minutes
IPx6
Protected against water projected by powerful jets from any direction.
100 L per minute by a powerful jets (12.5 mm) for 3 minutes.
IPx5
Protected against water projected by jets from any direction.
12.5 L per minute by a nozzle (6.3 mm) for 3 minutes.
IPx4
Protected against water splashed against the equipment from any direction