New
VHF MARINE TRANSCEIVER
IC-

M410BB
High-Performance Black Box VHF Radios When Helm Space is at a Premium
Installation Example
Clean Installation for Limited Helm Space
The IC-M410BB consists of a multi-piece, CommandMic™ and black box configuration. All operations including DSC, can be made from the CommandMic™, HM-195, and the RF unit can be installed in an out-of-sight place, up to 60 ft (18.3 m)* away from the CommandMic™.
* Two OPC-1541 optional cables are required for 60 ft installation.
Install Up to Two Stations on Board, VHF Radio Available at Your Favorite Positions
Up to two CommandMic™ stations are available with the IC-M410BB providing access to the VHF radio and Intercom functions.
NMEA 2000™ and NMEA 0183-HS Provides Data Integration on Your Boat
NMEA 2000™ network provides plug-and-play data communication to inter-connect with other marine equipment such as an MFD (Multi-Function Display). The radio can send GNSS (GPS) position, DSC call, and radio channel to other equipment.
Active Noise Canceling - No Need to Shout into Your Microphone
The Active Noise Cancelling digitally removes background noise from both transmit and receive audio and provides clear communication in a noisy maritime environment.
Built-in Class D DSC, "Distress" Button Can be a Lifesaver in an Emergency Situation
With just a press of the "DISTRESS" button, the built-in DSC (Digital Selective Calling) system can digitally transmit distress information to the Coast Guard and/or other vessels. The DSC watch function continuously monitors the DSC channel (Ch. 70) for added safety and security.
Loud 1-Way RX Hailer for Radio Watch on the Deck or Tower
A built-in 15 W* amplifier increases the audio output to an external hailer speaker. The 1-way RX hailer function enables you to keep watch of the radio traffic on the deck or tower through the hailer speaker. You can also sound foghorn patterns from the hailer speaker.
* 13 W for the Europe Version.
Other Features
IPX7 waterproof, 1 m depth water for 30 minutes
Integrated GPS receiver*
AquaQuake™ function
External speaker connection from the CommandMic™ cable
Anchor Watch function
(* External GPS antenna is included with the EUR version. Optional with the USA version. )
COMPARISON
IC-M510BB
IC-M410BB
IC-M400BB
CommandMic™ Stations
Total 3 stations (Up to 2 options)
Total 2 stations (optional 1 station)
1 station
Intercom function
Yes
(One-to-one and one-to-all)
Yes
No
Class D DSC & DISTRESS
Yes
Yes
Yes
AIS Receiver
Yes
No
No
Integrated GPS (GNSS) receiver
Yes
(IC-M510BB EUR Version only*)
Yes
(IC-M410BB EUR Version only*)

Yes
(IC-M400BBE EUR Version only)

Active Noise Cancelling
Yes
Yes
Yes
Voice Recording & Playback
Yes
No
No
NMEA Interface
NMEA 2000
NMEA 0183-HS
NMEA 2000
NMEA 0183-HS
NMEA 0183
DSC Remote Control Interface
Yes (EN 300 338-8)
No
No
RX Hailer and Foghorn
Yes (1-Way)
Yes (1-Way)
Yes (1-Way)

* GPS antenna is optional with the IC-M510BB and IC-M410BB USA versions.
General
USA Version
EUR version
Frequency range
TX
156.025~157.425 MHz
156.025~161.425 MHz
RX
156.050~163.275 MHz
156.050~162.000 MHz
DSC
156.525 MHz
156.525 MHz
Usable channels
USA, CAN, INT, WX channels
INT, USA, ATIS channels
Type of emission
16K0G3E (FM), 16K0G2B (DSC)
16K0G3E (FM), 16K0G2B (DSC)
Power supply requirement
13.8 V DC (11.7~15.9 V DC)
12.0 V DC (10.8~15.6 V DC)
Current drain
(at 13.8 V DC)
TX 25 W output
5.5 A Max.
RX Max. audio
1.5 A (One CommandMic)
4.0 A (Two CommandMic & RX hailer)
Operating temperature range
–20°C ~ +60°C; –4°F ~ +140°F
Antenna impedance
50 Ω
Dimensions (W x H x D, Projections are not included)
RF unit
216 x 79 x 113 mm, 8.5 x 3.1 x 4.4 in
CommandMic
67.5 x 144.5 x 37 mm, 2.7 x 5.7 x 1.5 in
Weight (approx.)
RF unit
870 g; 1.9 lb.
CommandMic
400 g; 14.1 oz
Transmitter
USA Version
EUR version
Output power
25 W, 1W
Max. frequency deviation
±5 kHz
Frequency tolerance
±0.5 kHz
Spurious emissions
Less than −70 dBc (at 25 W)
Less than −56 dBc (at 1 W)
Less than 0.25 μW
Residual modulation
More than 40 dB
Adjacent channel power
More than 70 dB
Receiver
USA Version
EUR version
Sensitivity
FM
0.22 μV typical (at 12 dB SINAD)
Less than -2 dBμ emf (at 20 dB SINAD)
DSC (1% BER)
-7 dBμ emf typical
Adjacent channel selectivity
FM
More than 70 dB
DSC (1% BER)
More than 73 dBμ emf
Spurious response
FM
More than 70 dB
DSC (1% BER)
More than 73 dBμ emf
Intermodulation
FM
More than 70 dB
More than 68 dB
DSC (1% BER)
More than 68 dBμ emf
Hum and noise
More than 40 dB
Audio output power
CommandMic
More than 2 W (with 4 Ω load, at 10% distortion)
Rx hailer
More than 15 W (with 4 Ω load)
More than 13 W (with 4 Ω load)
Applicable IP Rating
Ingress Protection Standard
IC-M410BB (Black box RF unit and CommandMic)
IPX7 (Waterproof protection)*
* Except for the DC power connector, NMEA In/Out leads and AF Out leads.
Supplied Accessories
Commandmic, HM-195GB
Connection cable OPC-1540 (6.1 m, 20 ft)
GPS antenna* (* GPS antenna is not supplied with the USA version.)
Microphone hanger
DC power cable
Mounting base
Connector cap
Dimensions
Catalogs / Brochures
Instruction Manual / Guides

Close

Close

Ingress Protection (IP) Code
Ingress Protection (IP) ratings define the level of protection provided by enclosures to prevent the ingress of foreign objects (dust) and liquid into the electrical equipment.
International Standard IEC 60529 outlines an international classification system that describes the sealing characteristics of electrical equipment.
The classification system uses the "IP" code, or "Ingress Protection" code, to define the level of seal.
An IP number contains two numbers (i.e. IP67) in most instances which relate to the level of protection provided by an enclosure or housing.
Either number may be shown as "X" (i.e. IPX6 / IP7X) to indicate the "X" part is not tested.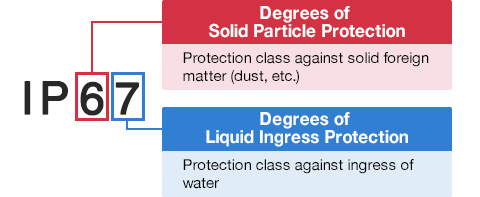 Degrees of Solid Particle Protection – 1st Digit
| | |
| --- | --- |
| IP6x | No ingress of dust; complete protection against contact. (Dust tight) |
| IP5x | Protected from the amount of dust that would interfere with normal operation. (Dust protected) |
Degrees of Liquid Ingress Protection – 2nd Digit
IPx8
Protected against continuous immersion in water.
Depth and duration specified by model.
IPx7
Protected against temporary immersion in water for 1 m (3.3 ft) for 30 minutes
IPx6
Protected against water projected by powerful jets from any direction.
100 L per minute by a powerful jets (12.5 mm) for 3 minutes.
IPx5
Protected against water projected by jets from any direction.
12.5 L per minute by a nozzle (6.3 mm) for 3 minutes.
IPx4
Protected against water splashed against the equipment from any direction