Compact Body (W × H × D; 156.5 × 66.5 × 110.1 mm; 6.2 × 2.6 × 4.3 in)
Easy Installation in Limited Space
Powerful Front Mount Speaker
Delivers Loud and Clear Audio
Built-in Class D DSC with a CH70
Dedicated Receiver
Intuitive Operation with
Icom's Marine User Interface
Easy-to-Read Full Dot-Matrix Display
HM-237B Detachable
Hand Microphone Supplied
IPX7 Submersible Construction
(1 m depth of water for 30 minutes)
AquaQuake™ Prevents Audio Degradation
from a Water-Logged Speaker
Made in Japan Quality and Reliability
Other Features
Common NMEA interface for external GPS/NAV connection
MA-500TR Class B AIS transponder compatible
Tag scan and favorite channel functions
Dual/tri-watch function for monitoring CH16 and/or call channel
Priority scan function
Display and keypad backlighting
External speaker connection
Weather channel with weather alert
General
Frequency range
TX
156.025–157.425 MHz
RX
156.050–163.275 MHz
CH70
156.525 MHz
Usable channels
USA, CAN, INT, WX channels
Type of emission
16K0G3E (FM), 16K0G2B (DSC)
Power supply requirement
13.8 V DC nominal
(11.7–15.9 V DC)
Current drain
(at 13.8 V DC)
TX 25W output
5 A
RX AF max.
1.2 A
Operating temperature range
–20°C to +60°C; –4°F to +140°F
Antenna impedance
50 Ω(SO-239)
Dimensions (W×H×D)
(Projections not included)
156.5×66.5×110.1 mm;
6.2×2.6×4.3 inch
Weight (approx.)
700 g; 1.5 lb (with HM-237B)
NMEA formats
Input
RMC, GGA, GNS, GLL, VTG
Output
DSC, DSE, RMC, GSA, GSV
Transmitter
| | |
| --- | --- |
| Output power (at 13.8 V DC) | 25 W, 1 W |
| Max. frequency deviation | ±5 kHz |
| Frequency tolerance | ±5 ppm |
| Spurious emissions | Less than –60 dBc |
Receiver
Sensitivity
Main
–13 dBµ typ. (12 dB SINAD)
DSC
–5 dBµ emf typ. (1% BER)
Squelch sensitivity
Less than –10 dBμ
Adjacent channel
selectivity
Main
More than 68 dB
DSC
More than 68 dBμ emf (1% BER)
Intermodulation
Main
More than 63 dB
DSC
More than 55 dBμ emf (1% BER)
Sensitivity
–14 dBμ typ. (at 12 dB SINAD)
Hum and noise
More than 40 dB
Audio output power
(at 10% distortion with a 4 Ω load)
4.5 W typical
Measurements made in accordance with TIA/EIA 603. All stated specifications are subject to change without notice or obligation.
Applicable IP Rating
Ingress Protection Standard
Water
IPX7 (Waterproof protection)
Supplied Accessories
HM-237B hand microphone
DC power cable
Mounting bracket kit
MICROPHONES
EXTERNAL SPEAKERS
FLUSH MOUNT KITS
Catalogs / Brochures
Instruction Manual / Guides

Close

Close

Ingress Protection (IP) Code
Ingress Protection (IP) ratings define the level of protection provided by enclosures to prevent the ingress of foreign objects (dust) and liquid into the electrical equipment.
International Standard IEC 60529 outlines an international classification system that describes the sealing characteristics of electrical equipment.
The classification system uses the "IP" code, or "Ingress Protection" code, to define the level of seal.
An IP number contains two numbers (i.e. IP67) in most instances which relate to the level of protection provided by an enclosure or housing.
Either number may be shown as "X" (i.e. IPX6 / IP7X) to indicate the "X" part is not tested.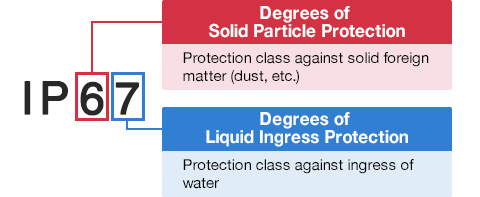 Degrees of Solid Particle Protection – 1st Digit
| | |
| --- | --- |
| IP6x | No ingress of dust; complete protection against contact. (Dust tight) |
| IP5x | Protected from the amount of dust that would interfere with normal operation. (Dust protected) |
Degrees of Liquid Ingress Protection – 2nd Digit
IPx8
Protected against continuous immersion in water.
Depth and duration specified by model.
IPx7
Protected against temporary immersion in water for 1 m (3.3 ft) for 30 minutes
IPx6
Protected against water projected by powerful jets from any direction.
100 L per minute by a powerful jets (12.5 mm) for 3 minutes.
IPx5
Protected against water projected by jets from any direction.
12.5 L per minute by a nozzle (6.3 mm) for 3 minutes.
IPx4
Protected against water splashed against the equipment from any direction