VHF P25 CONVENTIONAL & TRUNKED TRANSCEIVER
IC-

F9511HT
High Power Mobile for the First Responder !
VHF/P25 DIGITAL/Fullkeypad

IC-F9511HT
* Salt fog, Blowing dust and IP54 tests were performed on the controller and RMK-2 only.
P25 VHF Conventional and Trunking
The IC-F9511HT comes with P25 VHF conventional and trunking capabilities. You can assign individual channels to analog conventional, P25 conventional or P25 trunking, all within one radio.
Interoperability
The IC-F9511HT conforms to standard specifications for TIA/EIA -102, CAAB, Digital C4FM Transceiver Performance Recommendations. Provides interoperability with other brand P25 equipment for public safety applications.
Digital/Analog Mixed Mode Operation
The mixed mode operation allows you to detect and receive both analog FM and P25 digital modes and to transmit either mode depending on programming.
Individual ID and Talkgroup ID
The IC-F9511HT has a 100 individual ID and 250 talkgroup ID memories. Use the display to visually select the person or group you're going to call.
Optional AES/DES Encryption
The IC-F9511HT provides AES and/or DES encryption for secure conversation with the optional UT-125 AES/DES encryption unit or UT-128 DES encryption unit.
OTAR (Over-the-Air-Rekeying)
The IC-F9511HT supports P25 OTAR for changing encryption keys over the air.
Enhanced Vocoder Ready
Using the DVSI's AMBE+2™ vocoder, the IC-F9511HT is enhanced vocoder ready.
110W of Powerful RF Output
A full 110W of output power is available for reliable long distance communication. A large heat sink provides effective cooling mechanism allowing continuous duty cycle operation (20% duty cycle transmission).
Compact "Letter Size" RF Unit
While the IC-F9511HT provides 110W of RF output, the RF (main) unit dimensions are only 175 (W) × 60 (H) × 279 (D) mm (6.89 × 2.36 × 10.98 in), so the RF unit can be fit into a "letter size" console box.
IP54 Dust and Water Resistance
The controller and RF unit have dust-protection and splash resistance, equivalent to IP54.
Separate Controller
The controller and speaker are separated from the RF unit for flexible installation. A 5m (16.4ft) separation cable is attached to the controller and optional separation cable length is selectable from 1.9m (6.2ft), 3m (9.8ft) and 8m (26.2ft).
512 Memory Channels, 128 Zones
Up to 512 memory channels can be divided into 128 memory zones, allowing you flexible
channel and communication group management. The CTCSS and DTCS encoder and decoder* are also built-in to set up your own talk groups.
* Analog mode only.
Dot Matrix, Multi-Function LCD
With a high contrast dot matrix display, upper and lower case characters can be easily distinguished. The display shows 12 characters by 2 lines. LCD backlight is standard.
Self-Grounding Mic, HM-148G
The supplied HM-148G self-grounding microphone has a mechanism for self grounding where a grounding wire is no longer required.
9-pin External Speaker Connector
The IC-F9511HT has a 9-pin speaker connector with a 15W (typ.) audio amplifier for connecting the SP-30 external speaker, horn honk and ignition sensing line, etc,. When an external loud speaker is connected, the RX speaker function allows you to relay the received audio over the loud speaker.
Programmable Accessory Connector
The IC-F9511HT has a D-SUB 25-pin ACC connector for connecting external devices. It has reserved pins for programming to input operating channels, turn on/off functions and output received audio.
Tactical Group Function
The tactical group function allows you to copy memory channels to the tactical zone and temporarily regroup memory channels. Using the optional zone copy cable, memory channels in the tactical zone can be transferred from a master radio to other radios.
Abundant Scanning Functions
The dual priority scan monitors two primary channels alternately, while scanning other channels. The mode dependent scan function automatically changes the scan list according to the operating channel setting. The talk back function with timer beep, TX channel and cancel channel settings allow you to preset the transmission channel when you push the PTT button during a scanning operation or cancel the scanning.
Radio Stun/Kill and Power-on Password Function
The radio stun/kill function* disables a lost or stolen radio over the air, eliminating security threats from undesired listeners. The power-on password prevents unauthorized people from turning on the radio.
* P25 digital mode only.
Optional External Speaker SP-30
Newly designed external speaker, SP-30 offers 15W* (typ.) of high level audio with the IC-F9511HT for improved operation in noisy environments.
* Rated input of the SP-30 is 20W.
Optional Active Noise Canceling Microphone
The optional active noise canceling microphone HM-211 can automatically reduce noise in extremely noisy environments and assist in transmitting clear and accurate audio.

Watch the HM-211 performance video:
Other Features
Wide frequency coverage (136-174MHz)
FM wide/narrow channel spacing*
Built-in audio compander*
Built-in inversion type voice scrambler*
NTIA VHF specification compliant
Talk around function
DTMF auto dial*
Microphone hanger action (On hook scan and off hook monitor)
2-Tone encoder and decoder* and MDC1200 compatible* (Available in future)
* Analog mode only
General
IC-F9511HT
Frequency coverage
136–174MHz
Number of channels
Max. 512 channels / 128 zones
Channel spacing
15/30kHz (analog)
12.5kHz (digital)
Type of emission
16K0F3E, 11K0F3E, 8K10F1E, 8K10F1D
Current drain
(approx)
Tx High (110W)
22.0A
Rx
Stand-by
400mA
Max. audio
3.0A
Dimensions
(projections not included; W×H×D)
175×60×279 mm
6.89×2.36×10.98 in
Weight (approx.)
4.1kg; 9.0lb
Transmitter
IC-F9511HT
RF output power (High)
110W
Spurious emissions
70dB min.
Frequency stability
±1.0ppm
Audio harmonic distortion
3% typical
40% deviation
FM Hum and Noise
48dB typ. (W)
45dB typ. (N)
Receiver
IC-F9511HT
Sensitivity (at 12dB SINAD)
0.25μV (typ.) (at threshold)
Adjacent channel selectivity
Analog (W/N)
(TIA/EIA603B)81/53dB (typ.)
(TIA/EIA603) 85/77dB (typ.)
Digital
63dB (typ.)
Spurious response rejection
85dB min.
Intermodulation rejection
78dB typ.
AF output power
(at 3% distortion with a 4Ω load)
15W (typ.)
Applicable U.S. Military Specifications & IP Rating
Icom makes rugged products that have been tested to and passed the following MIL-STD requirements and ingress protection standards.
Standard

MIL-810 G
Method
Procedure
Low Pressure

500.5

I, II

High Temperature

501.5

I, II

Low Temperature

502.5

I, II

Temperature Shock

503.5

I-C

Solar Radiation

505.5

I

Rain

506.5

I, III

Humidity

507.5

II

Salt Fog*

509.5

–

Blowing Dust*

510.5

I

Vibration

514.6

I

Shock

516.6

I, IV
Also meets equivalent MIL-STD-810-C, -D, -E and -F
Ingress Protection Standard
Dust & Water

IP54* (Dust-protection and water resistant)
* Salt fog, Blowing dust and IP54 tests were performed on the controller and RMK-2 only.

All stated specifications are subject to change without notice or obligation.
Supplied Accessories
Hand microphone, HM-138G
Control unit
Separation cable, 5m (16.4 ft)
DC power cable
Micropphone hanger
Key assign stickers
Mounting bracket kit for main unit
Mounting bracket kit for controller
Note that an External Speaker must be purchased separatelly.
Catalogs / Brochures
Instruction Manual / Guides

Close

Close

Ingress Protection (IP) Code
Ingress Protection (IP) ratings define the level of protection provided by enclosures to prevent the ingress of foreign objects (dust) and liquid into the electrical equipment.
International Standard IEC 60529 outlines an international classification system that describes the sealing characteristics of electrical equipment.
The classification system uses the "IP" code, or "Ingress Protection" code, to define the level of seal.
An IP number contains two numbers (i.e. IP67) in most instances which relate to the level of protection provided by an enclosure or housing.
Either number may be shown as "X" (i.e. IPX6 / IP7X) to indicate the "X" part is not tested.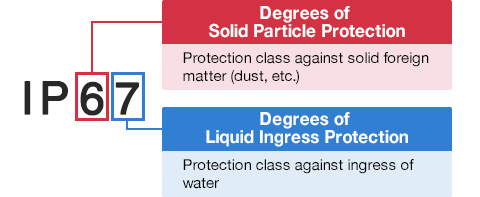 Degrees of Solid Particle Protection – 1st Digit
| | |
| --- | --- |
| IP6x | No ingress of dust; complete protection against contact. (Dust tight) |
| IP5x | Protected from the amount of dust that would interfere with normal operation. (Dust protected) |
Degrees of Liquid Ingress Protection – 2nd Digit
IPx8
Protected against continuous immersion in water.
Depth and duration specified by model.
IPx7
Protected against temporary immersion in water for 1 m (3.3 ft) for 30 minutes
IPx6
Protected against water projected by powerful jets from any direction.
100 L per minute by a powerful jets (12.5 mm) for 3 minutes.
IPx5
Protected against water projected by jets from any direction.
12.5 L per minute by a nozzle (6.3 mm) for 3 minutes.
IPx4
Protected against water splashed against the equipment from any direction