VHF/UHF P25 CONVENTIONAL&TRUNKED TRANSCEIVERS
IC-

F9011


IC-

F9021

Series
Ready for : P25 Conventinal, P25 Trunking and Analog Conventional. All in One Radio!
VHF/P25 DIGITAL/10-keypad

IC-F9011T

VHF/P25 DIGITAL/Simple key

IC-F9011S

VHF/P25 DIGITAL

IC-F9011B

UHF/P25 DIGITAL/10-keypad

IC-F9021T

UHF/P25 DIGITAL/Simple key

IC-F9021S

UHF/P25 DIGITAL

IC-F9021B
P25 Conventional and Trunking
The IC-F9011 series has P25 conventional and trunking capabilities as standard. You can assign individual channels to analog conventional, P25 conventional or P25 trunking, all within one radio.
Interoperability
The IC-F9011 series conforms to the standard specifications for TIA/EIA TSB-102, CAAB, Digital C4FM Transceiver Performance Recommendations and provides interoperability with other brand P25 equipment for public safety applications.
Digital/Analog Mixed Mode Operation
The mixed mode operation allows you to detect and receive both analog FM and P25 digital modes and to transmit either mode depending on programming.
Individual ID and Talkgroup ID
The IC-F9011T/S and IC-F9021T/S have a 100 individual ID and 250 talkgroup ID memories. Use the display to visually select the person or group you're going to call.
Optional AES/DES Encryption
The IC-F9011 series provides AES and/or DES encryption for secure conversation with the optional UT-125 AES/DES encryption unit or UT-128 DES encryption unit. Versions certified to FIPS 140-2 Level 1 for AES encryption are available.
Enhanced Vocoder Ready
Using the DVSI's AMBE+2™ vocoder, the IC-F9011 series is enhanced vocoder ready.
OTAR (Over-the-Air-Rekeying)
The IC-F9011 series supports P25 OTAR for changing encryption keys over the air.
4-way Navigation Cross Keypad
The 4-way cross keypad* on the front panel provides an intuitive user interface.
* IC-F9011T/S and IC-F9021T/S only.
Encryption Button and 3-Position Zone Select Switch
On the top of the radio, there is a toggle switch to turn the encryption on or off* and the 3 position switch allows you to quickly select an operating zone*.
* According to the programming setting.
Large Dot-Matrix Display*
The IC-F9011T/S and F9021T/S have a large dot-matrix display to show various operating status at a glance. At the bottom line of the display, the key indicator shows the assigned functions to the [I], [II] and [III] buttons for more efficient operation.
Slim Dimensions
At only 41.8mm (121/32 in) thick, the IC-F9011 series is designed as a solid and ergonomic shape that will fit comfortably in your hand.
6W RF Output Power
The IC-F9011T/S/B provides 6W*1 of high output power. The supplied 3040mAh (typ.) Li-Ion battery pack, BP-254, provides 9 hours*2 of operating time.
*1 5W for IC-F9021T/S/B.
*2 Typical operation with Tx: Rx: standby=5:5:90.
1000mW Audio Output Power
The built-in BTL amplifier doubles the audio output power and delivers loud audio to receive all calls under noisy environments. In addition, even when using an optional speaker microphone, the BTL amplifier output is also available from the external accessory connector which increases the audio output via the microphone.
IP67 Dust-Tight and Waterproof Protection
The IC-F9011 series has dust-tight and waterproof protection equivalent to IP67 and is tested to demanding MIL-STD 810 requirements. IP67 waterproof protection means the IC-F9011 series can be submerged in 1 meter of water for 30 minutes. The radio can withstand rugged use even under harsh weather conditions.
14-pin Accessory Connector
The new 14-pin accessory connector enhances the IC-F9011 series performance and capabilities. It has reserved pins for programmable key inputs.
Tactical Group Function
The tactical group function allows you to copy memory channels to the tactical zone and temporarily regroup memory channels. Using the optional zone copy cable, memory channels in the tactical zone can be transferred from a master radio to other radios.
Abundant Scanning Settings
The dual priority scan monitors two primary channels alternately, while scanning other channels. The mode dependent scan function automatically changes the scan list according to the operating channel. The talk back function with timer beep, TX channel and cancel channel settings allow you to preset the transmission channel when you push the PTT button during scanning operation or cancel the scanning.
Optional Man Down Unit
With the optional Man Down unit, UT-124R, the IC-F9011 series automatically sends an emergency signal when the radio is left in a horizontal position for a preset time.
Other Features
Wide frequency coverage
512 channels/128 zones
Built-in audio compander*
Built-in inversion type voice scrambler*
VOX function for hands-free operation
Optional waterproof speaker microphone, HM-184
Talk around function
CTCSS and DTCS encoder and decoder*
DTMF autodial*
2-Tone encoder and decoder* and MDC 1200 compatible*
* Analog mode only
TM: A Certification Mark of NIST, which does not imply product endorsement by NIST, the U.S. or Canadian Governments.
General
IC-F9011T/S/B
IC-F9021T/S/B
Frequency range
(Varies according to version)

136–174MHz

380–470MHz
400–470MHz
450–520MHz

Number of memory channels

Max. 512 channels/128 zones

Channel spacing
(Varies according to version)

15kHz/30kHz (analog)
12.5kHz (digital)

12.5/25kHz (analog)
12.5kHz (digital)

Type of emission

16K0F3E, 11K0F3E,
8K10F1E, 8K10F1D

Current drain
Tx

2.2A

2.1A

Rx
Stand-by

300mA (Backlight off)

Max. audio

800mA (Backlight off)

Dimensions (W×H×D)
(Projections are not included)

58.6×167×41.8 mm;
2.31×6.57×1.65 in (with BP-254)

Weight

533g; 1.17lb (with BP-254)
Transmitter
IC-F9011T/S/B
IC-F9021T/S/B
RF output power (High)

6W

5W

Spurious emissions

75dB (typ).

80dB (typ).

Frequency stability

±1.0ppm

Audio harmonic distortion

2% typical
40% deviation

FM Hum and Noise

45dB typ. (W)
40dB typ. (N)
Receiver
IC-F9011T/S/B
IC-F9021T/S/B
Sensitivity
Analog

0.25μV (typ). (at 12dB SINAD)

Digital

0.30μV (typ). (at 5% BER)

Adjacent channel selectivity
Analog
(W/N)

75/48dB (typ). (TIA/EIA603B)
80/70dB (typ). (TIA/EIA603)

75/50dB (typ). (TIA/EIA603B)
76/70dB (typ.) (TIA/EIA603)

Digital

60dB (typ).

Spurious response rejection

80dB (typ.)

Intermodulation rejection

75dB (typ).

AF output power
(at 10% distortion with an 8Ω load)

1.0W (typ).
Applicable U.S. Military Specifications & IP Rating
Icom makes rugged products that have been tested to and passed the following MIL-STD requirements and ingress protection standards.
Standard

MIL-810 G
Method
Procedure
Low Pressure

500.5

I, II

High Temperature

501.5

I, II

Low Temperature

502.5

I, II

Temperature Shock

503.5

I-C

Solar Radiation

505.5

I

Rain Blowing/Drip

506.5

I, III

Humidity

507.5

II

Salt Fog

509.5

–

Blowing Dust

510.5

I

Immersion

512.5

I

Vibration

514.6

I

Shock

516.6

I, IV
Also meets equivalent MIL-STD-810-C, -D, -E and -F
Ingress Protection Standard (IC-F9011/F9021 and BP-254)
Dust & Water

IP67 (Dust-protection and waterproof protection)
All stated specifications are subject to change without notice or obligation.
Supplied Accessories
Battery pack, BP-254
Antenna, FA-S65V
Belt clip, MB-115
Note that a Battery charger must be purchased separately.
Catalogs / Brochures
Instruction Manual / Guides
| Name | Model Name | Note |
| --- | --- | --- |
| Instruction Manual | IC-F9011B/IC-F9011S/IC-F9011T/IC-F9021B/IC-F9021S/IC-F9021T/IC-F9023B/IC-F9023S/IC-F9023T | |
| Instruction Manual | IC-F9011B/IC-F9011S/IC-F9011T/IC-F9021B/IC-F9021S/IC-F9021T/IC-F9023B/IC-F9023S/IC-F9023T | |

Close

Close

Ingress Protection (IP) Code
Ingress Protection (IP) ratings define the level of protection provided by enclosures to prevent the ingress of foreign objects (dust) and liquid into the electrical equipment.
International Standard IEC 60529 outlines an international classification system that describes the sealing characteristics of electrical equipment.
The classification system uses the "IP" code, or "Ingress Protection" code, to define the level of seal.
An IP number contains two numbers (i.e. IP67) in most instances which relate to the level of protection provided by an enclosure or housing.
Either number may be shown as "X" (i.e. IPX6 / IP7X) to indicate the "X" part is not tested.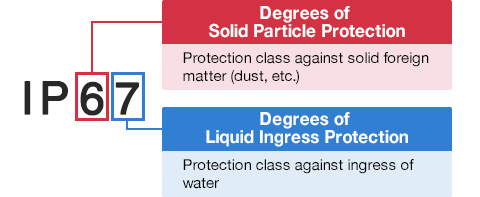 Degrees of Solid Particle Protection – 1st Digit
| | |
| --- | --- |
| IP6x | No ingress of dust; complete protection against contact. (Dust tight) |
| IP5x | Protected from the amount of dust that would interfere with normal operation. (Dust protected) |
Degrees of Liquid Ingress Protection – 2nd Digit
IPx8
Protected against continuous immersion in water.
Depth and duration specified by model.
IPx7
Protected against temporary immersion in water for 1 m (3.3 ft) for 30 minutes
IPx6
Protected against water projected by powerful jets from any direction.
100 L per minute by a powerful jets (12.5 mm) for 3 minutes.
IPx5
Protected against water projected by jets from any direction.
12.5 L per minute by a nozzle (6.3 mm) for 3 minutes.
IPx4
Protected against water splashed against the equipment from any direction