VHF AND UHF DIGITAL TRANSCEIVERS
IC-

F5220D


IC-

F6220D

Series
Wide-area Coverage with IDAS™ Multi-site Trunking
VHF/IDAS DIGITAL

IC-F5220D(50W)

UHF/IDAS DIGITAL

IC-F6220D(45W)
IDAS™ Digital Mode Operation
The IC-F5220D series provides NXDN™ CAI-based IDAS digital mode operation. It is compatible with IDAS multi-site conventional and IDAS multi-site and single-site trunking.
4W Front Mounted Speaker
4 watts* front facing speaker delivers clear and loud audio throughout a vehicle's cabin. In addition, the digital modulation provides distinct clarity even at the fringes of the communication range.
* Typical with internal speaker
Channel Announcement
When you change the operating channel, the radio announces the channel number. Convenient for making radio adjustments without having to look at the radio.
Roaming Scan
In the multi-site trunking mode, if the signal condition worsens as the radio user moves, the roaming scan automatically finds a new site to retain the communication link and quality.
Built Military Rugged
The tough aluminum die-cast chassis and polycarbonate front panel have been tested to the MIL-STD-810 environmental tests.
Optional Accessory Cable
An external GPS receiver, PC or other equipment can be connected with the optional OPC-2078 (D-sub 25-pin) or OPC-1939 (D-sub 15-pin). The ACC connector provides an ignition switch, external PTT, serial input/output, horn honk, channel control and public address functions, according to the programming.
* No digital modulation "IN" using accessory cables.
IDAS™ Digital Mode Features
Up to 500 individual and up to 500 group ID aliases (Each for single-site/multi-site/conventional)
PTT ID and ANI
Call alert
Status
SDM (Short Data Message)
Radio check (RX)
Stun/kill/revive (RX)
RAN (Radio Access Number)
Remote monitor (RX)
Emergency
Digital voice scrambler
ATB (All Trunks Busy) ring back
GPS data (PC and software required to show received position data)
* TX: Transmit, RX: Receive
Other Features
CTCSS/DTCS encoder/decoder*
128 channels with 8 zones
Microphone hanger action programmable
Power-on password function
Talk around function
Voting scan
Nuisance delete function
Forced narrow function*
Time-out-timer, lock-out penalty
* Analog mode only
General
IC-F5220D
IC-F6220D
Frequency coverage

136–174MHz

350–400MHz
400–470MHz
450–512MHz
450–520MHz

Number of channels

128 channels/8 zones

Channel spacing

25*/15/12.5/6.25 kHz

Type of emission

16K0F3E*/11K0F3E/8K50F3E/4K00F1E/F1D

Current drain
(approx.)
Tx (High)

10A (50W)

11A (45W)

Rx (Max./Standby)

1.2A/300mA

1.2A/300mA

Dimensions (W×H×D)
(Projections not included)

150×40×167.5 mm; 5.91×1.57×6.59 in

Weight (approx.)

1.1kg; 2.4lb
Transmitter
IC-F5220D
IC-F6220D
Output power (at 13.6V DC)

50W, 25W, 5W
(Hi, L2, L1)

45W, 25W, 4.5W
(Hi, L2, L1)

Spurious emissions

87dB typ.

85dB typ.

Frequency stability

±1.0ppm

Audio harmonic distortion

3% typ.
(AF 1kHz 40% deviation)

FM Hum and Noise

50/45dB typ. (W/N)

46/40dB typ. (W/N)

FSK error
2% typ.
Receiver
IC-F5220D
IC-F6220D
Sensitivity

0.25μV typ. (Analog 12dB SINAD)
0.18μV typ. (Digital 5% BER)

Adjacent channel selectivity

80/70/65dB typ. (W/N/D)

75/66/60dB typ. (W/N/D)

Spurious response rejection

80dB typ.

Intermodulation rejection

75/75/70dB typ. (W/N/D)

AF output power
(at 5% distortion, 4Ω load)

4W typ.
* 25kHz bandwidth is no longer available for FCC Part 90 licensees for USA versions. Ask your dealer if you need 25kHz bandwidth.
Applicable U.S. Military Specifications
Icom makes rugged products that have been tested to and passed the following MIL-STD requirements and strict environmental standards.
Standard

MIL-810 G
Method
Procedure
Low Pressure Storage

500.5

I

Low Pressure Operation

500.5

II

High Temperature Storage

501.5

I

High Temperature Operation

501.5

II

Low Temperature Storage

502.5 I

I

Low Temperature Operation

502.5

II

Temperature Shock

503.5

I-C

Solar Radiation

505.5

I

Humidity Induced

507.5

II

Vibration

514.6

I

Shock Functional

516.6

I

Shock Transit Drop

516.6

IV
Also meets equivalent MIL-STD-810-C, -D -E and -F.
Measurements made in accordance with TIA-603.
All stated specifications are subject to change without notice or obligation.
Supplied Accessories
Hand microphone (HM-152)
DC power cable
Mounting bracket kit
Microphone hanger
Key assign stickers
EXTERNAL SPEAKERS
ADAPTER CABLES
Instruction Manual / Guides

Close

Close

Ingress Protection (IP) Code
Ingress Protection (IP) ratings define the level of protection provided by enclosures to prevent the ingress of foreign objects (dust) and liquid into the electrical equipment.
International Standard IEC 60529 outlines an international classification system that describes the sealing characteristics of electrical equipment.
The classification system uses the "IP" code, or "Ingress Protection" code, to define the level of seal.
An IP number contains two numbers (i.e. IP67) in most instances which relate to the level of protection provided by an enclosure or housing.
Either number may be shown as "X" (i.e. IPX6 / IP7X) to indicate the "X" part is not tested.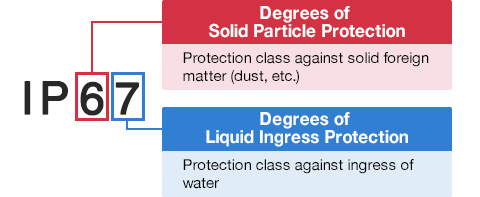 Degrees of Solid Particle Protection – 1st Digit
| | |
| --- | --- |
| IP6x | No ingress of dust; complete protection against contact. (Dust tight) |
| IP5x | Protected from the amount of dust that would interfere with normal operation. (Dust protected) |
Degrees of Liquid Ingress Protection – 2nd Digit
IPx8
Protected against continuous immersion in water.
Depth and duration specified by model.
IPx7
Protected against temporary immersion in water for 1 m (3.3 ft) for 30 minutes
IPx6
Protected against water projected by powerful jets from any direction.
100 L per minute by a powerful jets (12.5 mm) for 3 minutes.
IPx5
Protected against water projected by jets from any direction.
12.5 L per minute by a nozzle (6.3 mm) for 3 minutes.
IPx4
Protected against water splashed against the equipment from any direction