Improved visibility with High Contrast and Wide Viewing Angle Black Background LCD
The IC-F5130D/F6130D series is a simple single-body IDAS™ mobile radio utilizing the latest Icom design platform and improved visibility with a high contrast and wide viewing angle black background LCD.
Input / Output Interface for External Devices with Optional D-SUB Accessory Cable
The ACC connector cable can connect various external equipment to the transceiver. It is possible to operate external equipment via the transceiver or operate the transceiver from the external equipment. Data Transfer over the air such as GPS location, barcode, or telemetry data is available. Remote control by transceiver can improve the efficiency of operations.
Dual Mode Operation – IDAS™ Digital Mode and Analog FM Mode
The IC-F5130D series supports Analog mode, IDAS™ digital multi-site conventional mode, and IDAS™ digital single-site trunking mode. And it is possible to migrate from Analog to Digital in accordance with end-user requirements.
Safe and Secure functions for Transceiver Operators
With the IC-F5130D series, it is possible to confirm the safety of the transceiver operator. If there is no transceiver operation, the Lone Worker function sounds an alert and prompts operation. Further more if the operation is still not performed, the transmission can be initiated forcibly to check the sound in the surrounded area and the status of operator. And the Power ON Password, Digital Voice Scrambler etc.. are available in the IC-F5130D series to protect the confidential communication.​ ​​​​
General Features
136–174, 400–520 MHz versions
RF Output power 50 W/45 W for USA and EXP, 25 W for EXP
128 Channels / 8 Zones
High contrast and wide viewing angle black background LCD
Eight character alphanumeric display
4 W (typical) front mounted speaker
MIL-STD-810 G shock, vibration, temperature and more
DTMF autodial memories capability
Microphone hanger action programmable
Four programmable buttons
GPS position display and Auto-Timed GPS send (External GPS required)
Operating Mode
NXDN™ conventional
NXDN™ Type-D single-site trunking
NXDN™ simulcast
NXDN™ multi-site conventional over IP network
Analog mode
Digital Functions (Voice and Data)
PTT ID and ANI
Over-the-Air Alias (OAA) displays the caller's name without programming
Individual, Group and All call
Late entry for Group call
Status call and Polling call
Short data messages
Call alert
Radio check (RX only)
Call log
Talk back timer
Analog Functions
CTCSS and DTCS tone
2-Tone and 5-Tone
MDC functions; PTT ID, Emergency (TX/RX), Radio check (RX), Stun (RX), Revive (RX)
BIIS PTT ID transmission
Security and Safety
Digital voice scrambler
Emergency call and Lone worker
Remote monitor (RX)
Radio Kill, Stun and Revive (RX)
Power on Password
Scan Functions
Up to 17 scan lists programmable
Priority scan monitors one or two priority channels while scanning non-priority channels
Voting scan automatically selects the optimal repeater site
Hardware Features
GPS receiver connection with optional ACC cable
Optional D-SUB connector, OPC-2078/OPC-1939, for external PTT, channel, horn, ignition switch, and dimmer control, according to programming
Note: No Digital Modulation "IN" when using an accessory cable.
Advanced System Example with VE-PG4
The VE-PG4 is a versatile RoIP (Radio over IP network) gateway unit, which interconnects the IC-F5130D series with other radio systems, even when the systems are using different bands*.
As shown in the example, any transmission from the "Radio System A" is bridged to other radio systems, so the radio user in the "Radio System A" can talk to all connected radio users in the figure.
* Cross band operation may be prohibited in some countries.
Please check the legal requirements in your country before installation.
General
IC-F5130D
IC-F6130D
Frequency coverage
136–174 MHz

350–400 MHz

400–520 MHz

Number of channels
128 channels/8 zones
Type of emission
USA, EXP 50 W/45 W
16K0F3E (25 kHz)*/11K0F3E (15 kHz, 12.5 kHz)/4K00F1E, F1D (7.5 kHz, 6.25 kHz)
16K0F3E (25 kHz)*/11K0F3E (12.5 kHz)/4K00F1E, F1D (6.25 kHz)
EXP 25 W
16K0F3E (25 kHz)/14K0F3E (20 kHz)/8K50F3E (12.5 kHz)/4K00F1E, F1D (6.25 kHz)
Power supply requirement
USA, EXP 50 W/45 W
13.6 V DC nominal
EXP 25 W
13.2 V DC nominal
Current drain (approximate)
Tx (High)
8.6 A typ. (50 W)
4.6 A typ. (25 W)
7.9 A typ. (45 W)
4.8 A typ. (25 W)
Rx (Max./Standby)
0.8 A typ. / 150 mA typ.
Antenna impedance
USA, EXP 50 W/45 W
50 Ω (SO-239)
EXP 25 W
50 Ω (BNC)
Operating temperature range
–30 °C to +60 °C, –22 °F to +140 °F
Dimensions (W×H×D)
(Projections not included)
150 × 45 × 151.8 mm, 5.9 × 1.8 × 6.0 in

Weight (approximate)
1.23 kg, 2.7 lb
* 25 kHz bandwidth is no longer available for FCC Part 90 licensees for USA versions.
Transmitter
IC-F5130D
IC-F6130D
Output power (rated)
USA, EXP 50 W/45 W
50 W, 25 W, 5 W (Hi, L2, L1)
45 W, 25 W, 4.5 W (Hi, L2, L1)
EXP 25 W
25 W, 10 W, 5.8 W (Hi, L2, L1)
25 W, 10 W, 5.8 W (Hi, L2, L1)
Frequency stability
±1.0ppm
Spurious emissions
USA, EXP 50 W/45 W
80 dB typ.
EXP 25 W

0.08 μW (typ.) (≤ 1 GHz)

0.03 μW (typ.) (> 1 GHz)

Audio harmonic distortion (AF 1 kHz 40% deviation)
0.7% typ.
0.8% typ.
FM Hum and Noise (without CCITT filter)
82/77 dB typ. (W/N)
76/70 dB typ. (W/N)
FSK error
1.8% typ.
1.7% typ.
Receiver
IC-F5130D
IC-F6130D
Sensitivity
Analog 12 dB SINAD
(USA, EXP 50/45 W)
0.25 μV (–119 dBm) typ. (W)
0.22 μV (–120 dBm) typ. (N)
0.22 μV (–120 dBm) typ. (W/N)
Analog 20 dB SINAD
(EXP 25 W)
–4.9/–4.5/–1.8 dBμV emf typ. (W/M/N)
–5.0/–5.0/–2.0 dBμV emf typ. (W/M/N)
Digital 1% BER
–4.6 dBμV emf typ.
–5.0 dBμV emf typ.
Adjacent channel selectivity
USA, EXP 50 W/45 W
83/58/73 dB typ. (W/N/D)
76/58/69 dB typ. (W/N/D)
EXP 25 W
83/82/80/73 dB typ. (W/M/N/D)
76/76/74/69 dB typ. (W/M/N/D)
Spurious response rejection
80 dB typ.
75 dB typ.
Intermodulation rejection
Analog (USA, EXP 50/45 W)
(EXP 25 W)
76 dB typ.
69 dB typ.
74 dB typ.
69 dB typ.
Digital
74 dBμV emf typ.
74 dBμV emf typ.
Hum and noise
62/52 dB typ. (W/N)
64/53 dB typ. (W/N)
AF output power
External SP
4 W typ. (at 5% distortion, 4 Ω load)
Applicable U.S. Military Specifications
Icom makes rugged products that have been tested to and passed the following MIL-STD requirements and strict environmental standards.
Standard

MIL-810 G
Method
Procedure
Low Pressure
500.5
I, II
High Temperature
501.5
I, II
Low Temperature
502.5
I, II
Temperature Shock
503.5
I-C
Solar Radiation
505.5
I
Humidity
507.5
II
Vibration
514.6
I
Shock
516.6
I, IV
Also meets equivalent MIL STD 810 -C, -D, -E and -F.
All stated specifications are subject to change without notice or obligation.
Supplied Accessories
HM-152 Hand microphone
DC power cable
Mounting bracket kit
Microphone hanger
Catalogs / Brochures
Instruction Manual / Guides

Close

Close

Ingress Protection (IP) Code
Ingress Protection (IP) ratings define the level of protection provided by enclosures to prevent the ingress of foreign objects (dust) and liquid into the electrical equipment.
International Standard IEC 60529 outlines an international classification system that describes the sealing characteristics of electrical equipment.
The classification system uses the "IP" code, or "Ingress Protection" code, to define the level of seal.
An IP number contains two numbers (i.e. IP67) in most instances which relate to the level of protection provided by an enclosure or housing.
Either number may be shown as "X" (i.e. IPX6 / IP7X) to indicate the "X" part is not tested.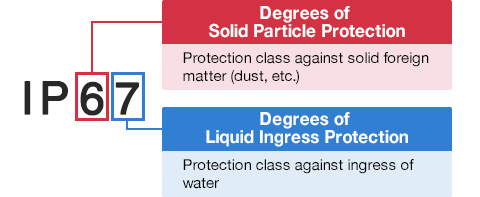 Degrees of Solid Particle Protection – 1st Digit
| | |
| --- | --- |
| IP6x | No ingress of dust; complete protection against contact. (Dust tight) |
| IP5x | Protected from the amount of dust that would interfere with normal operation. (Dust protected) |
Degrees of Liquid Ingress Protection – 2nd Digit
IPx8
Protected against continuous immersion in water.
Depth and duration specified by model.
IPx7
Protected against temporary immersion in water for 1 m (3.3 ft) for 30 minutes
IPx6
Protected against water projected by powerful jets from any direction.
100 L per minute by a powerful jets (12.5 mm) for 3 minutes.
IPx5
Protected against water projected by jets from any direction.
12.5 L per minute by a nozzle (6.3 mm) for 3 minutes.
IPx4
Protected against water splashed against the equipment from any direction