Application Examples
Farm vehicle management
Utilities (water works/electricity meters)
Airport ground vehicle management
Various gate control applications
Oil (pipe lines/well drilling) management
Road/highway construction traffific management
Weather/environment monitoring
Traffific monitoring systems
9600 bps (at 12.5 kHz) and 4800 bps (at 6.25 kHz) Data Mode Programmable
RS-232 and RS-232 + Ethernet Versions
Fast Data Transfer Using 4-Level FSK Modulation Suitable for Real-Time Data Monitoring
25 W, 10 W and 6 W (or 2.5 W) Three-Step RF Output Power
BNC Antenna Connector
Individual, Group and All Calls
Data Encryption Function (500 codes)
Memory Channel Selection via PC Control Command
Optional CS-F5120DD, Programming Software and
OPC-2218LU, USB Type Programming Cable
General
IC-F5122DD
IC-F6122DD
Frequency coverage
136–174 MHz
400–470 MHz
Number of channels
128 channels
Type of emission
8K30F1D, 4K00F1D (4FSK)
Channel spacing
12.5/6.25 kHz
Over-the-air data rate
9600/4800 bps
Power supply requirement
13.6 V DC
(USA version)

13.2 V DC
(EUR version)
Current drain
(approx.)
Tx High (25 W)
6 A
Rx Standby
400 mA
Antenna impedance
50 Ω (BNC)
Operating temperature range
−30°C to +60°C;
−22°F to +60°F
Dimensions (W×H×D)
(Projections not included)
150×40×134.7 mm;
5.91×1.57×5.3 in
Weight (approx.)
900 g; 2.0 lb
Ethernet interface
(Depending on version)
10BASE-T (Full/Half-duplex),
100BASE-TX (Half-duplex)
with Auto-negotiation function
RS-232 connection rate
1200, 2400, 4800, 9600, 19200, 38400 baud
Transmitter
IC-F5122DD
IC-F6122DD
Output power
25 W, 10 W, 2.5 W (Hi, L2, L1)
(USA version)

25 W, 10 W, 6 W (Hi, L2, L1)
(EUR version)
Spurious emissions
70 dB min.
(USA version)

0.25 μW (≤ 1 GHz), 1.0 μW(> 1 GHz)
(EUR version)
FSK error
2.5% typ. (DN/DVN)
Frequency stability
±1.0 ppm
Receiver
IC-F5122DD
IC-F6122DD
Sensitivity (at 1% BER)
−4 dBμV/−5 dBμV emf typ. (DN/DVN)
Adjacent channel selectivity
64 dB/60 dB typ. (DN/DVN)
Spurious response
76 dB/70 dB typ. (DN/DVN)
Intermodulation
68 dB/66 dB typ. (DN/DVN)
Applicable U.S. Military Specifications
Icom makes rugged products that have been tested to and passed the following MIL-STD requirements and strict environmental standards.
Standard

MIL-810 G
Method
Procedure
Low Pressure Storage

500.5

I
Low Pressure Operation

500.5

II
High Temperature Storage

501.5

I
High Temperature Operation

501.5

II
Low Temperature Storage

502.5

I
Low Temperature Operation

502.5

II
Temperature Shock

503.5

I-C
Solar Radiation

505.5

I
Humidity Induced

507.5

II
Vibration

514.6

I
Shock Functional

516.6

I
Shock Transit Drop

516.6

IV
Also meets equivalent MIL-STD-810 -C, -D, -E and -F.
All stated specifications are subject to change without notice or obligation.
Instruction Manual / Guides

Close

Close

Ingress Protection (IP) Code
Ingress Protection (IP) ratings define the level of protection provided by enclosures to prevent the ingress of foreign objects (dust) and liquid into the electrical equipment.
International Standard IEC 60529 outlines an international classification system that describes the sealing characteristics of electrical equipment.
The classification system uses the "IP" code, or "Ingress Protection" code, to define the level of seal.
An IP number contains two numbers (i.e. IP67) in most instances which relate to the level of protection provided by an enclosure or housing.
Either number may be shown as "X" (i.e. IPX6 / IP7X) to indicate the "X" part is not tested.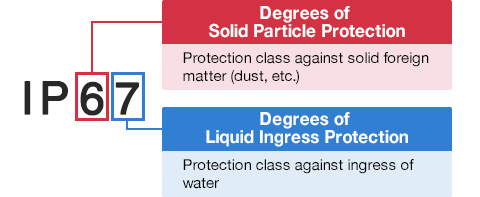 Degrees of Solid Particle Protection – 1st Digit
| | |
| --- | --- |
| IP6x | No ingress of dust; complete protection against contact. (Dust tight) |
| IP5x | Protected from the amount of dust that would interfere with normal operation. (Dust protected) |
Degrees of Liquid Ingress Protection – 2nd Digit
IPx8
Protected against continuous immersion in water.
Depth and duration specified by model.
IPx7
Protected against temporary immersion in water for 1 m (3.3 ft) for 30 minutes
IPx6
Protected against water projected by powerful jets from any direction.
100 L per minute by a powerful jets (12.5 mm) for 3 minutes.
IPx5
Protected against water projected by jets from any direction.
12.5 L per minute by a nozzle (6.3 mm) for 3 minutes.
IPx4
Protected against water splashed against the equipment from any direction