VHF AND UHF DIGITAL TRANSCEIVERS
IC-

F3261D


IC-

F4261D

Series
Fully Featured IDAS™ Digital Handheld with Built-in GPS and Waterproof Protection
VHF/10-keypad/IDAS DIGITAL

IC-F3261DT

VHF/Simple key/IDAS DIGITAL

IC-F3261DS

UHF/10-keypad/IDAS DIGITAL

IC-F4261DT

UHF/Simple key/IDAS DIGITAL

IC-F4261DS
IP67 Dust-tight & Waterproof Protection
The IC-F3261D series provides rugged protection against dust and water that is equivalent to IP67. The radio can withstand 1m depth of water for 30 minutes.
Man Down and Lone Worker Functions for Emergency Call
The man down function* automatically sends an emergency signal when the transceiver is left in a horizontal position. The lone worker function also can transmit an emergency signal when the radio is not operated for a preset period. These emergency signals can be sent with GPS position data* to alert your co-workers or dispatcher to any potential trouble.
* Depending on the version.
800mW (typ.) Audio Output Power
The built-in BTL amplifier doubles the audio output power and the large 40mm speaker delivers loud 800mW (typ.) audio to receive all calls under noisy environments.
Built-in GPS Receiver*
Your current position data can be attached to a voice or data (SDM, status or emergency signal) transmission and can be sent to dispatch stations*.
*Depending on the version.
*To show the received position data, an external PC application is required.
14-pin Accessory Connector
The new 14-pin accessory connector enhances audio output capabilities with the built-in BTL amplifier. The optional HM-184 speaker - microphone provides a 1000mW (typ.) audio output for loud and clear communication.
Large Full Dot-Matrix LCD
Using a large full dot-matrix LCD (32 × 18mm), the IC-F3261D series shows two lines of easy to read text messages. The bottom row shows assigned functions to the [P0] to [P3] buttons.
Long Lasting Battery Life
| GPS type | Digital mode | Analog mode |
| --- | --- | --- |
| Built-in GPS type | 10.5 hours (approx.) | 11 hours (approx.) |
| Non GPS type | 12 hours (approx.) | 12.5hours (approx.) |
* Typical operation in 5:5:90 duty cycle, power save on.
IDAS™ Features
The IC-F3261D series provides NXDN™ CAI-based IDAS digital mode operation. It is also compatible with NXDN™ Type-D multisite trunking. The following IDAS features are programmable.
Individual/group call
Individual ID and talkgroup ID memories
Status message
SDM (Short Data Message)
GPS
Stun, kill and revive
Radio check
Remote monitor
Call alert
Call log
Emergency
Digital voice scrambler
Block decode
RAN (Radio Access Number)
Built-in 2-Tone and 5-Tone*
2-Tone and 5-Tone signalings give you selective calling, quiet stand-by and other convenient functions. The radio stun and kill functions disable a radio over the air and the revive function restores the stunned radio.
* Analog mode only
MDC 1200 Compatible*
The built-in MDC signaling provides the following selective calling and ANI features.
PTT ID
SelCall
Radio check
Radio stun/revive
500 aliases
Status message/request
Call alert
Emergency, emergency mic monitoring
* Analog mode only
Scan Features
The IC-F3261D series can detect both analog and IDAS conventional signals and automatically selects the transmission mode to reply to the received call.
Built-in Voice Scrambler
The built-in inversion voice scrambler* provides secure conversation in analog mode. When using IDAS digital mode, the digital voice scrambler provides a 15-bit key (about 32,000 codes) as standard.
* Inversion voice scrambler is not compatible with UT-109R/UT-110R voice scrambler.
Other features
512 memory channels with 128 zones
5W output power both in VHF and UHF
Basic LTR™ mode operation*
CTCSS/DTCS encoder/decoder*
MIL-STD 810 G rugged construction
8 DTMF autodial memories
Tactical group function
Busy channel lockout, repeater lockout
Power on password
Time-out timer
Talk around function
Low battery alert
Escalating alarm
Surveillance function
(* = Analog mode only)
General
IC-F3261DT/DS
IC-F4261DT/DS
Frequency coverage

136–174 MHz

400–470 MHz
450–512 MHz

Number of channels

512 channels/128 zones

Channel spacing

12.5/6.25kHz

Type of emission

11K0F3E/4K00F1E/F1D

Current drain
(approx.)
Tx High (at 5W)

1.7A

1.8A

Rx
Rated output

550mA

Standby

160mA

Dimensions (W×H×D)
(projections not included)

53.5×142.7×39.5 mm;
2.11×5.62×1.56 in
(With BP-232WP)

Weight (approx.)

400g; 14.1oz
(With BP-232WP, MB-94R & FA-SC57U)
Transmitter
IC-F3261DT/DS
IC-F4261DT/DS
RF output power (at 7.5V DC)

5W, 2W, 1W
(Hi, L2, L1)

Spurious emissions

78dB typ.

Frequency stability

±1.0ppm

Audio harmonic distortion

1.5% typ. (AF 1kHz 40% deviation)

FM Hum and Noise

43dB typ. (Narrow)

40dB typ. (Narrow)

FSK error

2.0% typ.
Receiver
IC-F3261DT/DS
IC-F4261DT/DS
Sensitivity
Analog

0.23μV typ. (at 12dB SINAD)

Digital

0.20μV typ. (at 5% BER)

Adjacent channel selectivity

68/60dB typ. (Narrow, digital)

Spurious response rejection

76dB typ.

Intermodulation rejection

75/66dB typ. (Narrow, digital)

AF output power
(at 5% distortion)

800mW typ. (Internal SP, 12Ω load)
1000mW typ. (External SP, 8Ω load)
GPS (Depending on version)
IC-F3261DT/DS
IC-F4261DT/DS
Receiver channels

12 channels

Time to first fix (cold start)

36 seconds typ. (at open sky)

Horizontal accuracy

5m (at open sky)
Applicable U.S. Military Specifications
Icom makes rugged products that have been tested to and passed the following MIL-STD requirements and strict environmental standards.
Standard

MIL-810 G
Method
Procedure
Low Pressure Storage

500.5

I
Low Pressure Operation

500.5

II
High Temperature Storage

501.5

I
High Temperature Operation

501.5

II
Low Temperature Storage

502.5

I
Low Temperature Operation

502.5

II
Temperature Shock

503.5

I-C
Solar Radiation

505.5

I
Rain Blowing

506.5

I
Rain Drip

506.5

III
Humidity Induced

507.5

II
Salt Fog

509.5

-
Dust Blowing

510.5

I
Vibration

514.6

I
Shock Functional

516.6

I
Shock Transit Drop

516.6

IV
Also meets equivalent MIL-STD-810 -C, -D, -E and -F.
Ingress Protection Standards (IC-F3261D/F4261D, BP-232WP and HM-184)
Dust & Water

IP67 (Dust-tight and waterproof protection)
All stated specifications are subject to change without notice or obligation.
Supplied Accessories
Battery pack, BP-232WP
Belt clip, MB-94R
Antenna
Please note that a Battery charger must be purchaed separately.
Instruction Manual / Guides

Close

Close

Ingress Protection (IP) Code
Ingress Protection (IP) ratings define the level of protection provided by enclosures to prevent the ingress of foreign objects (dust) and liquid into the electrical equipment.
International Standard IEC 60529 outlines an international classification system that describes the sealing characteristics of electrical equipment.
The classification system uses the "IP" code, or "Ingress Protection" code, to define the level of seal.
An IP number contains two numbers (i.e. IP67) in most instances which relate to the level of protection provided by an enclosure or housing.
Either number may be shown as "X" (i.e. IPX6 / IP7X) to indicate the "X" part is not tested.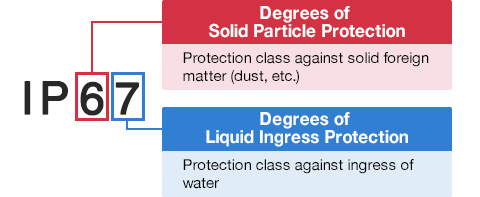 Degrees of Solid Particle Protection – 1st Digit
| | |
| --- | --- |
| IP6x | No ingress of dust; complete protection against contact. (Dust tight) |
| IP5x | Protected from the amount of dust that would interfere with normal operation. (Dust protected) |
Degrees of Liquid Ingress Protection – 2nd Digit
IPx8
Protected against continuous immersion in water.
Depth and duration specified by model.
IPx7
Protected against temporary immersion in water for 1 m (3.3 ft) for 30 minutes
IPx6
Protected against water projected by powerful jets from any direction.
100 L per minute by a powerful jets (12.5 mm) for 3 minutes.
IPx5
Protected against water projected by jets from any direction.
12.5 L per minute by a nozzle (6.3 mm) for 3 minutes.
IPx4
Protected against water splashed against the equipment from any direction