New
UHF TRANSCEIVER
IC-

F200
Rugged, Easy Operation in the Palm of Your Hand
Compact body with dimensions of 3.7* x 2 x 1.1 inches and weighing only 5.5 oz, 2 W output power, 16 channels and up to 15 hours of operation. Rugged looks with IP54, MIL-STD810 weather proofing, and user-friendly operations. Versatility with various headset and earphone-microphone options and VOX hands-free functions. The elegant and smart IC-F200 fits in the palm of your hand and strongly supports your business.
* Excluding antenna
Compact Size and Smart Rugged Design with Water Resistance
The compact body fits in the palm of your hand, adopting an elegant and smart design like nothing before. This sturdy handheld transceiver meets user-friendly operability with a new front panel layout design, hands-free VOX function, Voice Guide when switching channels, IP54 dust and water resistance meeting MIL-STD810G with a light-weight and rugged polycarbonate case
15 Hours Operation with Detachable Type Battery
USB Charging
Three types of battery charging can be done. In addition to charging with the BC-262 Charging cradle, there are direct radio body connection charging with USB Type-C™ cable* and charging BP-304A with BC-264 battery charger.
* USB Type-C™ cable is for only battery charging, with no data transfer function.
PTT from Headset and Earphone Microphone
Other Features
A high definition and clear display with 4 Digits with 14 Segments
A loud 600 mW AF output
Includes 2 programmable keys
CTCSS / DTCS tone squelch
QR code for product authenticity check
Partner Product
Icom affiliated IJKP Products
IJKP-HM-1LS-OW
Earphone Microphone
Acoustic Type Earphone
IJKP-HM-2LS-OW
Earphone Microphone
C Type Earphone
IJKP-HM-3LS-OW
Earphone Microphone
D Type Earphone
Usage examples
Industry
Construction, Warehouses, Factories, and Carparks
The polycarbonate housing is sturdy, light and rugged meets IP54 dust and water proof and MIL-STD810G. And BP-304A, 2350 mAh Lithium-Ion battery supports continuous operation for 15 hours.
Hospitality, Shop and Institiution
Hotels, Restaurants, Retail stores, Supermarkets, Churches and Schools
Compact size and light weight body allows easy operation for your work. And variety of microphones, headsets, and earphone-microphones and VOX function assist in focusing on your work.
Outdoor
Camping, Hiking and Biking
With a compact size and light weight body, you can take it anywhere. With IP54 dust and water proof construction, you can use it outdoors confidently.
Communication Range
Up to
250,000 sq ft
in a building*
Up to
20 floors
in a building*
Up to
2 miles
at a work site*
*Communication range may differ, depending on operating environment or weather conditions
General
IC-F200 (USA, EXP)
Frequency Coverage
450 ~ 470 MHz
Number of Channels
16 Channels
Type of Emissions
USA Version 11K0F3E (12.5 kHz, Narrow)
EXP Version 11K0F3E (12.5 kHz, Narrow), 16K0F3E (25 kHz, Wide)
Antenna impedance
50 Ω
Input Impedance (MIC)
2200 Ω
Output Impedance (Audio)
8 Ω
Operation Temperature Range
-30 ℃ ~ 60 ℃, -22 ℉ ~ 140 ℉
Power Supply Voltage
3.7 V DC nominal (Negative Ground)
Current drain
(Approximate)
Receive Max. Audio
0.8 A Maximum
Transmit
1.8 A Maximum
Dimensions (H × W × D)
156.0 × 50.0 × 26.7 mm, 6.1 × 2.0 × 1.1 inches, including antenna
94.0 × 50.0 × 26.7 mm, 3.7 × 2.0 × 1.1 inches, excluding antenna
Weight (Approximate)
157 g , 5.5 oz
TRANSMITTER
IC-F200 (USA, EXP)
Output power
2.0 W or less
Modulation
Frequency Modulation
Maximum Permissible Frequency Deviation
N: ±2.5 kHz for USA, EXP
W: ±5.0 kHz for EXP
Frequency Stability
± 500 Hz
Spurious Emissions
80 dB typical
Adjacent Channel Power
N: 65 dB typical for USA, EXP
W: 73 dB typical for EXP
Audio Harmonic Distortion
(AF 1 kHz 40 % Deviation)
5.0 % maximum
FM Hum and Noise
N: 56 dB typical for USA, EXP
W: 56 dB typical for EXP
Limiting Charact of Modulator
70 % ~ 100 % maximum deviation
RECEIVER
IC-F200 (USA, EXP)
Sensitivity (at 12 dB SINAD)
-122 dBm typical (0.18 μV typ.)
Audio Power Output
Internal Speaker
600 mW typical @5 % distortion with 4 Ω
External Speaker
150 mW typical @5 % distortion with 8 Ω
Adjacent Channel Selectivity
N: 52 dB typical for USA, EXP
W: 68 dB typical for EXP
Intermodulation
64 dB typical
Hum and Noise
N: 47 dB typical for USA, EXP
W: 51 dB typical for EXP
Squelch Sensitivity (Threshold)
-123 dBm typical
Applicable U.S. Military Specifications
Standard

MIL-810 G

Method

Procedure

Low Pressure
500.5
I, II
High Temperature
501.5
I, II
Low Temperature
502.5
I, II
Temperature Shock
503.5
I-C
Solar Radiation
505.5
I
Rain Blowing/Drip
506.5
I, III
Humidity
507.5
II
Salt Fog
509.5
–
Dust Blowing
510.5
I
Vibration
514.6
I
Shock
516.6
I, IV
Also meets equivalent MIL-STD-810-C, -D, -E and -F.
Applicable IP Rating
Ingress Protection Standard
Dust and Water
IP54 (Dust-protection, water resistance)
All stated specifications are subject to change without notice or obligation.
Supplied Accessories
MB-127 Belt Clip
BP-304A Battery Pack
BC-262 Charging Cradle
BC-263A USB Type-C™ AC adapter*
USB Type-C™ Cable*
* depending on version
Catalogs / Brochures
Instruction Manual / Guides
IC-F200 UHF Transceiver Promotion Video

Close

Close

Ingress Protection (IP) Code
Ingress Protection (IP) ratings define the level of protection provided by enclosures to prevent the ingress of foreign objects (dust) and liquid into the electrical equipment.
International Standard IEC 60529 outlines an international classification system that describes the sealing characteristics of electrical equipment.
The classification system uses the "IP" code, or "Ingress Protection" code, to define the level of seal.
An IP number contains two numbers (i.e. IP67) in most instances which relate to the level of protection provided by an enclosure or housing.
Either number may be shown as "X" (i.e. IPX6 / IP7X) to indicate the "X" part is not tested.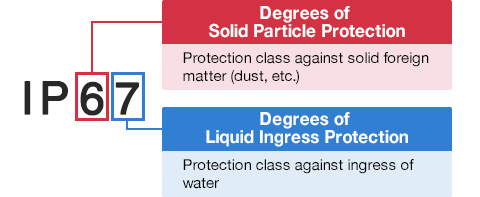 Degrees of Solid Particle Protection – 1st Digit
| | |
| --- | --- |
| IP6x | No ingress of dust; complete protection against contact. (Dust tight) |
| IP5x | Protected from the amount of dust that would interfere with normal operation. (Dust protected) |
Degrees of Liquid Ingress Protection – 2nd Digit
IPx8
Protected against continuous immersion in water.
Depth and duration specified by model.
IPx7
Protected against temporary immersion in water for 1 m (3.3 ft) for 30 minutes
IPx6
Protected against water projected by powerful jets from any direction.
100 L per minute by a powerful jets (12.5 mm) for 3 minutes.
IPx5
Protected against water projected by jets from any direction.
12.5 L per minute by a nozzle (6.3 mm) for 3 minutes.
IPx4
Protected against water splashed against the equipment from any direction