VHF/UHF DIGITAL TRANSCEIVERS
IC-

F16


IC-

F26
Built to Last, Built to Work!
Tough and Reliable Construction
The IC-F16 series is built around an aluminum die-cast chassis and covered with a tough polycarbonate casing. This radio is built to last. Its dual slide rail securely locks the battery to the radio. The belt clip is clamped between the radio and the battery, making it nearly impossible to knock loose.
Simple Operation
Having only 3 buttons, one volume and one channel knob, the IC-F16 series does not require special training to use. Positive button action for sure operation even when wearing gloves allows you to get down to the business of communicating without fuss.
Optional Board
The IC-F16 series has an expansion socket for adding an optional board. Voice scrambler, man down and DTMF decoder features are available, depending on the installed board.
Most Popular Signalings Built-in
Use the built-in 2-Tone, 5-Tone, CTCSS and DTCS capabilities as standard to set up your own talk groups and quiet stand-by when others are talking.
Long Use even in Extreme Cold
Supplied 2300 mAh (typ.) Li-ion battery pack, BP-232H has superior electrochemical characteristics even in extremely cold areas. It provides stable output for longer while having less voltage reduction at low temperatures.
Other Features
Wide frequency coverage in one version
Optional voice scrambler, UT-109 and UT-110
Optional DTMF decoder, UT-108
Optional man down unit, UT-124
Multiple 2-Tone, Multiple 5-Tone
Lithium-Ion battery standard
LED low battery alert
TOT function and lock out penalty timer
2 step power saver
Normal and priority scan
500mW loud and clear audio
Optional VOX headset for hands free operation
Embedded ESN (Electronic serial number)
MDC PTT ID and MDC emergency call functions are available (Transmit only)
Wide/narrow (25/12.5kHz) channel spacing capability,and more...
General
IC-F16
IC-F26
Frequency coverage
(Varies according to version)

136–174 MHz

400-470 MHz

Number of channels

16 channels

Channel spacing
(Varies according to version)

12.5/25kHz

12.5/25 kHz

Type of emission

16K0F3E, 8K50F3E

Current drain
Tx High

1.5A

1.6A

Rx
Stand-by

70mA

Max. audio

300mA

Dimensions
(projections not included; W×H×D)

53×120×42.4 mm
2 3 ⁄32× 4 23/32×1 7 ⁄16 in

Weight (approx.)

296g; 10.4oz (with BP-232H)
Transmitter
IC-F16
IC-F26
RF output power

5W

4W

Spurious emissions

80dB (typ.)

Frequency stability

±2.5ppm

Audio harmonic distortion

3% typical
40% deviation

FM Hum and Noise

46dB typ. (W)
40dB typ. (N)
Receiver
IC-F16
IC-F26
Sensitivity at 12dB SINAD

0.25μV (typ.)

Adjacent channel selectivity (W/N)

75/65dB (typ.)

Spurious response rejection

70dB (min.)

Intermodulation rejection

74dB (typ.)

AF output power
(at 5% distortion with an 8Ω load)

500mW (typ.)
Function Comparison and Internal Unit Options
IC-F16, IC-F26
Number of option slots

1

CTCSS/ DTCS
encoder

Available

decoder

Available

2-Tone
encoder

Available

decoder

Available

5-Tone
encoder

Available

decoder

Available

DTMF autodial

Available

DTMF decoder

UT-108

Voice Scrambler
Inversion

-

Non-rolling

UT-109
(Version 01)

Rolling

UT-110
(Version 01)

APCO P25 digital

-

AES encryption

-

DES encryption

-

6.25kHz digital

-

MPT 1327

-

MDC 1200

Available (Limited functions)

LTR™ trunking

-

PassPort

-

Man Down function

UT-124

Intrinsically safe

-
Applicable U.S. Military Specifications
Icom makes rugged products that have been tested to and passed the following MIL-STD requirements and strict environmental standards.
Standard

MIL-810 F
Method, Proc.

Low Pressure Storage

500.4 I

Low Pressure Operation

500.4 II

High Temperature Storage

501.4 I

High Temperature Operation

501.4 II

Low Temperature Storage

502.4-3 I

Low Temperature Operation

502.4-3 II

Temperature Shock

503.4 I

Solar Radiation

505.4 I

Rain Blowing

506.4 I

Rain Drip

506.4 III

Humidity Induced

507.4

Salt Fog

509.4

Dust Blowing

510.4 I

Vibration

514.5 I

Shock Functional

516.5 I

Shock Transit Drop

516.5 IV
Also meets equivalent MIL-STD-810 -C, -D and -E.

All stated specifications are subject to change without notice or obligation.
Supplied Accessories
Battery pack, BP-232H
Antenna
Belt clip
Unit cover
Please note that a battery charger must be purchased separately.

Close

Close

Ingress Protection (IP) Code
Ingress Protection (IP) ratings define the level of protection provided by enclosures to prevent the ingress of foreign objects (dust) and liquid into the electrical equipment.
International Standard IEC 60529 outlines an international classification system that describes the sealing characteristics of electrical equipment.
The classification system uses the "IP" code, or "Ingress Protection" code, to define the level of seal.
An IP number contains two numbers (i.e. IP67) in most instances which relate to the level of protection provided by an enclosure or housing.
Either number may be shown as "X" (i.e. IPX6 / IP7X) to indicate the "X" part is not tested.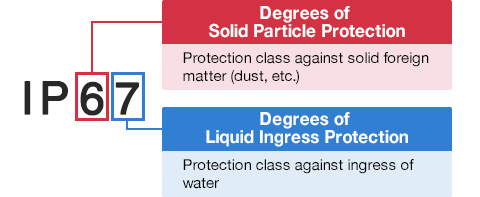 Degrees of Solid Particle Protection – 1st Digit
| | |
| --- | --- |
| IP6x | No ingress of dust; complete protection against contact. (Dust tight) |
| IP5x | Protected from the amount of dust that would interfere with normal operation. (Dust protected) |
Degrees of Liquid Ingress Protection – 2nd Digit
IPx8
Protected against continuous immersion in water.
Depth and duration specified by model.
IPx7
Protected against temporary immersion in water for 1 m (3.3 ft) for 30 minutes
IPx6
Protected against water projected by powerful jets from any direction.
100 L per minute by a powerful jets (12.5 mm) for 3 minutes.
IPx5
Protected against water projected by jets from any direction.
12.5 L per minute by a nozzle (6.3 mm) for 3 minutes.
IPx4
Protected against water splashed against the equipment from any direction