16 Usable Channels
The IC-F29SR2 meets the European standard EN 300 296 and has total of 16 channels including new 8 channels*.
* New 8 channels may be restricted, depending on countries.
Easy to Use
This simple to use radio is ideal for high turnover environments and shift work where the radio is constantly passed from person to person.
Ultra Powerful Audio
Icom custom high power handling capacity speaker for 1500 mW powerful audio. Hear calls destined for you in all sorts of environments.
Rotary Channel
Up to 32 operating channels and group code (16 ch × 2 zones) can be programmed to the 16-position rotary channel knob. The operating zone can be switched with the top red button.
Call-Ring
The Call-Ring function can be used to call receivers with a ringer tone. Ten different ring patterns can be selected.
Answer Back
The Smart-Ring function checks whether the receiver is in communication range with a ringer sound.
Private Conversation
The built-in inversion voice scrambler provides private conversation. Up to 16 codes are selectable.
21 Hours Operation
The supplied Li-Ion battery pack, BP-279, provides up to 21 hours of operating time.
The supplied rapid charger BC-213 charges the BP-279 in 2.5 hours.
Group Call
The user programmable CTCSS and DTCS codes can be used for group call. You will only send a call to specified group members using the same tone and same channel.
Other Features
Low battery alert
Time-out-timer function
Monitor function
Siren alarm function
Surveillance function
Key lock function
Microphone gain level adjustment
Power on scan function
Three programmable buttons
PC programmable
VOX capability for hands-free operation (Optional headset required)
Frequency coverage
446.00625–446.19375 MHz
(16 channels)
Output power
500 mW (ERP)
Audio output power
(at 5% distortion)
Internal speaker
1500 mW typ. (with 8Ω load)
External speaker

400 mW typ. (with 8Ω load)

1500 mW typ. (with 8Ω load) HM-222HLWP connected *1

Dimensions
(projections not included; W×H×D)
52.2× 186.1× 24.5 mm
(with BP-279)
Weight (approx.)
240 g (with BP-279)
Communication range*2(approx.)
8 km (Wide open space)
Operating temperature
–25°C to +55°C
IP rating
IP67 (Dust-tight and waterproof protection)
Military standrad:
MIL-STD-810-G
*1 For the transceiver with "U" make on the serial number label.
*2 Communication range may differ depending on operating environment or weather conditions, etc.
Applicable U.S. Military Specifications
Icom makes rugged products that have been tested to and passed the following MIL-STD requirements and strict environmental standards.
Standard
MIL-810 G
Method, Proc.
Low Pressure Storage

500.5 I

Low Pressure Operation

500.5 II

High Temperature Storage

501.5 I

High Temperature Operation

501.5 II

Low Temperature Storage

502.5 I

Low Temperature Operation

502.5 II

Temperature Shock

503.5 I-C

Solar Radiation

505.5 I

Rain Blowing

506.5 I

Rain Drip

506.5 III

Humidity Induced

507.5 II

Salt Fog

509.5

Dust Blowing

510.5 I

Immersion

512.5 I

Vibration

514.6 I

Shock Functional

516.6 I

Shock Transit Drop

516.6 IV
Also meets equivalent MIL-STD-810 -C, -D, -E and -F.
Ingress Protection Standards (IC-F29SR2 and HM-168LWP)
Dust & Water

IP67 (Dust-tight and waterproof protection)

All stated specifications are subject to change without notice or obligation.
Supplied Accessories
Li-ion battery pack, BP-280
Belt clip, MB-133
Rapid charger, BC-213
AC adapter, BC-123SE/SUK*
* May differ depending on version
Catalogs / Brochures
Instruction Manual / Guides

Close

Close

Ingress Protection (IP) Code
Ingress Protection (IP) ratings define the level of protection provided by enclosures to prevent the ingress of foreign objects (dust) and liquid into the electrical equipment.
International Standard IEC 60529 outlines an international classification system that describes the sealing characteristics of electrical equipment.
The classification system uses the "IP" code, or "Ingress Protection" code, to define the level of seal.
An IP number contains two numbers (i.e. IP67) in most instances which relate to the level of protection provided by an enclosure or housing.
Either number may be shown as "X" (i.e. IPX6 / IP7X) to indicate the "X" part is not tested.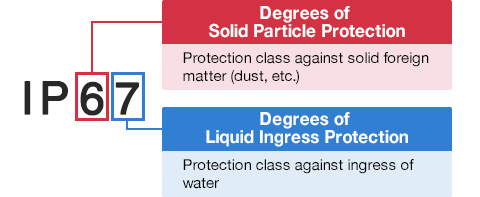 Degrees of Solid Particle Protection – 1st Digit
| | |
| --- | --- |
| IP6x | No ingress of dust; complete protection against contact. (Dust tight) |
| IP5x | Protected from the amount of dust that would interfere with normal operation. (Dust protected) |
Degrees of Liquid Ingress Protection – 2nd Digit
IPx8
Protected against continuous immersion in water.
Depth and duration specified by model.
IPx7
Protected against temporary immersion in water for 1 m (3.3 ft) for 30 minutes
IPx6
Protected against water projected by powerful jets from any direction.
100 L per minute by a powerful jets (12.5 mm) for 3 minutes.
IPx5
Protected against water projected by jets from any direction.
12.5 L per minute by a nozzle (6.3 mm) for 3 minutes.
IPx4
Protected against water splashed against the equipment from any direction