iOS™/Android™ APPLICATION
RS-R30A
RS-R30I
Remotely Control the IC-R30 with iOS™ /Android™ Apps
The RS-R30I for iOS™ devices, and the RS-R30A for Android™ devices, can be downloaded for free. They enable you to wirelessly connect to the IC-R30 and remotely control VFO operation, memory channels, a variety of scans and the voice recording functions. Using the optional VS-3, Bluetooth® headset, the VS-3 and iOS™/Android™ device can be wirelessly connected to the IC-R30 at the same time. You can control the IC-R30 from the iOS™/Android™ device while listening to the received audio on the VS-3 optional Bluetooth® headset.
Descriptions
Dualwatch Operation
Function Setting
VOL/SQL Adjustment
Wireless Operation with an Optional Bluetooth® Headset
Bluetooth® connection images
The application does not output the audio received by the receiver.
The VS-3 plays either the *1 or *2 audio, and stands by on the other line.
IC-R30's Function Update
Update your IC-R30's firmware to the latest firmware version (Version 1.10 or later).
After updating, the following functions are added to the IC-R30.
Remote control operation with RS-R30I/A .
Automatic backlighting is improved.
Some restrictions of program scan edge settings are eliminated.
Skip function is improved.
Duplex check function during the memory scan is added.
Duplex scan function is added.
Memory group and group link settings are connected.
Channel UP/DOWN is available across channel groups in the Memory mode.
IC-R30 and VS-3 audio connection can be automatically cut when there is no audio.
Volume of a Bluetooth® headset and the IC-R30 can be separately set.
Battery condition information is added.
The record file management system is improved.
. . . and more
Function Comparison Chart
RS-R30I
RS-R30I
Single watch

✔

✔

Dualwatch

✔

✔

VFO mode settings
Frequency

✔

✔

Mode

✔

✔

Duplex

✔

✔

Tone

✔

✔

NB, ANL, AFC, VSC

✔

✔

Tuning step

✔

✔

Memory mode
Memory channel display

✔

✔

Memory writing

-

-

SCAN
Scan Start/Stop

✔

✔

Skip

✔

✔

Volume/Squelch adjustment

✔

✔

Recording ON/OFF

✔

✔

Attenuator setting

✔

✔

RF gain setting

✔

✔

✓ : Function available. N/A : Function Not available.
Specifications
RS-R30A
OS
AndroidTM 5.x or later
Google Play Store service supported
Hardware
Bluetooth®
RS-R30I
OS
iOSTM 9.0 or later
(iPhone 5S or later, iPad Air, and so on.)
Hardware
Touch screen device, Bluetooth®
Downloads
Catalogs / Brochures
Instruction Manual / Guides

Close

Ingress Protection (IP) Code
Ingress Protection (IP) ratings define the level of protection provided by enclosures to prevent the ingress of foreign objects (dust) and liquid into the electrical equipment.
International Standard IEC 60529 outlines an international classification system that describes the sealing characteristics of electrical equipment.
The classification system uses the "IP" code, or "Ingress Protection" code, to define the level of seal.
An IP number contains two numbers (i.e. IP67) in most instances which relate to the level of protection provided by an enclosure or housing.
Either number may be shown as "X" (i.e. IPX6 / IP7X) to indicate the "X" part is not tested.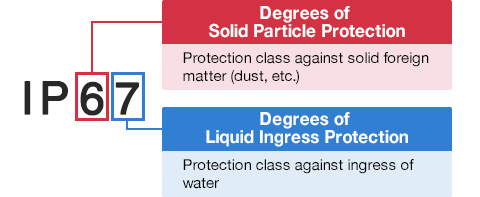 Degrees of Solid Particle Protection – 1st Digit
| | |
| --- | --- |
| IP6x | No ingress of dust; complete protection against contact. (Dust tight) |
| IP5x | Protected from the amount of dust that would interfere with normal operation. (Dust protected) |
Degrees of Liquid Ingress Protection – 2nd Digit
IPx8
Protected against continuous immersion in water.
Depth and duration specified by model.
IPx7
Protected against temporary immersion in water for 1 m (3.3 ft) for 30 minutes
IPx6
Protected against water projected by powerful jets from any direction.
100 L per minute by a powerful jets (12.5 mm) for 3 minutes.
IPx5
Protected against water projected by jets from any direction.
12.5 L per minute by a nozzle (6.3 mm) for 3 minutes.
IPx4
Protected against water splashed against the equipment from any direction