Discontinued ProductNote: The contents of this page is as of the time it was created.
HF TRANSCEIVER
IC-

78

MARINE version
Reliable Long Distance Communications
Simple Operation with Keypad
A minimum of buttons and knobs provide uperior feature selectability. The 10 keypad allows you to enter an operating frequency or a memory channel number directly. VFO mode is available for continuous frequency operation.
General Coverage Receive
The IC-78 covers 0.03-29.999999 MHz* in SSB, CW, RTTY and AM modes. The 1st receiver mixer provides superior receiver sensitivity, rejecting nearby interfering signals.
* Guaranteed range: 0.5–29.999999 MHz
Front Mounted Loud Speaker
With the speaker facing the operator, audio sounds can be clearly heard without impediment during operation.
Other Features
101 memory channels
VOX (Voice Operated Transmission)
Digital S/RF meter
Band stacking register
IF shift interference rejection
Squelch/RF gain control
Optional automatic antenna tuner, AT-140 available
Frequency range
TX
1.6-29.9999 MHz
(Guaranteed : 0.5-29.9999)
RX
0.03-29.9999 MHz
Power supply requirement
13.8 V DC ±15% (negative ground)
Dimensions (W×H×D)
(Projections not included)
240×95×239 mm
9.4×3.7×9.4 in
Weight (approx.)
3.8 kg; 8.4 lb
Current drain (approx.)
Transmit (High)
20 A typ. at max. power
Max. audio output
2.0 A
Sensitivity
(at 10 dB S/N; 1.8–29.999 MHz)
SSB, CW, RTTY
0.16 μV
AM
2.0 μV typ
Selectivity
SSB, CW, RTTY
2.1 kHz/-6 dB
4.5 kHz/-60 dB
AM
6.0 kHz/-6 dB
20 kHz/-60 dB
Audio output powe (10% dist/ 4Ω load)
2.0 W (10% dist / 8 Ω load)
RF output power (PEP)
(output power differs depending on version)
SSB, CW, RTTY
2-100 W
AM
2-35 W

All stated specifications are subject to change without notice or obligation.
Supplied Accessories
Hand microphone
DC power cable
Spare fuses
Catalogs / Brochures
Instruction Manual / Guides

Close

Close

Ingress Protection (IP) Code
Ingress Protection (IP) ratings define the level of protection provided by enclosures to prevent the ingress of foreign objects (dust) and liquid into the electrical equipment.
International Standard IEC 60529 outlines an international classification system that describes the sealing characteristics of electrical equipment.
The classification system uses the "IP" code, or "Ingress Protection" code, to define the level of seal.
An IP number contains two numbers (i.e. IP67) in most instances which relate to the level of protection provided by an enclosure or housing.
Either number may be shown as "X" (i.e. IPX6 / IP7X) to indicate the "X" part is not tested.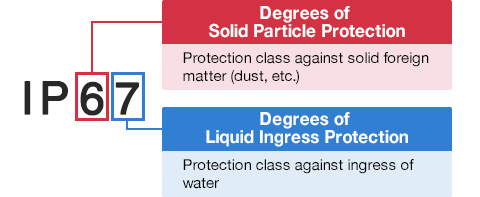 Degrees of Solid Particle Protection – 1st Digit
| | |
| --- | --- |
| IP6x | No ingress of dust; complete protection against contact. (Dust tight) |
| IP5x | Protected from the amount of dust that would interfere with normal operation. (Dust protected) |
Degrees of Liquid Ingress Protection – 2nd Digit
IPx8
Protected against continuous immersion in water.
Depth and duration specified by model.
IPx7
Protected against temporary immersion in water for 1 m (3.3 ft) for 30 minutes
IPx6
Protected against water projected by powerful jets from any direction.
100 L per minute by a powerful jets (12.5 mm) for 3 minutes.
IPx5
Protected against water projected by jets from any direction.
12.5 L per minute by a nozzle (6.3 mm) for 3 minutes.
IPx4
Protected against water splashed against the equipment from any direction